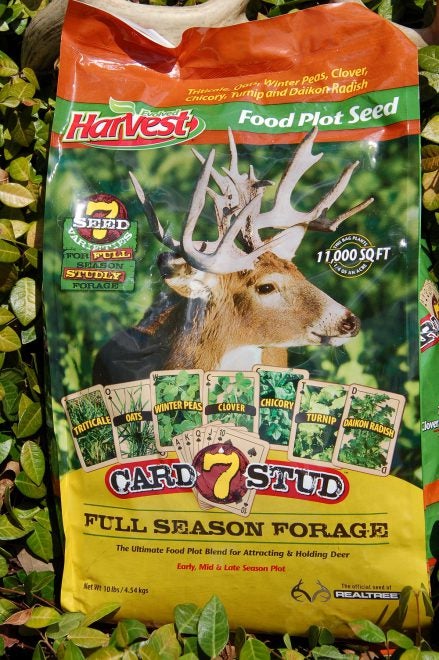 If you're going to gamble with your wildlife food plots, then you might as well have the winning hand. Evolved Harvest has created a new wildlife food plot seed blend that combines a mixture of the most prime wildlife plot seeds available. Trademark named 7 Card Stud, this mix is definitely going to be a winning hand.
This wildlife plot seed mix includes triticale, oats, winter peas, clover, chicory, turnips, and Daikon radish. This combination provides a seed base that presents nutritional plants for a long term season and well after the season is over. I cannot imagine another blend with the variety coverage that this mix is offering.
A single ten pound bag provides ample coverage for ¼ of an acre or roughly 11,000 square feet. One bag alone would be prefect for the small food plot tactic in isolated places where deer can access the plot in a secure environment. Once a plot is fully disked, then a hand seed spreader can easily plant these types of small plots.
7 Card Stud would also be good for planting food plot corners, end strips or edges around water sources, or along mixed habitats. These plot hotspots can be set up closer to hunting stands that are well hidden back in the woods or brushed in along the edges of bigger food plots.
Naturally 7 Card Stud can be utilized for an entire wildlife food plot. The ideal size can be an acre up to 3-4 acres. Don't make them too huge, as deer will stand out in the middle, too far away from edge stands to assess the racks or make good clean shots.
One of the best things I like about having gotten a bag of this seed mix is the complete details about the seed and planting recommendations on the package. Evolved Harvest has provided the most comprehensive overview of creating wildlife food plots I have ever seen. The package not only tells the buyer exactly what is in the bag, but regional planting recommendations for seasonal dates as well.
If you are new to planting food plots, this bag will give you a complete strategy from soil testing, turf preparation, fertilizing and liming, and exactly how to plant the seed. My plan for this poker hand of wildlife seed is a three-part series. After this product overview, I will cover getting it planted, then the results. Hopefully there will be photos of a big buck taken in the plots. Stay tuned.