Review: Rogers Single Point M4 AR15 Rifle Harness Kit
Major Pandemic 10.10.16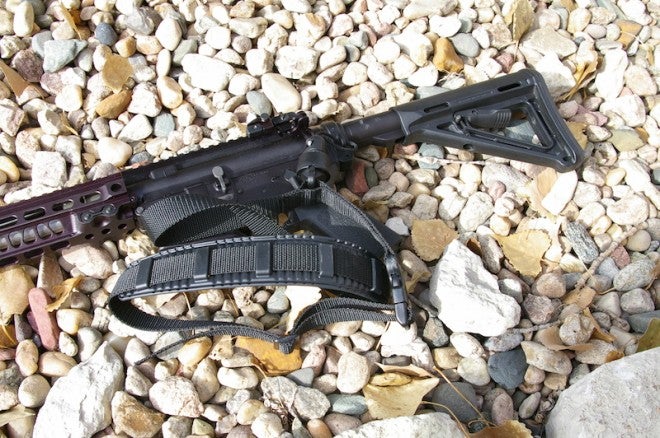 The single point harness/sling is the most popular sling for tactical CQB type defensive training, where there is a need for consistent movement from low ready to firing and back again. The problem is that typically you must remove the stock, buffer and spring, buffer tube castle nut, and buffer tube in order to install a single point sling mount on the buffer tube.
Another complaint with any sling is the noise factor due to metal parts jingling, and most slings don't have release mechanism that can be used effectively with gloves or under stress. The Rogers Single Point Rifle Harness kit addresses all these issues and a few more, all for around $35.
About Rogers – Bill Rogers
Bill Rogers, the the chief instructor at the Rogers Shooting School, is a former FBI Agent, police instructor, successful inventor, and is well known in the shooting industry. He has been a world-ranked IPSC shooter, a state trap champion, and has more than 40 years of competitive shooting experience.
Fit, Finish, Feel, Features, and Functions
The Rogers Single Point Rifle Harness kit includes everything you need to set up your rifle with a single point sling, including the buffer tube mount, quick release coupler, and a single point sling in your choice of black or tan.
All that is required for installation of the mount is to remove the stock, slip the mount over the tube, and tighten. No need to partially disassemble your rifle to install the single point mount.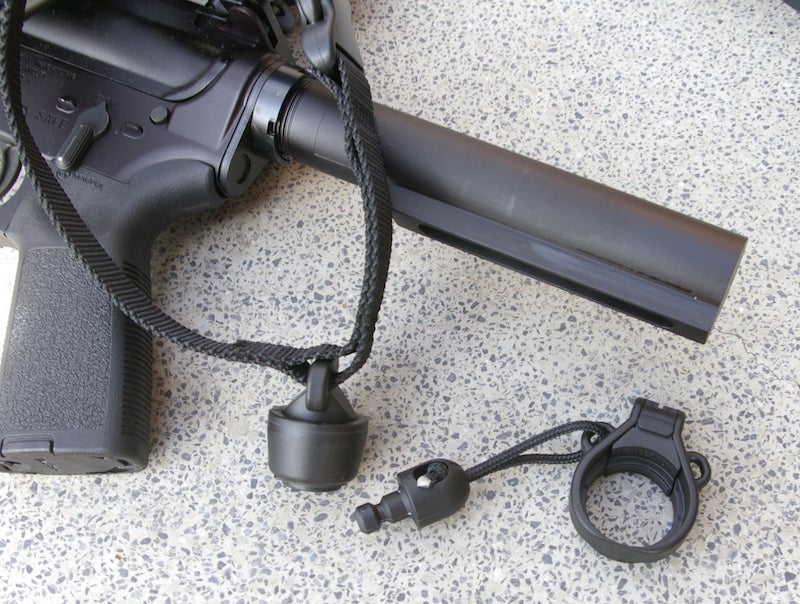 To reduce noise, Rogers created an elegantly simple paracord quick release coupler. This is the quietest sling mount in the industry, with no metal to rattle. The coupler also provides a 150-pound safety breakaway and can be carried in Quick Detach (QD) mode or quickly turned to lock it to prevent accidental release.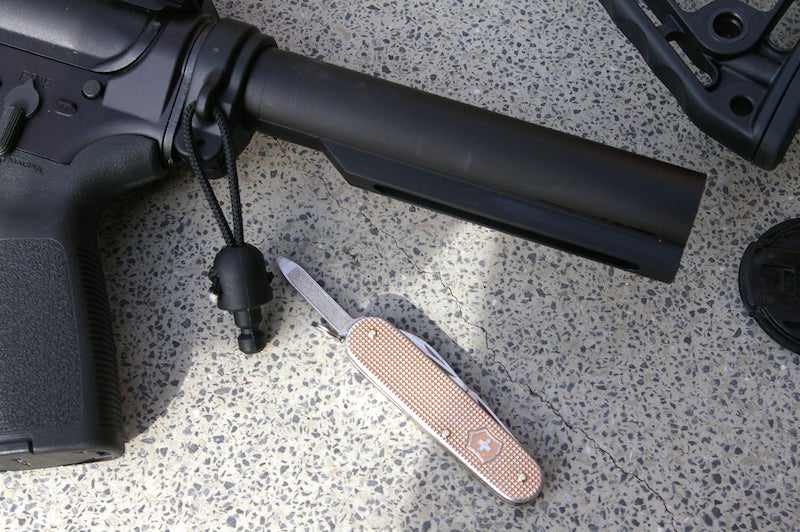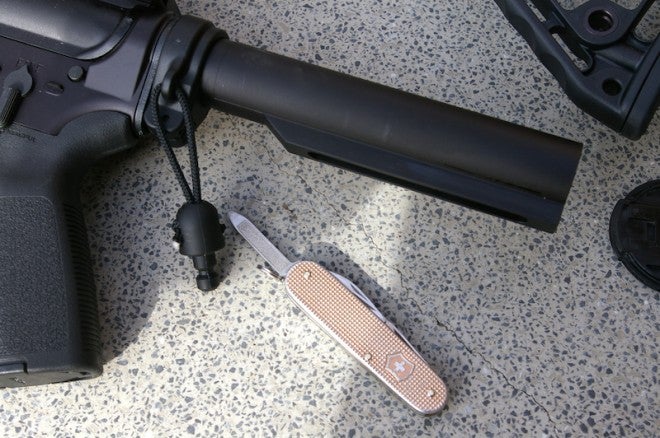 To release, just pull down to release the sling from the weapon, a task which can be done easily even with heavy gloves or under stress. No more worries about having to find and then push in an elusive QD button.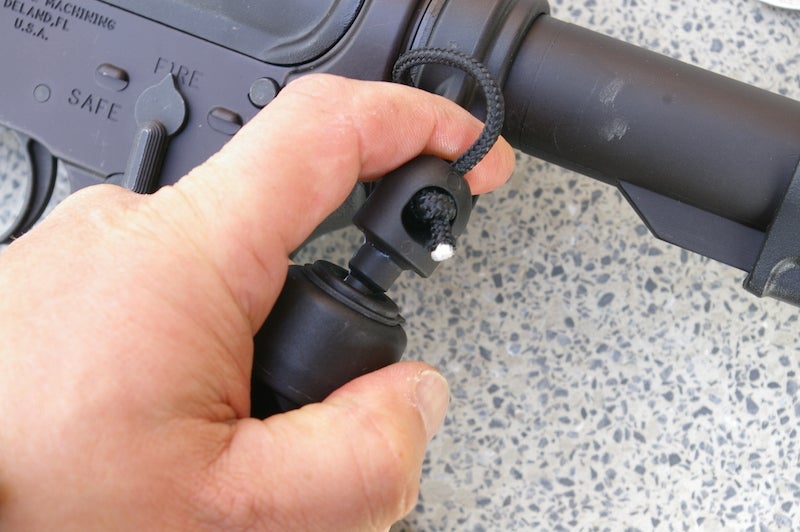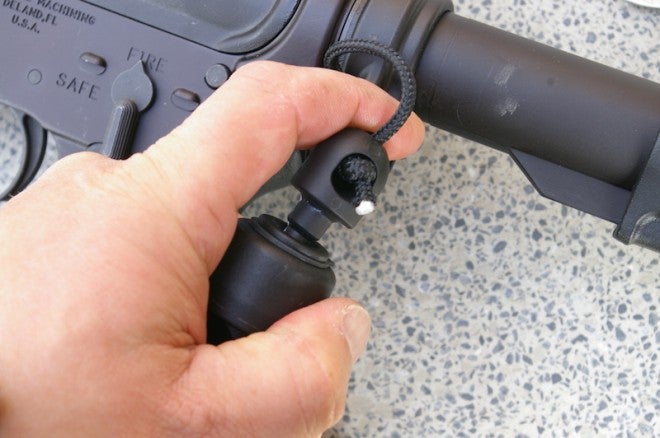 Some will note the Rogers Sling is pretty bare-bones, but I think it is just right for the expected need that is not trekking miles with the gun, but working tactically through a structure. In that situation, I certainly do not need a bungee comfort gel sling. What Rogers has provided is more than comfortable enough to make it though any day-long tactical training.
Most significant is the $34.99 MSRP for the kit, which is a price anyone can stomach. I have seen some single point sling attachments, slings, and QD studs that cost that much for each piece. The Rogers Single Point Rifle Harness kit fits on any firearm with a buffer tube, which includes AR 15 pistols or even the multitude of shotguns, pistols, and rifles that now utilize AR15 buffer tubes. The Rogers Single Point Rifle Harness kit is also available to fit Remington and Mossberg shotguns.
Final Thoughts
My only design improvement was to replace the paracord on the coupler with a slightly longer version.  I did this so I could have enough cord to attach the Rogers sling and coupler to any single point sling versus having the coupler tied to just that one rifle. In this configuration I use the Rogers sling quite a bit on a number of rifles. If you are looking for a simple and easy single point, the Rogers Single Point Rifle Harness kit is a heck of a deal.
Manufacturer Specs
The Rogers Single Point Tactical Harness allows the user to efficiently manage their sling mounted firearm. The innovative, single attachment point system provides a secure but unconstrained mount that allows the user to transition from low-ready, to firing, to quickly stowing the weapon around to the back to free the users hands and forward area for performing tasks. The Single Point Tactical Harness has 3 unique, single point attachment brackets that can be installed on AR-15/M4 rifles that come with collapsible stock buffer tubes, the Remington 870, 111, and 1187 shotguns, and the Mossberg 500 & 510 shotguns. The unique, quick-release system allows the user to detach their weapon without the need to remove the harness. The quick-release also features a lock-out system to insure against accidental detachment.
Allows an easy transition from low ready, to firing, to around the back positions to free the use of the hands.
Innovative, quick-release allows weapon to be quickly attached/ detached from harness without the need to remove the harness from the body.
Made out of durable nylon.
Single-point attachment bracket available for the AR-15/M4 Rifle with collapsible stock buffer tubes, Remington, and Mossberg shotguns.
Features a 150-pound break-away to prevent accidental and potentially dangerous entrapment (video below states 160-175 pounds).
MSRP $34.99