Watch: DTV Shredder Dual-Tracked Personal Vehicle
Russ Chastain 10.10.16

Yeah, the old Pacino quote echoes in my head when I watch these handy-dandy small tracked vehicles. Because it looks like this small machine, known as the DTV Shredder, could be quite helpful at times. Imagine a gas-powered Segway with tank tracks that takes a bit more exertion to steer.
Two aggressive tank treads, skateboard deck, and powerful 4-stroke 196CC engine make it capable of traveling through sand, snow, trails, and even mountainsides at high speed.
Check out what they can do:
Their website claims, "We are available worldwide. Find your nearest dealer." But when I typed USA into the corresponding box, I got no results. And clicking the blue "Dealers" button at the top of the page also shows nothing.
Another site does list some dealers, but almost all are in Europe.
Riding the DTV Shredder looks like it would be a workout; you steer it by leaning on the skateboard bed mounted on top. And this is not accidental; the company is hoping to turn "Shredding" into "the next action sport."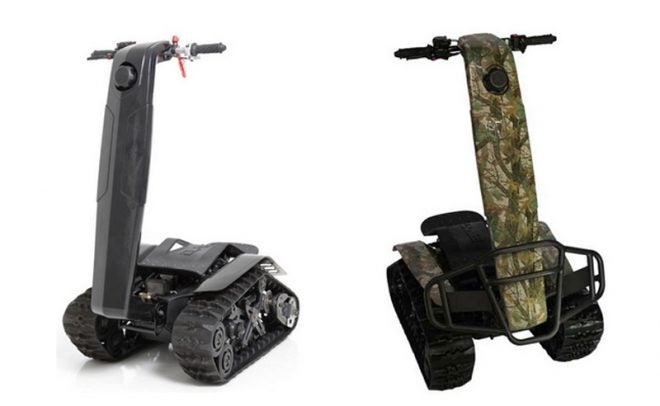 That's not the only application, though. The DTV Shredder can tow small trailers and can even be operated remotely, as seen in this video in which a "soldier" is towed:
Too bad it's so noisy. A silent (or at least quieter) one would be great for getting around in the woods, dragging or otherwise transporting heavy game after a kill, or all manner of things. It looks like it can go where ATVs can't and on steeper terrain.
I want one.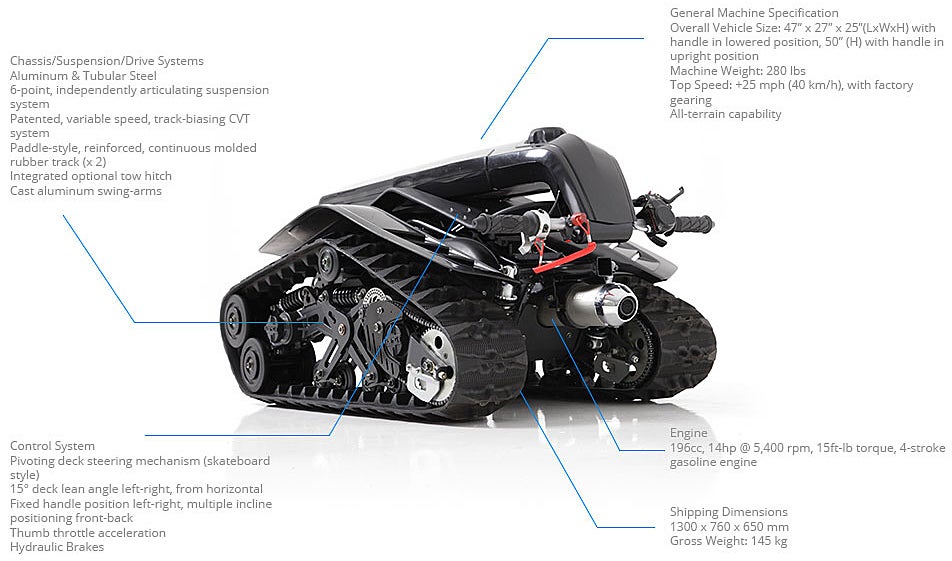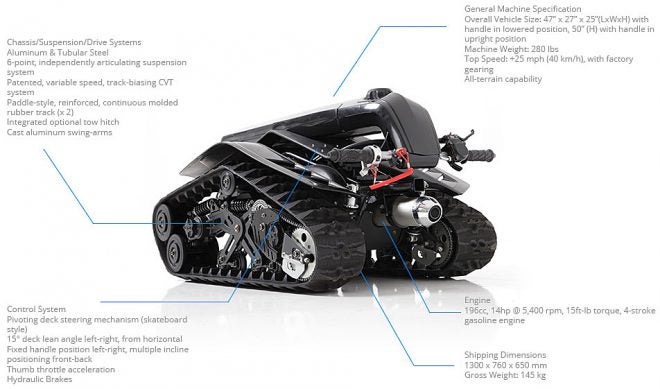 Manufacturer Specs:
Dimensions: 43" x 26" x 23"(LxWxH handle-bar folded down)
Vehicle weight: 245 lbs
Capacity: 1 person
Fuel type: Gasoline
Track type: Continuous moulded rubber track
Performance
Engine: 196 CC, 4-stroke, 14 HP
Top speed: 25MPH
Range: 25 miles/tank*
Towing capacity: 300-500 lbs*
Capable terrains: snow, sand, mud, mountain, and ability to cross water
*Performance varies with load, slope, and terrain.
Chassis:
Steel tube frame design
Fully integrated multi point suspension
Fully active undercarriage assembly
Control System
Skateboard style pivoting platform
Balance handle for stability only
Proportional control thumb throttle