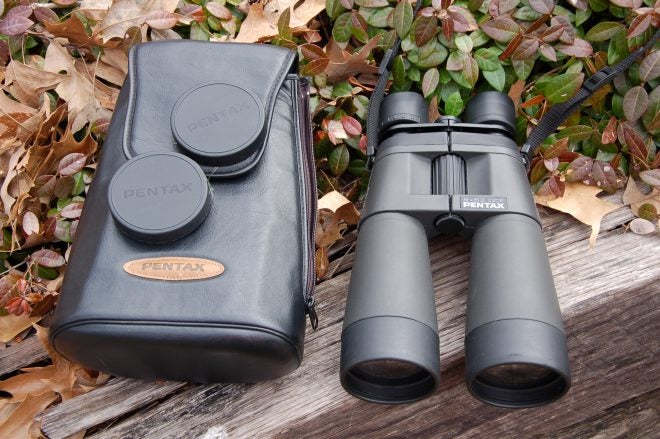 Why is it that it seems every time I find a really good product that works well, lasts a long time, and is near perfect, the manufacturer quits making it? This happened to me again several years ago when Pentax quit making a pair of binoculars that I loved. These were a unique pair of big, center focus, rubberized, 9×63 glass.
At least in this one case I had the forethought to shop around to buy a backup pair. I found a brand new one via a national gun publication for selling shooting and hunting equipment. This binocular was new in the box sitting on the shelf at a dealer in Colorado. The price was right so I did not hesitate to obtain it. I am glad I did.
And it was none too soon either, because on a Colorado elk hunt I dropped the binoculars on a big rock boulder and broke the eyepiece off on the first pair I owned. I returned the binoculars to Pentax for a repair, but they were not returned. Pentax elected to replace them with a top of the line pair because the 9x63s were no longer in production. The new ones were simply not the same.
On that elk hunt, when I came out to meet the guide wearing those binoculars around my neck, he just laughed. "Are you going to tote those things all day?" I replied in kind, "Yep, wait and see." Admittedly these were pretty big and heavy binoculars, but the magnification and clarity of this glass made them well worth it many times over.
During the hunt we were glassing elk bulls a far distance off. I was calling out the number of antler points that the guide could never see with his little pair of compact cheapies. He asked to see my glass. It took me nearly two hours to get them back from him. He went on and on about the quality of the view and the power. Yep.
So, even though I still am using the backup pair, I would love to have another one. There is nothing on the market today like them at an affordable price. I use them every year for deer hunting without any regrets for the weight. With a neoprene Vero Vellini neck strap they carry fine. There will never be another binocular like the 9×63 Pentax.