Watch: The Kindling Cracker is a Safe Way to Split Kindling Wood
Russ Chastain 10.12.16


This is one of my favorite kinds of products: Simple, tough, and effective. It's called the Kindling Cracker, and it's a much safer way to split kindling wood for your campfire than swinging an axe at or near your hand, and it doesn't send your split wood flying all over the place. Nice!
When New Zealand native Ayla Hutchinson was 13 years old, her mother cut her finger while splitting kindling wood. This inspired Ayla to come up with a better, safer way to get the job done. So, for a school project, she created a simple tool.
It's essentially a steel stand with a ring on each end. About halfway down the height of the thing, there's an axe-like blade whose cutting edge faces up. The bottom portion of the blade has fins or wings that spread out to create a wider surface with less friction and weight. And that's it!
All you do is place a piece of wood through the top ring onto the blade. You can place it exactly where you want the wood to split instead of trying to hit "the spot" with a hatchet. After placing it, you simply swat the top end of the wood with a hammer or another hunk of firewood.
The forces the wood down on the blade, causing it to split. You're swinging a blunt object near your hand rather than a finger-hewing axe, and the split wood doesn't go flying all over the place.
The bottom of the Kindling Cracker has a couple holes that you can use to screw it down to something heavy to hold it in place.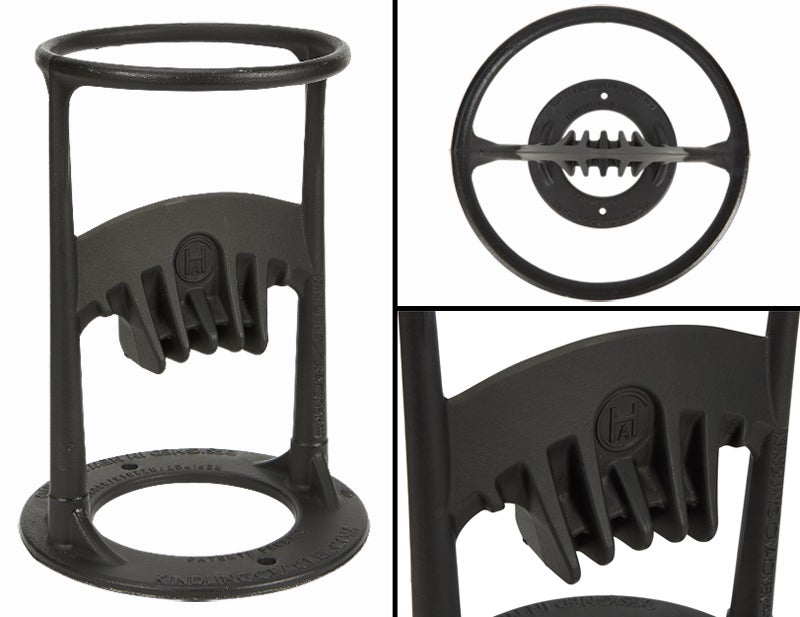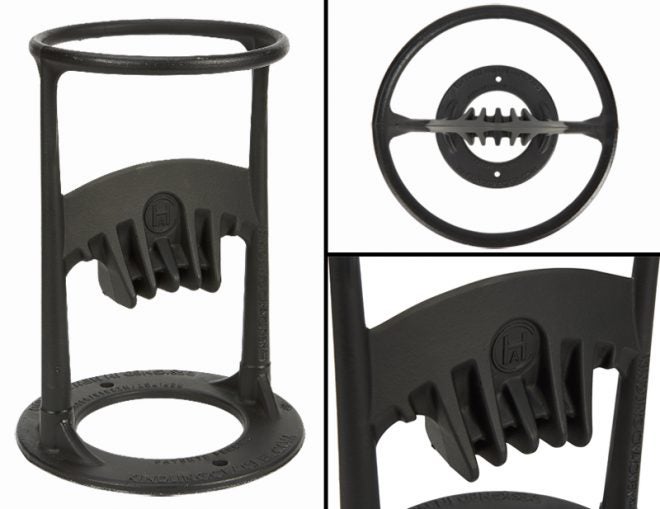 Want to see more? Here's a short commercial, featuring the inventor:
And here's a demonstration video, showing the Kindling Cracker splitting wood from numerous angles:
Factory demo vid

It's a great product, but it seems a bit pricy. I reckon casting steel in New Zealand isn't cheap.
Americans can buy it from Northern Tool, Amazon, or eBay for $90 and up. I've seen some knockoffs also, but at $65-$70 those aren't cheap either. Sure looks useful, though, and it should certainly outlast most of us.