Watch: Close Encounter With Buck and Doe Caught on Video
Russ Chastain 10.14.16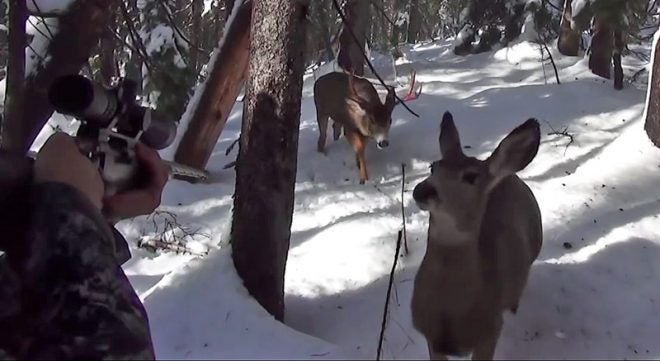 I've been up-close-and-personal with some deer before, but not this close, not while they were still alive and kicking, anyhow.
These guys are hunting in the snow when a young mule deer buck comes trailing behind a doe, who eventually leads the buck right up to the guys while they both do their best to stay still. Until she actually sniffs the one guy's pants and decides she'd better try something else!
Here's what the video description says about it:
Hunting on public land and a young, rutting mule-deer buck chased a doe right to us. The doe actually smelled Travis' pants. The young mule deer buck just stood there at 10 yards confused.
When I started watching, I was intrigued by the red color of the buck's antlers. My guess was that he had just rubbed the velvet off of his antlers, but the video description says otherwise:
The reason that this deer rack appears red is because there are a lot of Douglas Fir trees in the area. When the deer rub on the trees over time, it can leave the rack more red rather than brown.
They were clearly hunting in a good spot; in the early part of the video I saw at least one (and possibly two) more deer in the distance.
The buck even hung around afterward and didn't leave until one hunter blew a grunt call.