Who doesn't love a cannon? It looks great, it makes a nice big BANG, and it flings hefty objects at high speed. Generally, the only time not to love a cannon is when it's pointing in your direction.
In this video, creative builder Jimmy DiResta transforms a hunk of 3″ diameter brass round stock into a real live cannon that fires one-inch steel balls.
That's right, folks. It's 100 caliber! Or for you metric folks, a tad over 25mm.
If you like building things and/or watching the way they're made, you'll probably enjoy this entire video. If not, you might want to skip ahead from time to time. Me, I enjoyed finding out what he was going to make next, whether it was the pivot bars, wheels, axles, straps, or whatever.
This fellow is a true craftsman who does beautiful work.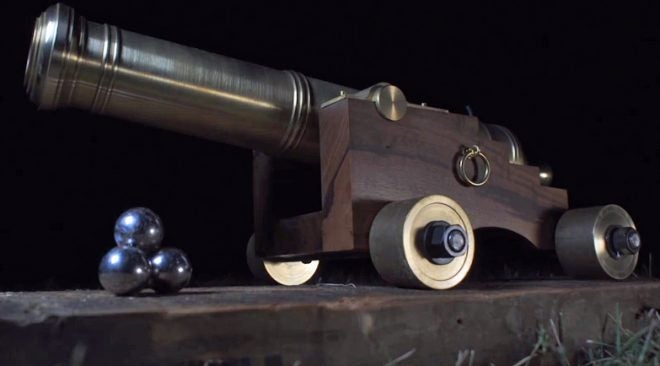 And of course, the culmination to any gun build is firing it! So they take it to the country and kill some pumpkins. Why not?