Review: Swab-Its Foam Bore Cleaning Swabs and Bore Whips
Major Pandemic 10.19.16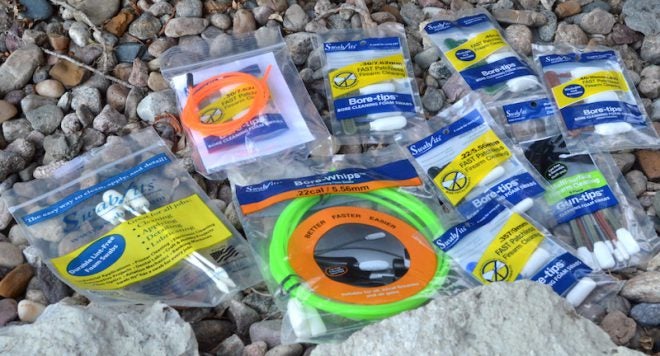 I first saw Swab-Its at the 2015 SHOT Show and simply didn't get the concept of them. Hmmm, disposable foam bore cleaners. Yeah the concept was cool, but I wondered why anyone would buy such an expensive single-use product. Like many times in life I was wrong. It was a year later that I figured out that Swab-Its are a well-made, non-damaging bore cleaner that can be cleaned and reused many times.
The Swab-Its concept is a good one and I am lucky they kept hounding me to try them. What I thought were wimpy tips are actually a highly durable plastic foam that can be washed with soap and water or most commercially available solvents so you can use them over and over again.
The secret to these swabs is a patented lint-free plastic foam, which is far more durable than "regular" foam. The caliber-specific bore-sized tips also have a hard plastic core under the plastic foam that allow the tips to have a tight fit down the bore. Unlike linty cotton swabs, Swab-Its can clean a bore in one pass due to the tight 360-degree coverage. Usually one pass was all I needed to get a nice clean bore down my dirty 22 LR and AR15 rifle barrels.
Cleaning various handguns and rifles with the other caliber specific Bore-Tips proved to deliver single-pass cleaning with nothing more than WD-40 on the Bore-Tip. I even use these on my airguns.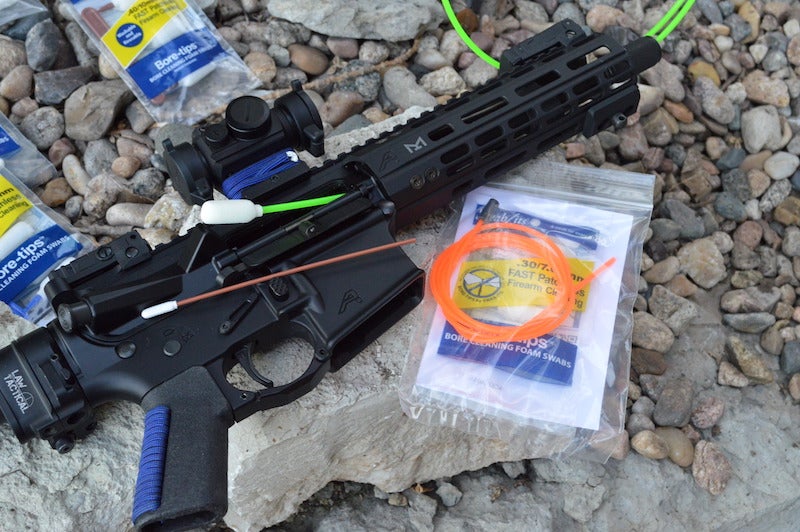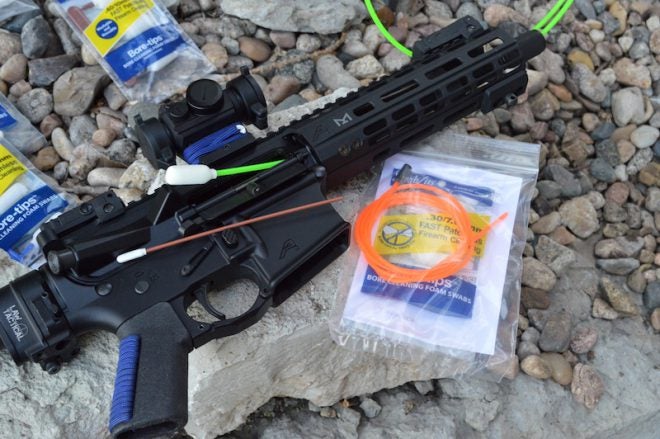 One of my favorite of these products is the caliber-specific Bore Whip. This is a long flexible nylon tail that's permanently attached to one of their bore tips. Simply pull it through the bore, and you're done.
This is basically an inexpensive flexible breech-to-muzzle cleaning device that can also serve as an Empty Chamber Indicator (ECI) with its bright color.
One of my Bore Whips has a little over seventy or so cleanings and it is still holding up. If I was packing for a hunting trip, I would not worry about anything more than one of the lightweight Swab-Its Bore Whips.
Another useful set of cleaning tools are the Cleaning Tip and Foam Swabs, which make detailed cleaning a breeze and allow you to get into all those nooks and crannies of a gun. These too can be cleaned and re-used again and again.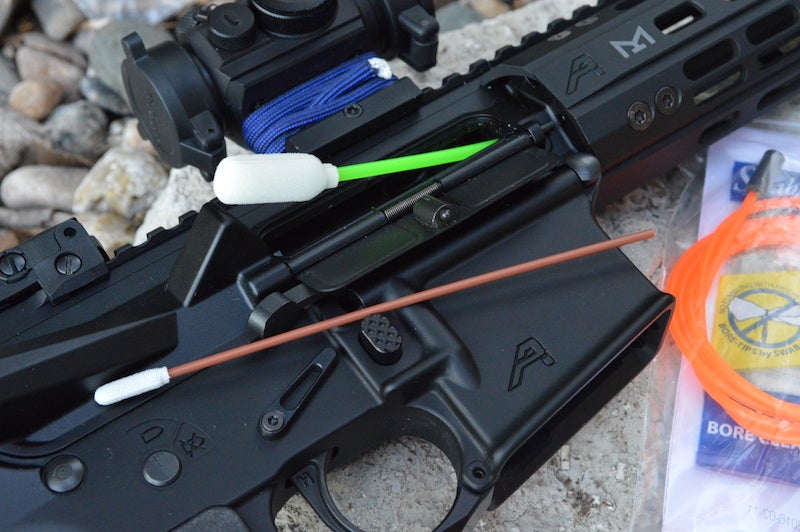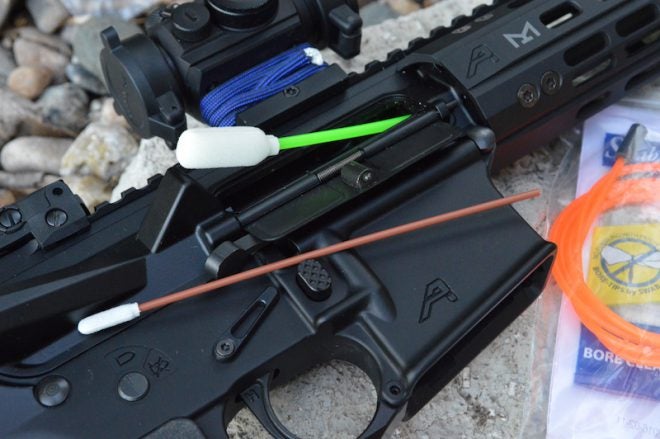 Swab-Its was nice enough to send me samples of their entire line of products to feature in the article. The Swab-Its bore tip technology is available in various forms, including screw-in Bore-Tips, which fit any standard 8-32 and 5/16-27 threaded cleaning rods on the market. The 8-32b threads also work with Otis cleaning cables. Yes, now my little Otis kits have Swab-Its Bore Tips tucked in them as well.
Final Thoughts
I really like Swab-Its in all these variations. They hold up extremely well, give you a clean, lint-free bore in short order, can be used with your favorite cleaning fluids, and most importantly can be used over and over again.
Manufacturer Specs
Made in USA

Sizes: .22cal, .243cal, .30cal, .357cal, .40cal, .45cal, 12gauge, 20gauge and 410 gauge

Easier, faster, and simpler than traditional patches and jags.

Replaces patches and jags in traditional firearms cleaning.

Provides superior barrel cleaning.

Provides 360 degree bore coverage.

Provides uniform application of oil for storage.

Lint free Bore-tips® are plastic foam over a plastic core.

Economical, washable, and reusable.

Stands up to most commercially available solvents.

Color coded for easy caliber identification.

Threaded to fit on standard 8/32 and 5/16-27 cleaning rods
Swab-It Swabs and Tips
Sizes: 3″ mini tip swab, 3″ precision tip swab, 5″ large surface swab, 6″ extended reach swab and 9-piece kit.

Workhorse Double-ended swab, Double-ended Tear Drop Chamber Swab
Tested
.45ACP Bore Tips

.357/9mm Bore Tips

.30/7.62mm Bore Tips

.40/10mm/.410 Bore Tips

.22/5.56 Bore Tips

Detail Cleaning Tips

Multi-Surface Cleaning Foam Swabs

Bore-Whips .22/5.56mm