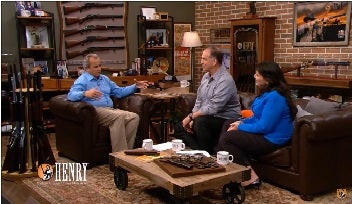 Henry TV is up and kicking with two half-hour episodes on their company and products. Anthony Imperato himself sits down with us for a good hour of stories and showcases the rifles himself.
Henry claims, "It's all about our customers," and having been on the receiving end of the wonderful customer service, I think they mean it. Extremely pleasant people who really want your feedback, praise, and even criticism.
America's Rifle and now America's Shotgun? That's right, you aren't misreading this. Henry is introducing a lever action 410, seen below at the 19:50 time-stamp, followed by a line of new single shot longarms. All available January of 2017.
Man, a few months ago I did a review of the Big Boy Steel and I lamented the loading process. When I saw the Long-Ranger with it's box magazine, I said, "This is what I'd get." But now this shotgun? Wow, no joke, my family has a bit of a history with 410's and I want to take this to shoot clays.