Chiappa Little Badger Portable Folding Single-Shot 22 Rifle
Russ Chastain 10.21.16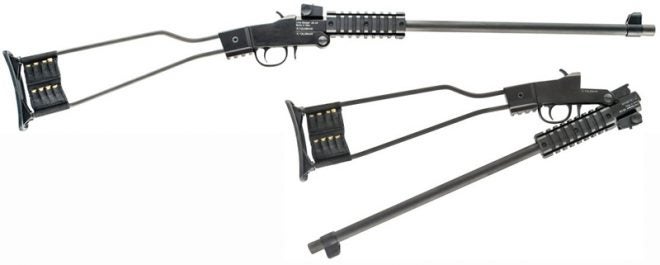 When it comes to packable long guns, it's tough to beat one that folds in half. It takes up less space, yet it's still ready to rock as soon as you pull it out, unfold it, and stoke it up.
This is the Chiappa Little Badger, and it's about as bare-bones as you can get. It's a single-shot break-open rimfire gun, available in 22 LR or 22 WMR (magnum) versions. Barrel lengths are listed on the Chiappa site as either 18.5 or 16.5 inches, and with the shorter of these, the folded gun is only about 17 inches long. They even sell a sleeve or case that can act as a sort of huge holster that you can tote separately or lash to your pack.
The standard model shown above has a wire frame stock and no forearm besides that funky quad rail thing, but there's also a Little Badger Deluxe, which has a wood stock. The wood stock definitely makes it thicker and heavier, although the specs on Chiappa's site call for the same 2.93-pound weight no matter what barrel length or stock it has. Hmmm.
The wire stock version has an ammo holder built into the stock, so you don't have to dig through your pockets for groceries when you drag it out for some action.
Sights are adjustable "M1 Carbine style" iron sights, and of course you could slap a scope or red dot onto the quad rail if you felt the urge.
There's an optional cleaning kit "pistol grip" for this model, but I have to say it's one of the least practical (and least attractive) attempts I have ever seen for accessorizing a firearm–and you can't even fold the gun properly when it's installed.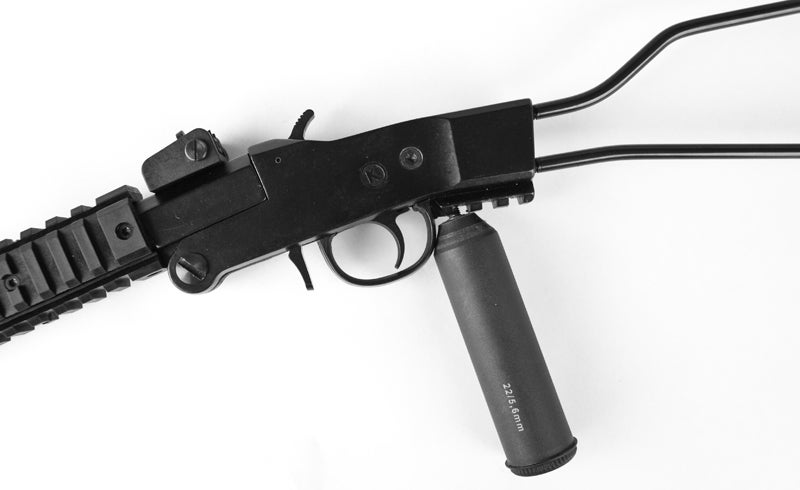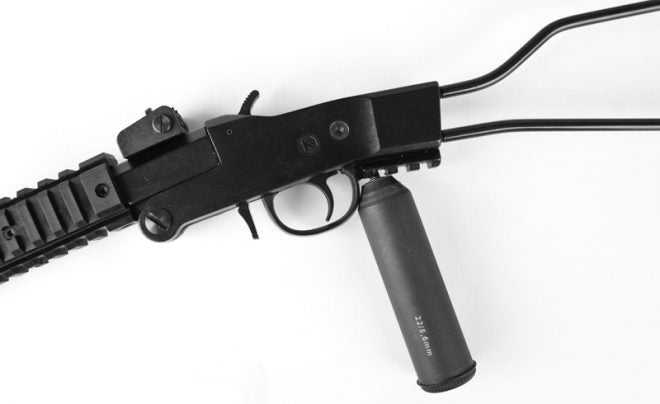 This would probably make a handy little game-getter for small critters to keep in a UTV or ranch vehicle.