American Eagle 1,000 round 9MM Ammo Giveaway
david 10.24.16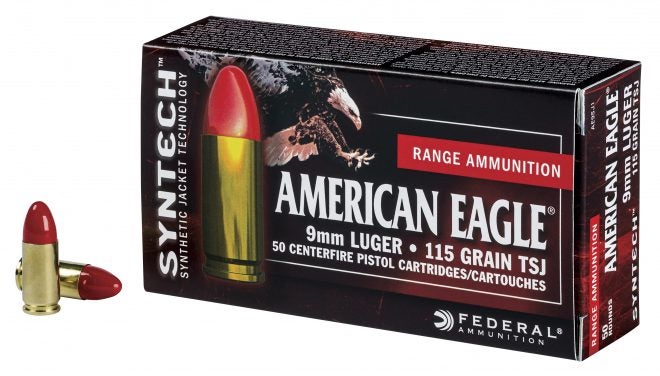 American Eagle has partnered with AllOutdoor.com to give you the opportunity to win one of (2) 500 round 9mm Luger prizes. The first winner will be chosen based on entering the contest. The second prize will be given away to the entrant with the most referrals, so make sure to share this giveaway with your friends!
Prizes: We will be giving away 2 prizes.
Prize #1) 500 Rounds of 9mm Luger SYNTECH™
Prize #2) 500 Rounds of 9mm Luger SYNTECH™ for the entrant with the most referrals.
How to Enter:
1. Enter your email
For Additional Entries:
1. LIKE both company Facebook pages
2. Share the giveaway with your friends on Facebook
Giveaway ends on November 15th, 2016. The winners will be chosen by the end of November. Make sure you read the giveaway terms and conditions before you enter. Must be 18 years old to enter and the winner is responsible for adhering to any state and local laws for lawful possession of ammunition. The winner will be contacted by American Eagle directly.
—————————————————————————————–
AMERICAN EAGLE® SYNTECH™
The exclusive polymer coating in American Eagle® Syntech™ prevents harsh metal-on-metal contact between the bullet and bore, eliminating copper and lead fouling. Combined with clean-burning powders and the Catalyst lead-free primer, Syntech loads keep your gun cleaner, longer, so you can shoot more—and shoot better.
Features:
Polymer-encapsulated Syntech® bullet prevents metal-on-metal contact in the bore, eliminating copper and lead fouling, while extending barrel life
• Exclusive lead-free primer formulation provides the most reliable, consistent ignition
• Clean-burning propellants minimize residue and fouling
• Significantly reduces the required frequency of cleaning
• Absence of a copper jacket minimizes splash-back on steel targets
• Less perceived recoil