QuickSafes Hidden-Compartment Storage and RFID QuickLocks
Russ Chastain 10.25.16


Here's something that could be cool. QuickSafes offers small storage compartments that can allow you to store valuables hidden in plain sight, with their main thrust being their QuickLock, which is an electronic lock that opens when you get an RFID card near it.
Here's a video overview that shows a couple of their products.
The QuickVent seems to be their flagship product. It's a metal box sized to fit between 16″-spaced wall studs, with a plastic cover that makes it appear somewhat like an air vent. I say "somewhat" because the screws look fake and so does the vent cover. But at a glance it should pass as the real thing. They've also got a QuickVent Plus, which has a false bottom that allows you to store 50% more stuff.
To open, you just place an RFID card or chip against the door in the right place, and it automatically opens. The lock is powered by 4 AA batteries, which come pre-installed. And if the batteries die, don't fret. As long as you can find the backup battery box that comes with it, you can put some batteries in it and plug the cord into a small jack in the bottom of the door.
Looks like it has plenty of room for a handgun or two, some magazines and spare ammo, cash, etc.
They also have a QuickShelf, which opens by dropping down, like many other hidden-storage shelves. But again, with the QuickLock RFID setup. Without that RFID, nobody can get your stuff; there are no hidden latches that crooks or kids can find to open it up.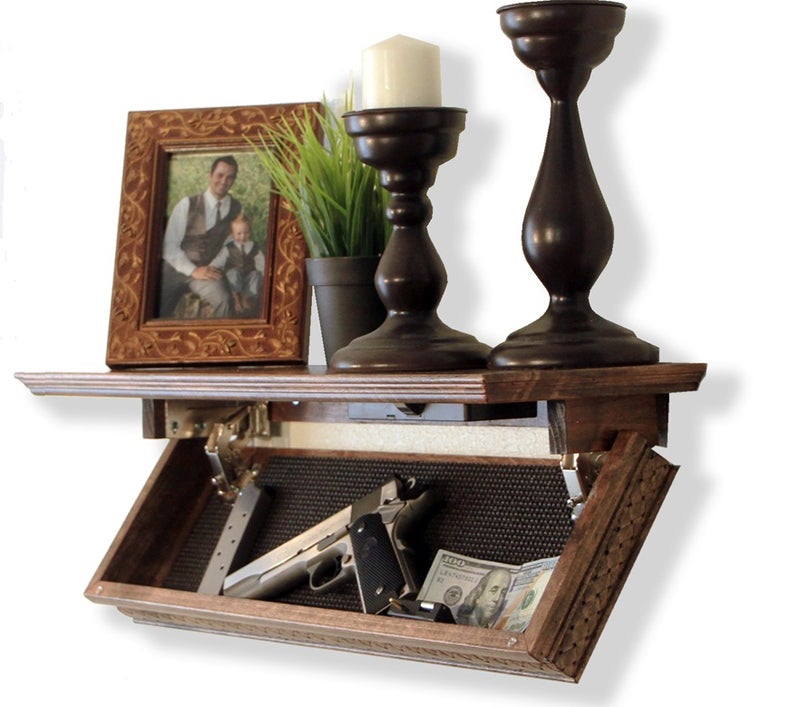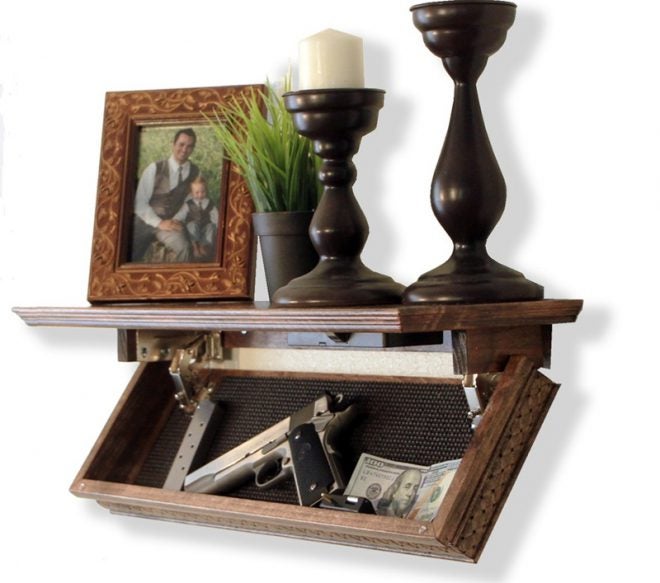 The QuickShelf comes in brown, black, and white, all of which are listed on the website. And a recent video says they also offer an unfinished version for folks who want a custom finish. (I didn't see that one listed on the site.)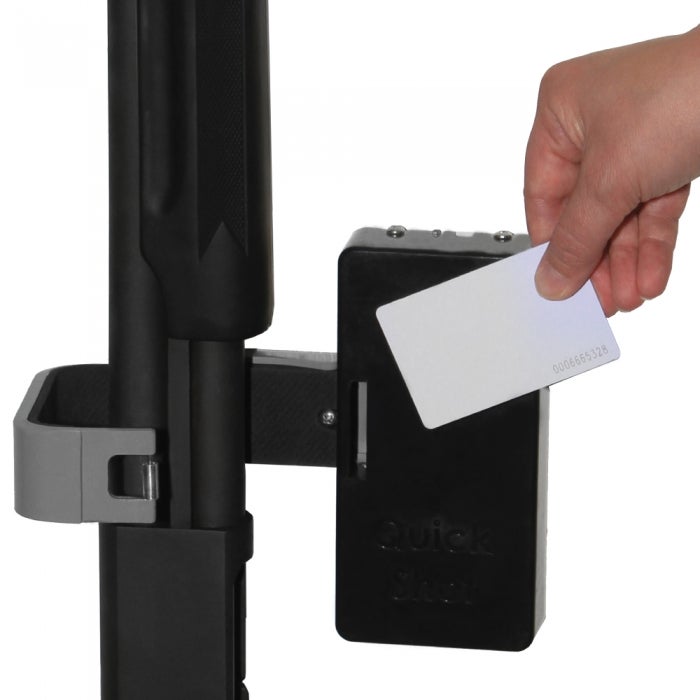 They've also got a dedicated gun lock called the QuickShot, designed to clamp around the barrel and magazine tube of a pump shotgun and anchor it to a wall.
And for DIY types, they even offer a do-it-yourself kit containing a QuickLock and materials to install it. here's what they say about it:
The QuickLock is a condensed version of the lock inside our other products. Using the same technology, the QuickLock is designed to be incorporated into your own projects. The QuickLock sensor can be actuated through 1.5″ of wood and is perfect for custom hidden compartments.
This 8-second video shows the DIY lock after it was installed on a drawer.
These things look pretty useful for securing guns and other valuables in non-obvious ways. But the pessimist in me kinda wants them to have a backup key lock "just in case." Maybe I'm just old school.