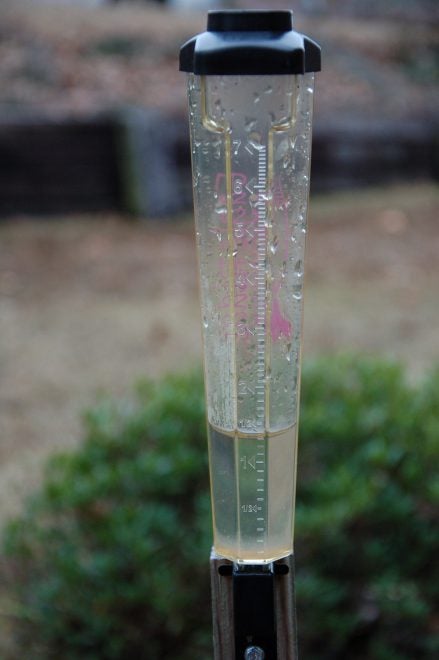 Some may be asking, "Why hunt in the rain?" Do deer actually move in a downpour? Then, what do we really mean by "rain?" Is it worth the effort to be in any kind of a deer stand when moisture is in the air?
Rain comes in many forms, mostly described in terms of the volume. There are mists, sprinkles, rain, gully washers, and even frog chokers, and undoubtedly many forms of precipitation in between. Either way, if you are exposed you are going to get damp or soaked.
Two hunting rain events I remember well. In the first, I was sitting atop a tripod fully exposed to the elements. A really nasty looking black cloud front moved in across the property. At the first rain drop the size of an M&M, I bailed out of the stand. Before I got back to the cabin on my ATV, I was soaked to the bone. I stripped down right there and wrung water out of my underwear. No deer were moving. That storm turned out to be a tornado twenty miles away.
The other time I desperately hunted in rain, at least the stand had a somewhat cover. I could peek out the window to note a flood forming underneath my stand. Then I heard the strangest sound like a cow slogging through mud. When I peered out the window again, a buck ran right underneath my stand headed somewhere in earnest. He was gone in a second. Dumb deer, dumb hunter.
Many times over the years of deer hunting, I have been out in various forms of rains. If the mist or rain is light, then deer definitely move. If it is a proverbial downpour, then stay at home. No self-deserving buck is going to be out chasing a doe in a heavy rain. But, stand ready to go when the front passes.
If you can stay comfortable during a light rain, then go hunting. Have a good rain suit ideally with Gore-Tex ® to keep you relatively dry along with boots like a Muck ®. I once took a red and white golf umbrella with me to a ladder stand to hunt. It kept me fairly dry and I had several deer walk right past my stand unafraid of the umbrella. Your enthusiasm will dictate your determination.
<script type="text/javascript" src="http://www.avantlink.com/link.php?ml=288229&amp;p=161795&amp;pw=201835&amp;ctc=20170404 rain hunting&amp;open=_blank"></script>