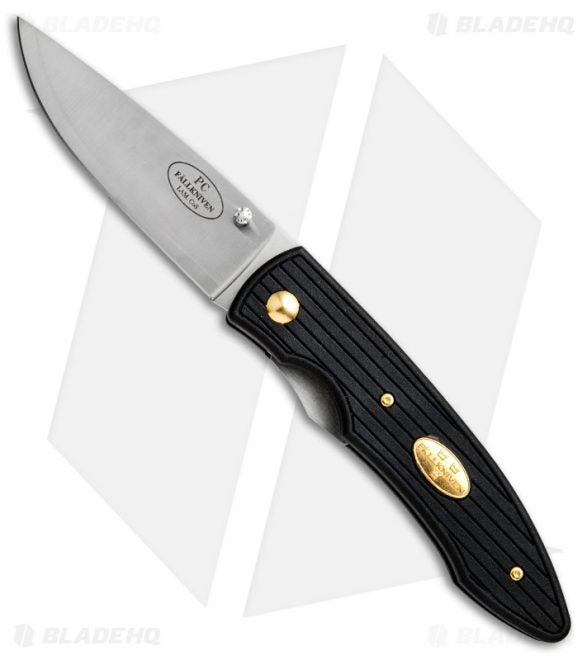 Fallkniven has always made great knives. They may not be the most famous brand or the best selling, but the cutlery they produce is unquestionably top notch. One thing that probably holds them back a little is their blades usually bear little resemblance to what is popular at the moment. For me, this a bit of their charm, because in our rush to own forty titanium framelock flippers we sometimes forget that there are other ways to make knives that are also very good. When ZT is putting out 10 new knives a year and they all have a flipper tab, Fallkniven is releasing a micarta handled version of its awesome F1 fixed blade that costs $600. Trend followers, they are not.
So it was a bit surprising to see an addition to their stable of very good user knives. And it was even more surprising that it was a folder. And I about fell out of my chair when I saw the weight and price. For years Fallkniven folders came in two varieties: either uber-heavy or the U2 style blades that are as light as a feather. The uber-heavy blades always had great materials and sterling fit and finish, but I just couldn't bring myself to carry an 8 ounce folder with a 3.5 inch blade, especially when stuff like the Paramilitary 2 was available. But the new folder, called the PCx, is a horse of different color.
This is a knife that looks just about perfect for EDC use, and though it's not a framelock flipper it has a bevy of features that indicate that, yes, Fallkniven CAN read the market.
First, the big deal–this knife is right around $100 and it weighs just 2.6 ounces. The blade is a very user- and people-friendly 3 inches. It includes a pocket clip (a rarity for Fallkniven folders) and it's a deep carry pocket clip. That's about as surprising as showing up to a graduate school level accounting class and finding out that it was taught by Kim Kardashian.
The run of good ideas continues: this is a thumb stud deploying knife (don't laugh, many of Fallkniven's knives, even the beefy ones, use a nail nick) and it has a liner lock. This is a thoroughly modern knife and one that just might be "trendy."
But aside from all of the popular features crammed into the PCx, the thing that really caught my eye running down the spec sheet was the steel. Fallkniven has always been a place to get very unusual steels and almost all of their blades are laminated steels. Here the laminate is a sandwich with 420J as the bread and CoS as the meat. CoS is a high-cobalt steel that was developed in Japan by Takefu very recently (in the last five to ten years). It is a high corrosion resistance steel with a surprising hardness of around 60-62 HRc. Even with all of these good things going for it, only Fallkniven and Spyderco (on one of their Mules) has released knives with this steel.
For for around $100 you can score a blade that has many of the trend setting features you want with a very interesting steel and all of that unusual Fallkniven goodness to it. Definitely worth a look.


SHOP NOW