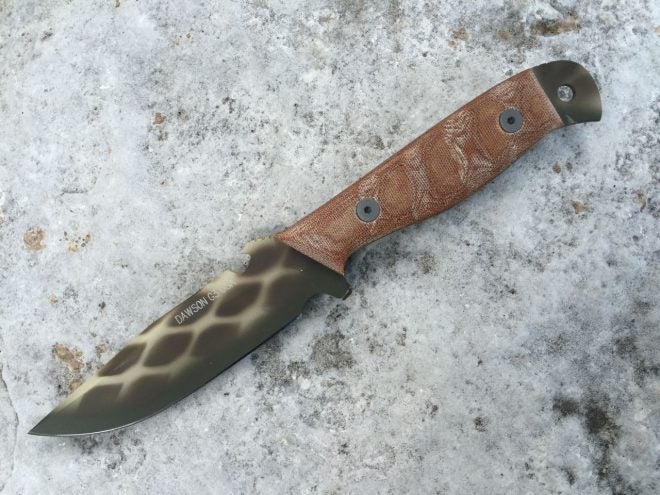 I bought my first Barry Dawson knife in an online auction on the maker's site back in about 2003. I'd been a knife nut all my life, and this was my very first custom. I paid $180 for it (a steal), and when I unboxed it I was in awe of the precise, elaborate grinds, and razor sharp edge.
In the years since I picked up my first Dawson, Barry's studio has grown quite a bit and is now a full-blown family business with multiple Dawsons making knives under Barry's expert tutelage. A few old designs, like my aforementioned Japanese-style survival knife, have been discontinued, but Dawson has introduced a number of brand new models, among them the Scout.
The Scout is an all-purpose, full-tang tactical/field knife that's lightweight, compact, and super tough. This isn't a Busse-style chopper or a "Rambo" knife. Rather, it's a "survival knife" in the practical, real-world sense of the term, meaning it's a working tool that's meant for woodcraft, shelter building, forcible entry/demolition, game processing, and (should it come to it) self defense.
I reached out to the shop and they kindly sent along a Scout for T&E. Since I didn't buy it for myself and it's a loaner, I beat on it even more than I normally would, slightly crossing the line into what I consider to be knife abuse. Read on to find out how it held up.
Features
Here are the basic stats for the Scout:
Blade Length: 4.5″
Overall Length: 9.5″
Knife Weight (No Sheath): 7oz
Knife Weight (With Sheath): 10oz
Blade material: 3/16″ 80CrV2 high carbon alloy steel w/ Vanadium (made in Germany)
Blade finish: Cerakote
Handle: canvas micarta
Price: $395
There's a bottle opener built into the spine of the knife, which I guess is a nice touch, but not one I'd ever really use.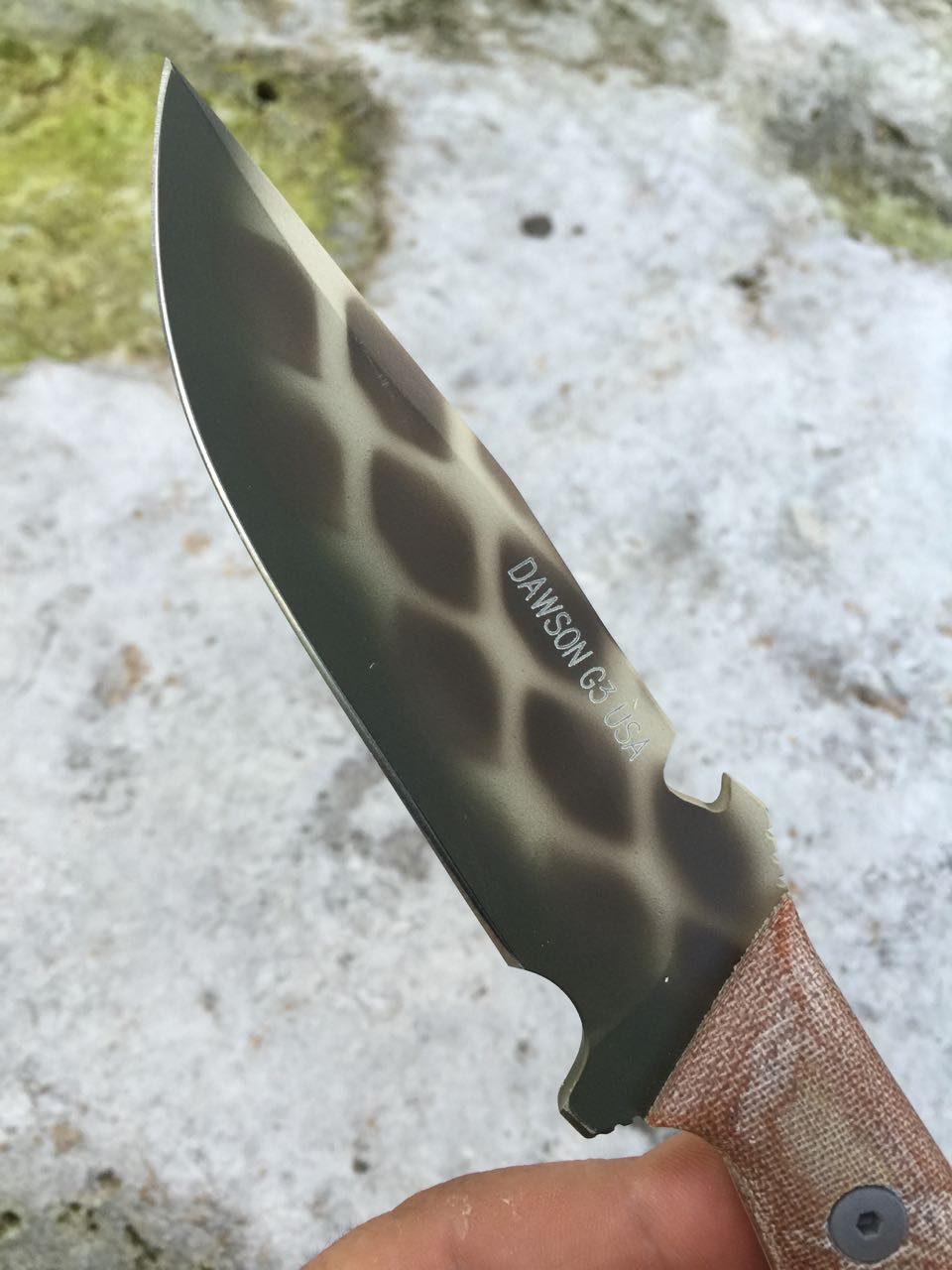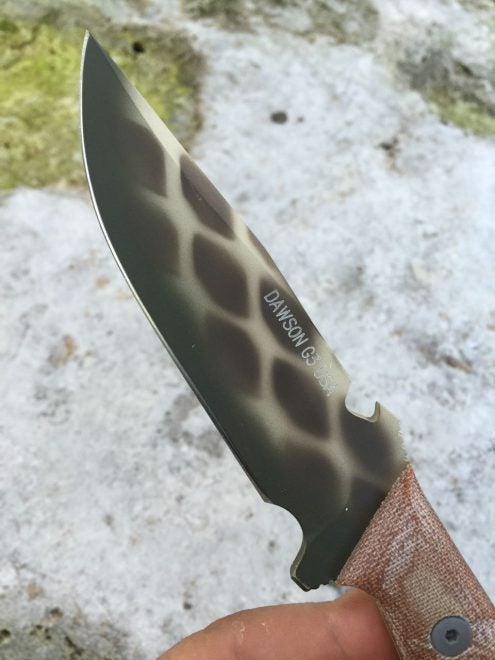 The pommel is such that you can use it as a demolotion tool for prying and scraping, or you can press it into service as a flathead screwdriver in a pinch.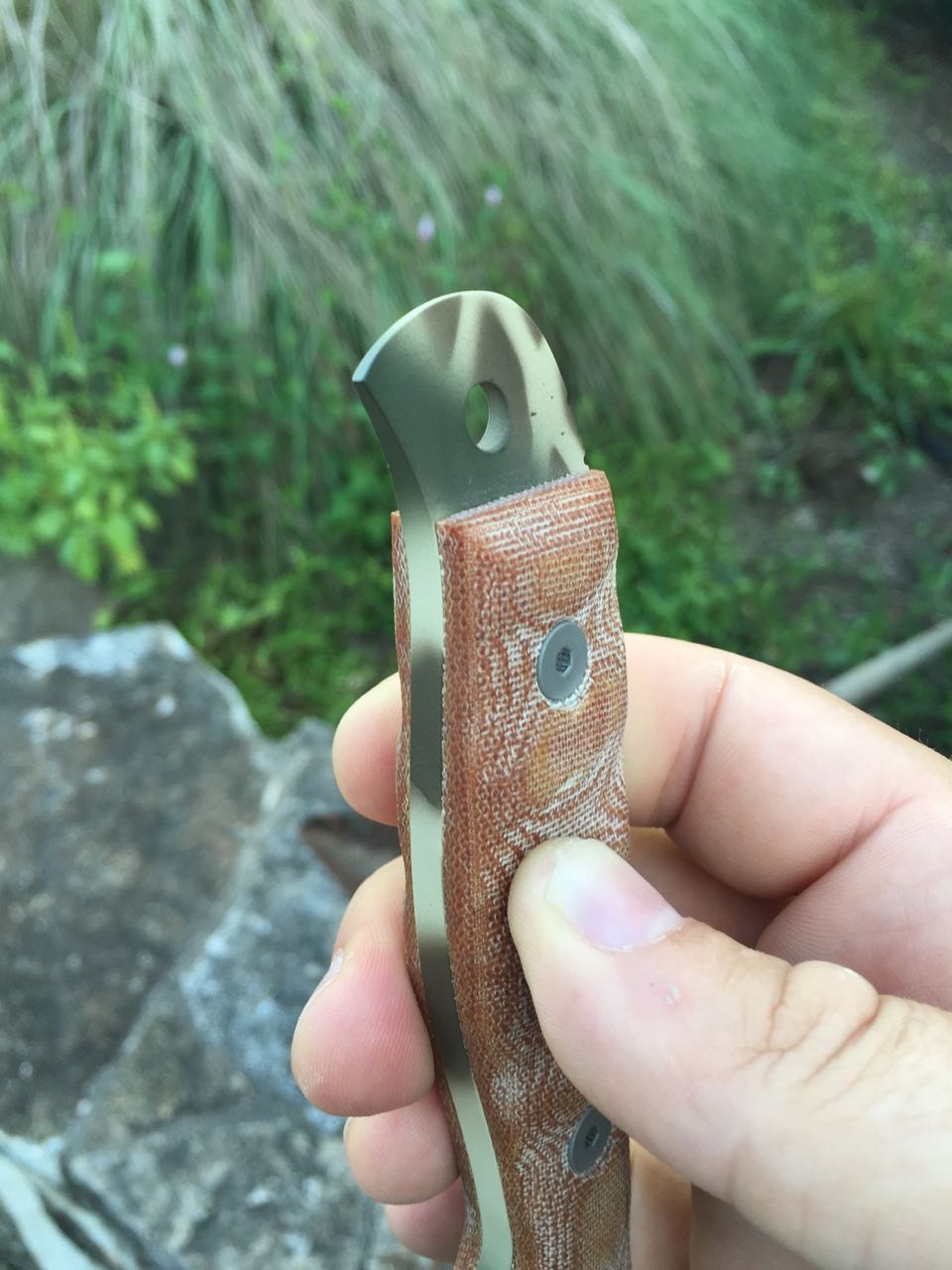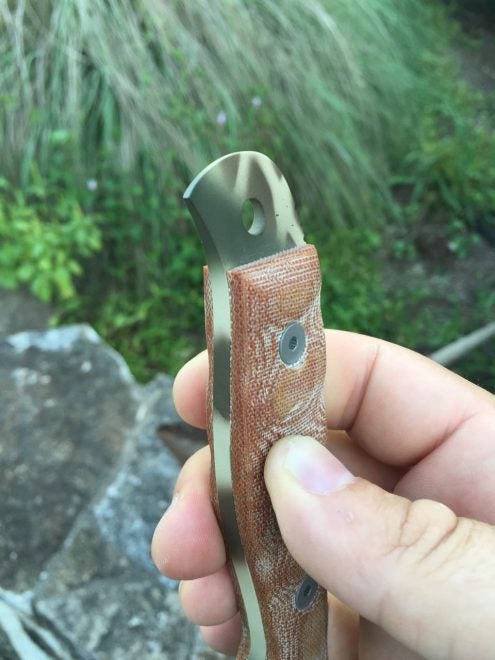 One of the Scout's best features is its compact size. It has a 4.5″ blade and a 9.5″ overall length, so it's a full-sized fixed blade, but it really does feel compact. If it were half an inch shorter, it would be concealable in a front pocket. As it is, it's a little long for pocket carry, but the profile is thin enough that it can still be fairly easily concealed on your person.
So with the Scout, you get a do-it-all fixed blade in a package that's compact enough for concealability in a pinch.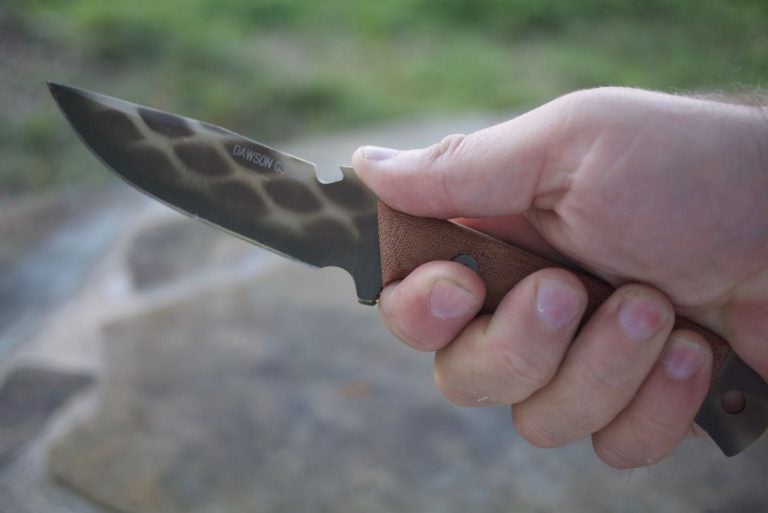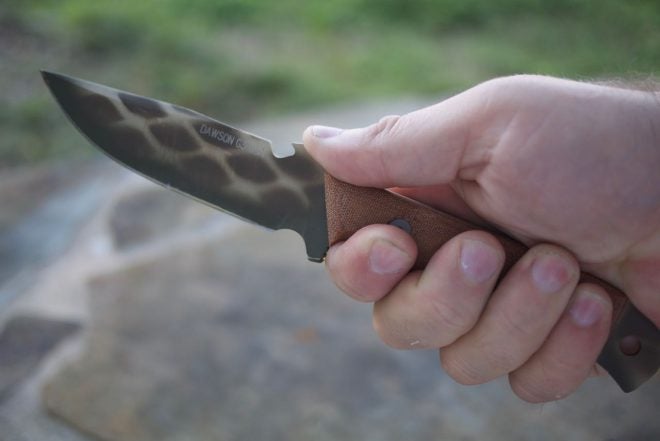 My hands are large, so the handle was almost too small for me. Just almost, though. It did fit comfortably in my hand, and the canvas micarta gives a great grip, which is why it's my favorite handle material. I didn't experience any hot spots in using the blade, but I will say that because of the size I had to take care not to relax my grip. There were a few times when I wasn't paying attention and almost lost it while working away at a tough piece of wood.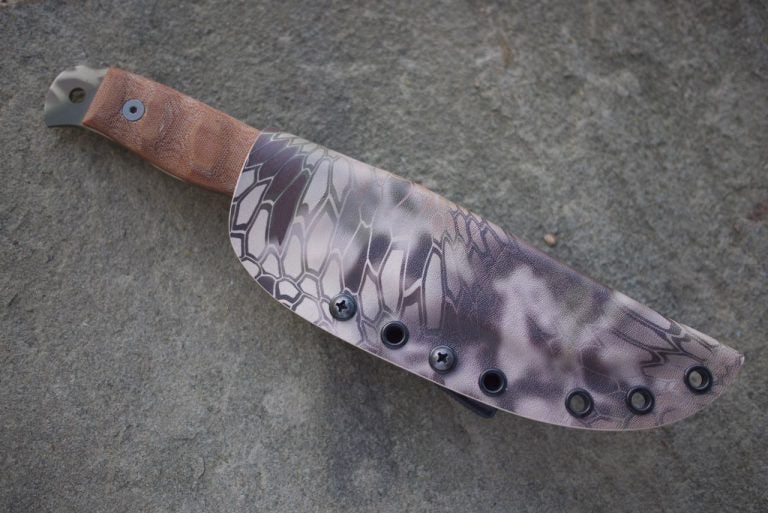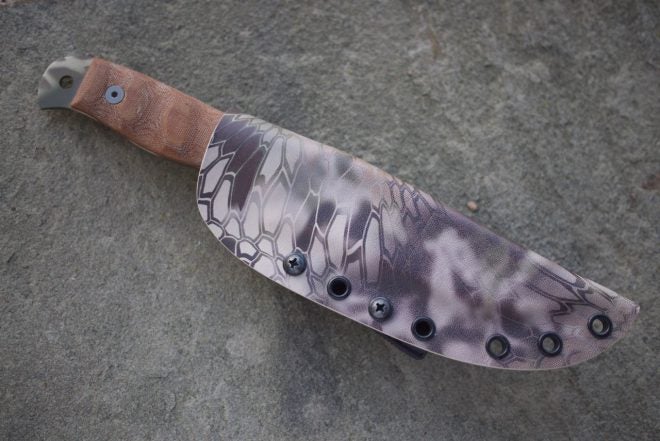 The Kydex sheath is attractive and durable and comes with a Tek-Lok belt attachment that can be reconfigured for vertical carry. The knife locks securely into the sheath with no rattle. However, the Tek-Lok attachment brings me to my first nitpick about this knife. Because the Scout is so compact, that attachment adds a ton of bulk to the overall package. In fact, it more than doubles the width of the whole thing. I'd like to see a more compact belt clip option for this sheath so I could actually do pocket or inside-the-waistband carry with it.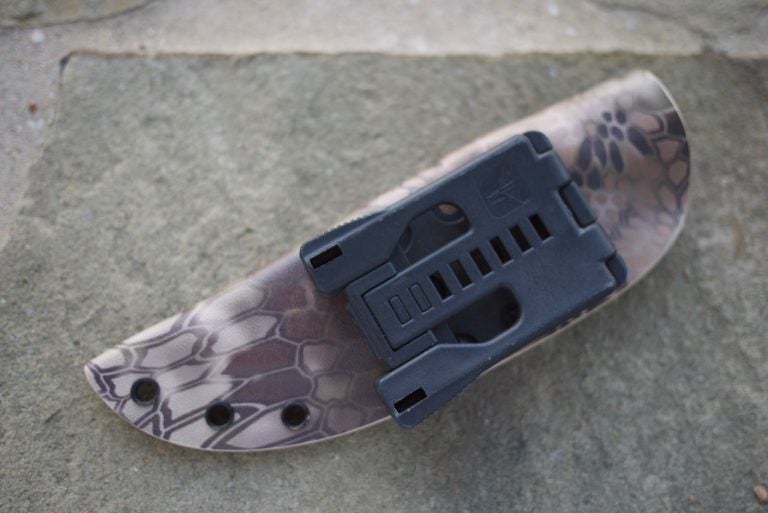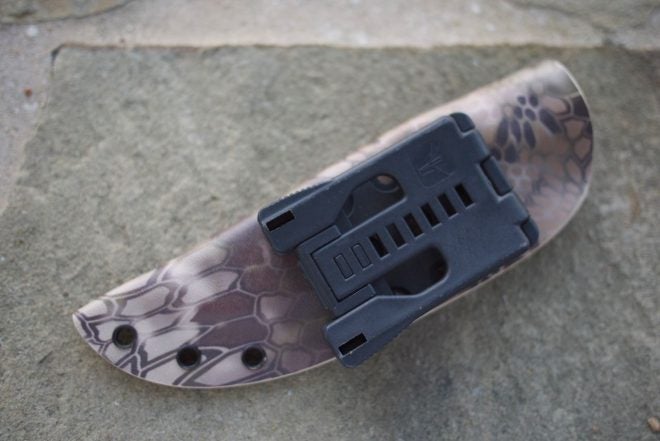 As for the blade itself, Dawson's shop now makes its knives out of 80CrV2 steel, which is substantially tougher than the 440C that Barry used back in the day. 80CrV2 is a high-carbon steel similar to L-2, and it's known for its extreme toughness.
Before moving to German 80CrV2, Barry Dawson had acquired a legendary reputation for his ability to wring amazing toughness and edge-holding ability out of 440C, a steel that was, even then, a pretty run-of-the-mill stainless. This came down to Dawson's famous and proprietary heat treatment, which his customers swear by. My own Dawson is a 440C knife, and I haven't had any issues with toughness or edge retention; it just goes to show that despite the knife community's obsession with super-steels, a proper heat treatment means a lot more than a steel's datasheet.
Given the miracles that Dawson could work with plain old 440C, I went into this review expecting big things from his 80CrV2. I was not disappointed.
Testing and Use
I typically test knives by doing the kinds of things I'd normally do with a knife. Despite the fact that I'm a fan of destruction tests in general, I don't think such things are super useful and I definitely don't do them when I do a review. Also, a lot of times I buy the blades, so I don't want to ruin them since I plan on using them.
However, the Scout is a loaner, and being the owner of a Dawson, I know how tough these blades are. So I went ahead and beat the heck out of it.
I have some large, downed oak limbs that I use for knife tests, so I started out as I typically do by skinning the dried bark off some branches and whittling them. I cut v-notches, made feather sticks, made primitive spears, did the obligatory batoning, used the blade tip to drill holes in the wood, and generally worked the knife quite a bit.
Aside from some scuffing on the Cerakote, the knife held up fine, as expected. The combo of Dawson's astoundingly sharp edge, the high-carbon steel, and the heat treat means that this knife cuts like a demon and doesn't get dull. Even after all the cutting, the knife wasn't noticeably duller and would still shave, so I decided to see what it would really do.
I got a regular galvanized nail out of my toolbox and laid it across the top of a piece of oak. I donned my safety glasses, picked up a mallet, and with a two sharp whacks to the spine of the knife I drove the blade clean through the nail and into the wood.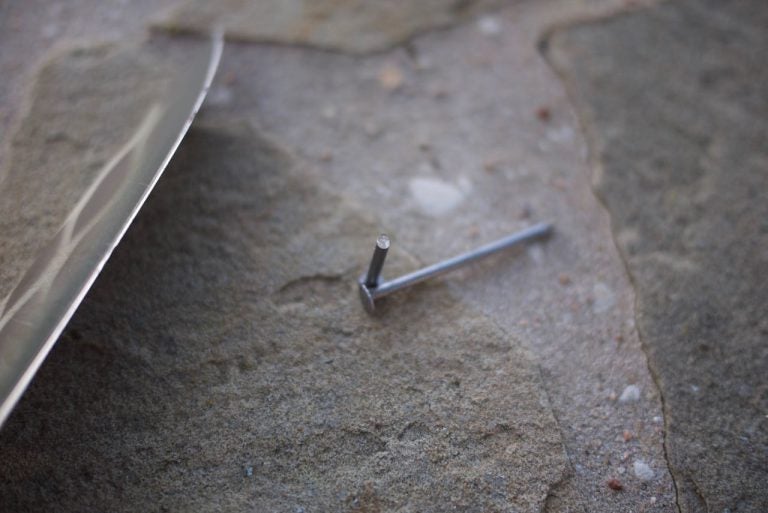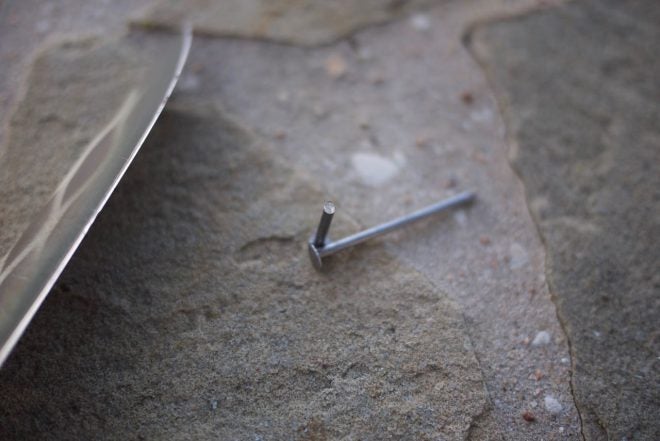 As you can see from the pictures below, there's a small bit of metal that was chipped off on one side of the edge, but almost none on the other side. That part of the edge is still sharp, but it's just a bit thinner because of the chip.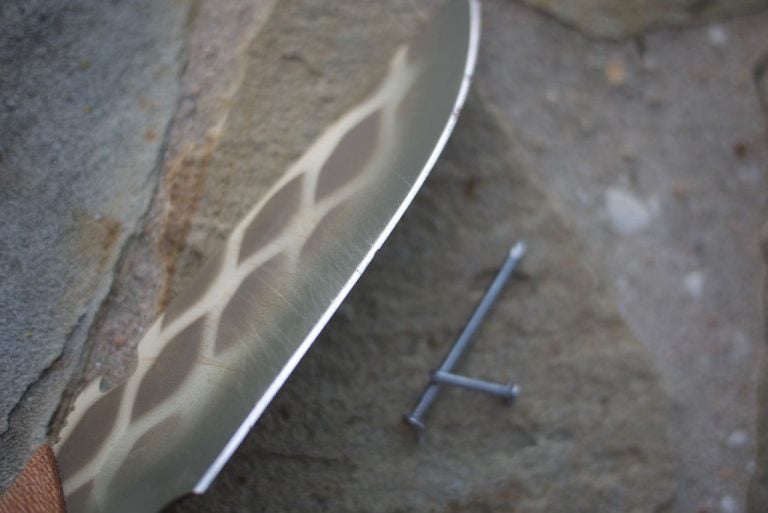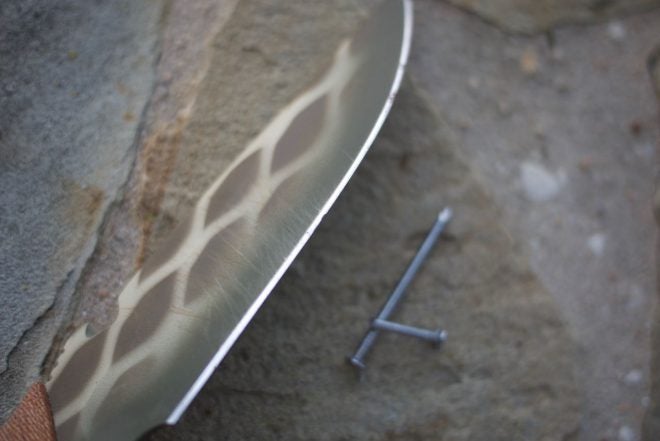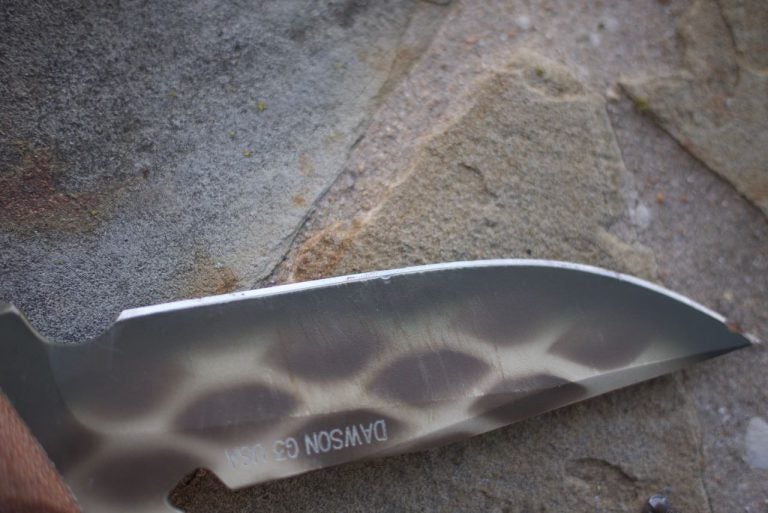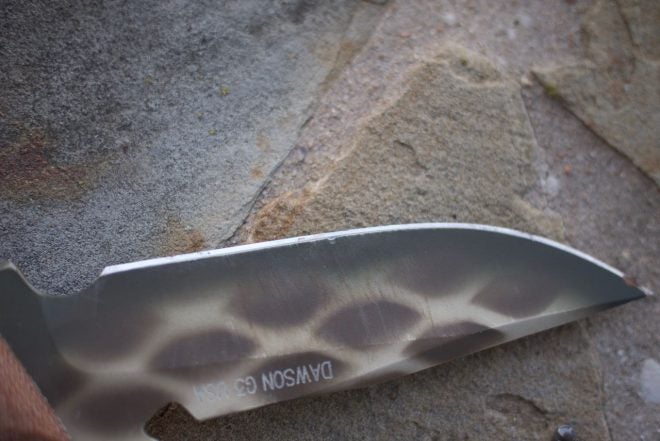 So if I were driving this blade down through some wood, I feel confident that it would pass right through a nail and keep going without ruining the edge. Not that I'd purposefully want to do such a thing with a knife, but you never know what kind of situation you'll find yourself in in the field.
The next thing I did with the knife was dig a hole. I've always believed that the best way to dig a hole with a knife is to use the knife to cut a sharp stick that you can then dig with, but I know some guys actually think they should be able to dig with a blade. So I dug a hole in my yard, which has a layer of topsoil and then rocks and clay beneath. I ended up cutting some of the clay and removing it in chunks.
The only noticeable effect on the blade was, again, scuffing of the Cerakote finish. Cutting the clay dulled it from scary sharp to regular-knife-sharp.
SHOP NOW
I often like to do some game processing with a new knife and cut through some smaller bones, but I didn't have any game handy this time. Also, I'd just cut through a bunch of dried oak and a nail with it, so I had a good feel for how well it works. So I skipped the game processing and food prep this time.
I tried to use the knife with a Swedish Firesteel rod, and I could get a spark with the flattened pommel if I worked at it. But this is not really an ideal use of this knife. You'll get much better results if you pack a little piece of hacksaw blade or something similar to use with a rod. The spark I got was anemic, and I'd hate to have to depend on it for a fire. If the Cerakote were completely scraped off the corner of the pommel, it would probably work better. So, for all its versatility, this is not a firesteel knife. Not a drawback for me, since I don't use my knives that way, but it may be for some.
As for ease of resharpening, I despaired of getting to test that because nothing I did really dulled the blade significantly. However, I left the knife out in the living room with my family around, and the next day I picked it up and found that it had been jammed into the kydex sheath backwards. When I yanked it out, shavings of kydex went everywhere, and the blade had been dulled enough by the experience that it wouldn't shave hair very well.
I stropped it on a leather strop with green compound for a few minutes, and it easily went right back to shaving sharp.
Conclusions
As with all of Dawson's knives, this is a great, hard-use, full-custom blade with impeccable fit and finish. The cerakote finish and precise grinds are gorgeous. Every aspect of this knife is flawless. My family was in town, and everyone I showed it to was blown away.
The edge that comes from the shop is wicked sharp, and it stays sharp through quite a bit of use and abuse. The flattened pommel is surprisingly useful for general destruction and mayhem.
The size of the Scout is just right, especially if you're conscious about weight and/or concealing it. It's big enough to do everything you need to do except chopping, and small enough to stash somewhere out-of-the-way.
The main complaint I have about this blade is with the Cerakote finish. Cerakote is a great finish for corrosion resistance — one of the best, in fact. But in addition to preventing the blade from throwing a decent spark, and it just doesn't stand up to abuse nearly as well as some of the newer PVD coatings or a DLC coating like IonBond.
If Dawson really wants to level this knife up, he'll offer it with a DLC option. If you could marry the fit, finish, and insane durability of the Scout with an uber-tough DLC coating, you'd have an even more ridiculous hard-use blade.
I don't know how much of an option this would be realistically, though, because I don't think the $395 price on this blade can go any higher. And this brings me to the other con for this knife: the price is up there, especially for a blade that you're going to beat on the way that this one wants to be beat on. It's actually not at all expensive for a custom, but it ain't cheap, either.
Apart from the coating, the one thing I'd change about this knife is the finger choil. A finger choil on this knife is just not necessary because you can already get enough control with it. I'd rather have more edge and a small sharpening choil, instead.
In all, though, here is the highest compliment I could give the Scout: if I were headed into a completely unknown scenario and could only bring a hatchet and one knife, the knife would be the Scout. It's just that insanely tough and versatile, and the fact that it's so much knife while still being relatively concealable is huge.
There are other fixed blades that I like better for different scenarios. I'd take a Falkniven custom F1 or NL4 for wilderness survival, or a large Busse fixed blade if I couldn't also bring a hatchet. But if the situation is totally unknown, I'm going to value toughness, versatility, edge retention, and easy of carry/concealment above all else, and the Scout is as close to the optimum point for all of those attributes as any knife I've ever had my hands on.
Until something comes along to displace it, I consider the Scout to be the ultimate tool for a sideways situation in an urban environment, where a fixed-blade knife is as much a demolition and digging tool as it is a cutting implement.
In all, Dawson has another winner on his hands with the Scout, and I can't wait to try out some of the other knives in his new line.
Pros
Amazing level of fit, finish, and detail
Indestructible
Compact
Holds an edge very well, and resharpens easily
Versatile design
Cons
The Ceraoke finish didn't hold up nearly as well as PVD coatings on other knives I've tried
Doesn't throw much of a spark on a ferro rod
Has a finger choil that it doesn't need
Tek-Lok attachment on the sheath adds a lot of bulk
Expensive
SHOP NOW