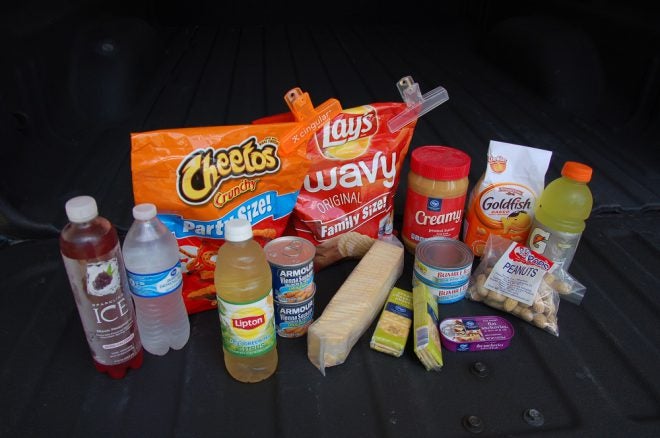 There is something about fresh air that makes nearly any kind of food taste better. I suspect that is why the practice of picnics was instituted way back in the earliest of times. For that reason preppers and survivalists may find themselves afield in a weekend test situation or in fact enduring a true SHTF event in need of quick access foods.
The time is now to learn what kinds of simple packable foods are useful for treks around the bug out property, on hunter-gatherer missions, patrolling parameters, camping out, and such. Certainly we can take good stuffs that are available now, but might not be later during a full scale supply shutdown. Just keep that in perspective as you try out various "backpack" foods or in buying them for minimal long-term storage.
I still remember quite fondly hunting trips we used to make for rabbit, squirrel, or deer hunts. We would circle the pickup trucks in the corner of a field or a woodland road to drop the tailgates for a field lunch. This would include a virtual smorgasbord of essential "junk" food but of nutritional and energy value.
On the tailgate one would expect to find a spread of all kinds of crackers, sliced cheeses and cheese spreads, canned meats like Vienna sausages, potted meat, foil packs of tuna fish, cans of sardines or other fish, smoked oysters, and such. Of course we would expect a selection of lunch meats, white bread, mustard, mayo, and ketchup for the neophytes. Jars of sweet and dill pickles were essential. A roll of paper towels served for plates and napkins as well as fodder for the mid-day campfire. Sometimes we would find zip bags of cut carrots, and celery with a can of French Onion dip.
All that was topped off with choices of cookies, fruit, raisins, grapes, and packaged desserts like cupcakes, pastries, or whatever. Drinks always included ice cold water, soft drinks and juice packs for the kids. End of the hunting day beers could be found in the bottom of the coolers after the guns were put away.
Think about these kinds of foods you could easily grab to pack in a backpack, on a saddle or in an ATV gear storage box. After a long hike or ride, a rest stop will be welcomed. Build a small fire if you like and always clean up after yourself. Trespassers, poachers, and zombies don't appreciate your trash left in the outdoors.