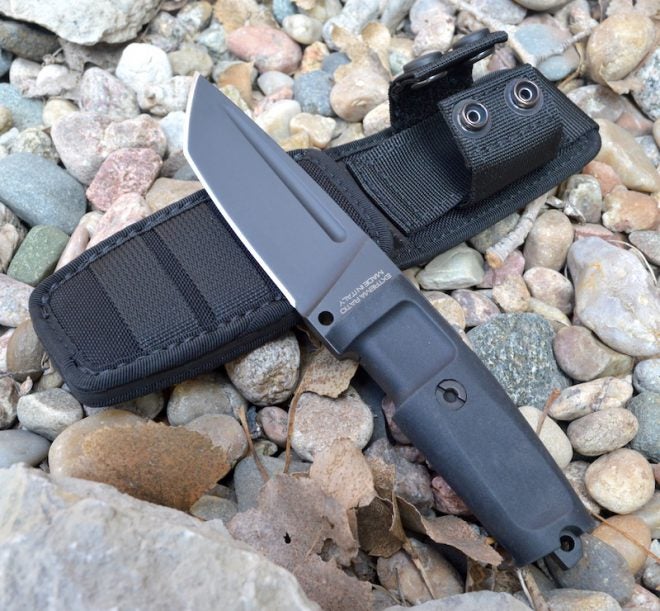 The Extrema Ratio Shrapnel ahas become one of my favorites for everyday carry. The knife I'm reviewing here is Shrapnel's brother, the T4000 C Tanto, which is part of Extrema's Back-Up Knife line. As a fan of tanto blades for defensive use, I was excited to see the T4000 C introduced with a fat high aspect ratio tanto point. For comparison, the Shrapnel has a modified 4.3" drop point blade and the T4000 C is aesthetically the same knife with a marginally shorter 4.1" Tanto blade.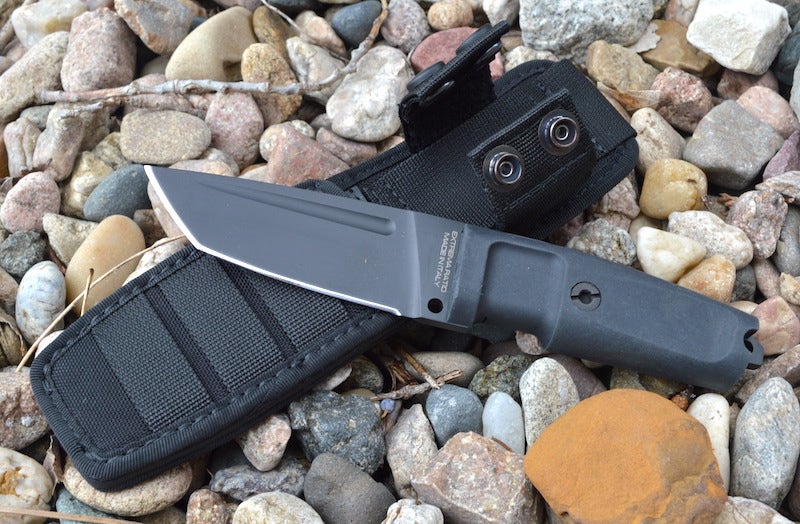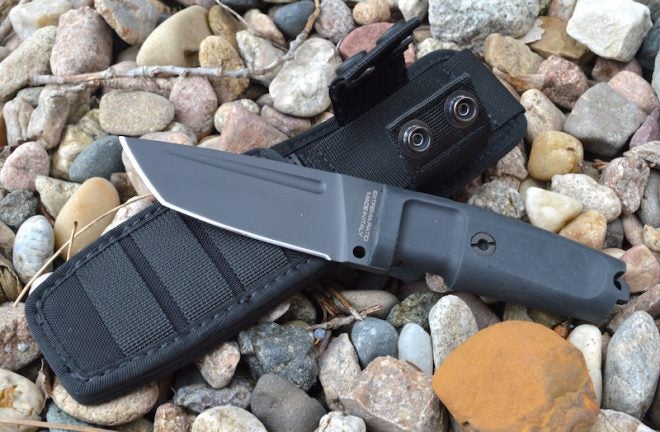 Extrema Ratio not only makes beefy well designed knives, but it also adds features and style not found on other knives, making them easy to use and and adding to pride of ownership. A bit futuristic, yes, but once these unique handles and knives are in hand, you really appreciate the design. The Extrema Ratio T4000 C is designed as a purely defensive backup knife.
The T4000 C features a cordura sheath versus the multi-mount Kydex/polymer sheath for the Shrapnel. The T4000C is compact but not particularly slim. From a concealment perspective it can be difficult to conceal without a dedicated concealment holster. I formed a custom deep concealment carbon fiber Kydex appendix sheath, which does allow me to conceal the knife. The large-but-comfortable hand is what makes it tough to conceal.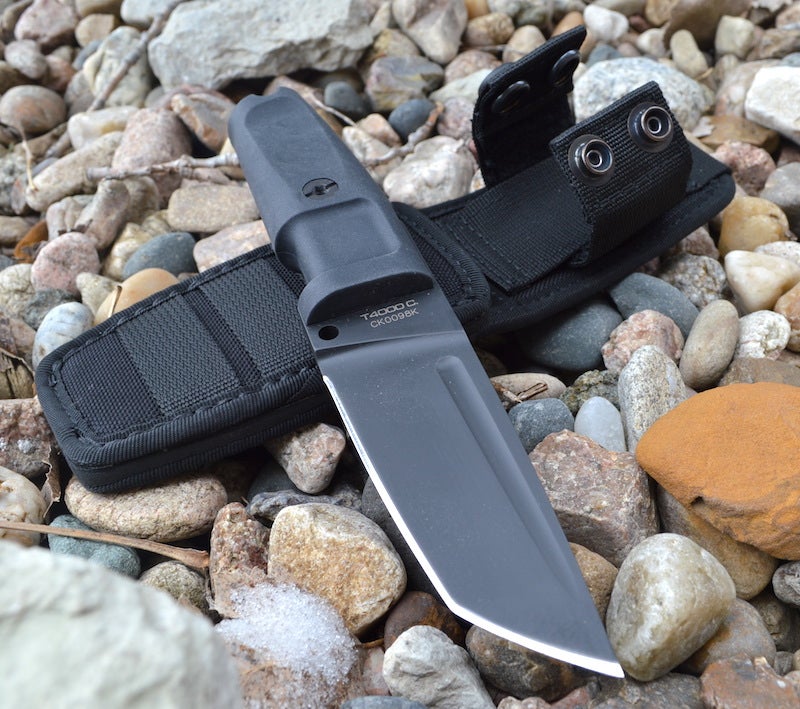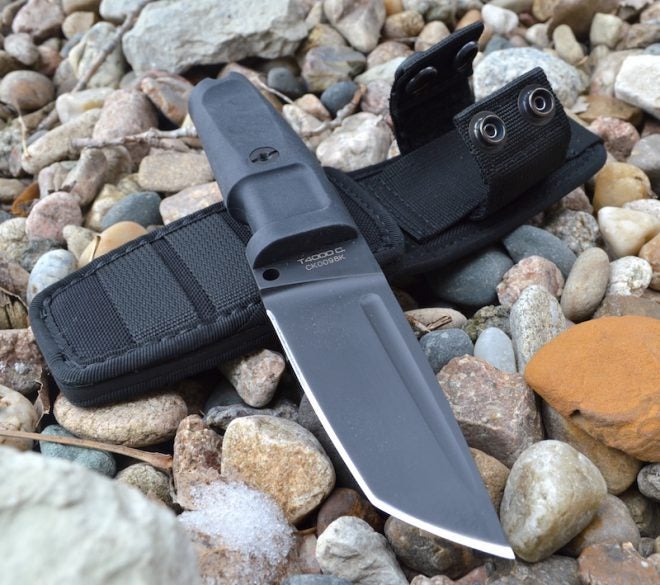 I found the T4000C's cordura sheath particularly useless for a defensive knife, with the primary limitation being speed of access. The well-thought-out hard plastic click-in and click-out sheath that comes with other Back-up Knife models is much better. At this point I carry the T4000C in my custom Kydex sheath, so it really is not an ongoing issue for me.
The Extrema Ratio T4000 C features the same Fornprene handle with hardened glass breaker tang with lanyard hole as other Extrema fixed blade knives. The edge holds extremely well thanks to the N690 cobalt steel (a cobalt-based stainless steel similar in performance to the expensive VG-10).
As an EDC knife, this would not be the blade or blade shape I would prefer for utility tasks or bushcraft. Tanto blades do an excellent job at penetrating jabs and slashes, but the shape is less versatile for than a typical drop point blade. Conversely, I would rather have a historically proven tanto blade shape than a drop point for a defensive knife, which is what we have here. The T4000 C is a heavy duty beast of a blade featuring hard use full tang knife design with a full sized handle. This focuses the knife squarely as a defensive knife.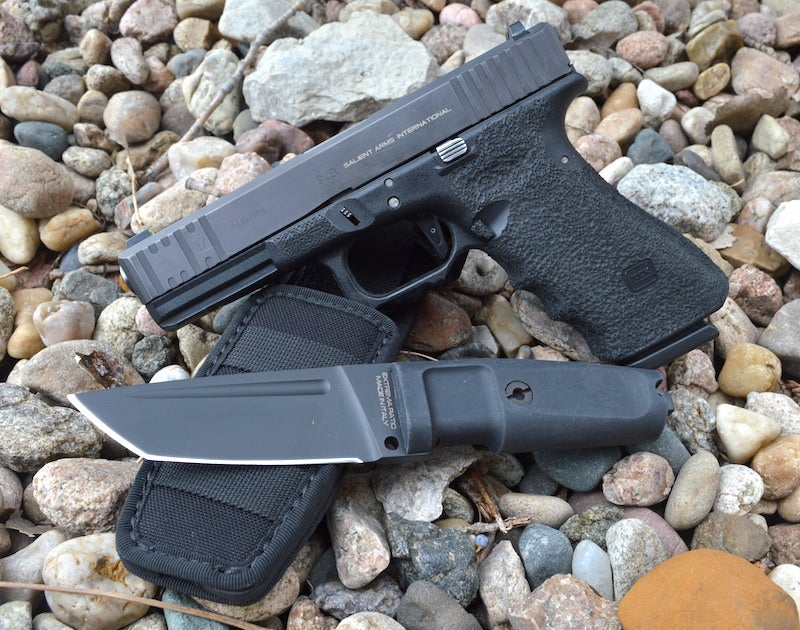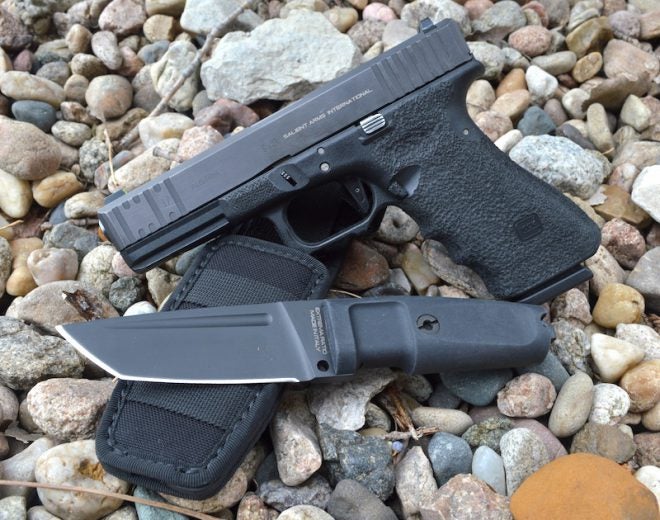 The blade contours are consistent and edge grind is perfect, with very minor casting seams on the Forprene handle.

Final Thoughts
This is the top end of production tactical knife making. To date I have tested a number of knives from Extrema Ratio and although I am very picky when it comes to blades, they have continued to impress with every knife. If the Extrema Ratio T4000C had a slimmer handle profile to allow for more discreet concealed carry it would be "the" perfect knife. After a few months of carrying the T4000C, I did round off the pommel end of the handle to make it more concealable.
Yes, Extrema Ratio knives are expensive, but the knife is the most essential and basic of survival gear and I believe you should always buy the best knife available when your life may depend on it.
Manufacturer Specs
Weight g.: 196.0

Weight oz.: 6.9

Blade Length (mm): 104

Blade Length (in): 4.1

Total Length (mm): 208

Total Length (in): 8.2

Blade Thickness (mm): 4.0

Blade Thickness (in): 0.16

Blade Material: BöHLER N690 STEEL (58HRC)

Blade Finishing: MIL-C-13924 BURNISHING

Main Grid: FLAT

Handle Material: FORPRENE

STREET:

$208 (XTREME KNIVES)