When we're asked to picture a fishing boat, some of us will imagine a sleek bass boat skimming across the waves. Others among us will think about a sturdy aluminum V-hull working rocky points on a peaceful northern lake. And still other people will picture a wide offshore trolling machine. But for a growing number of people, the idea fishing boat is a pontoon.
While it might not be the first thing that jumps to mind, pontoon boats actually make great fishing platforms. They're stable as can be, so having multiple anglers stand to cast isn't an invitation to an unscheduled swim. They're able to accommodate large groups with ease, and many pontoons now come with high-tech fishing features like locking rod storage, live wells, and pedestal-mount seats. Virtually all pontoons have large, open dashboards that make it easy to install aftermarket fish finders or a GPS (or both), and many boast the kind of creature comforts that are noticeably absent from other fishing rigs, like tables for drinks or lunch, the sun protection of a Bimini top, or even a Porta-potti.
While many pontoon manufacturers now offer fishing packages as optional accessories, others offer fishing-specific models with the basics built right in. Here are five of our favorites.
Sylvan Mirage Fish 820 4-PT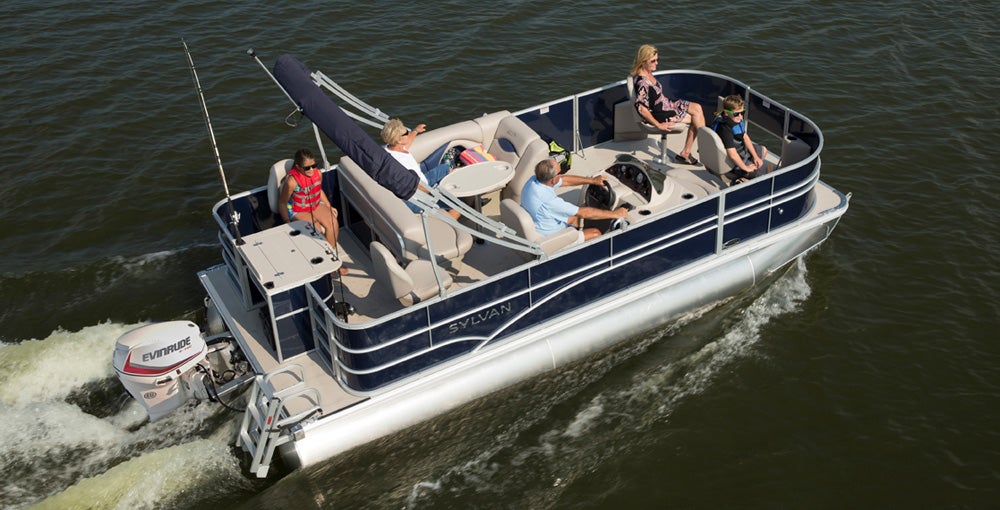 With four pedestal-mount fishing seats and a built-in live well for the catch, Sylvan's Mirage 820 4-PT is a compact and capable fishing pontoon that's able to sneak into those shallow back bays where the big bass live. The stern fishing station includes rod holders, rod storage racks, and a measuring scale. A standard 8' 6" Bimini top is a nice touch, offering escape from the summer sun.
Length: 20' 10"
Beam: 96"
Dry weight: 1,675 lbs.
Passenger capacity: 9
Fuel capacity: 24 gal.
Maximum power: 90 hp
Bennington SXP Series 16 SFXP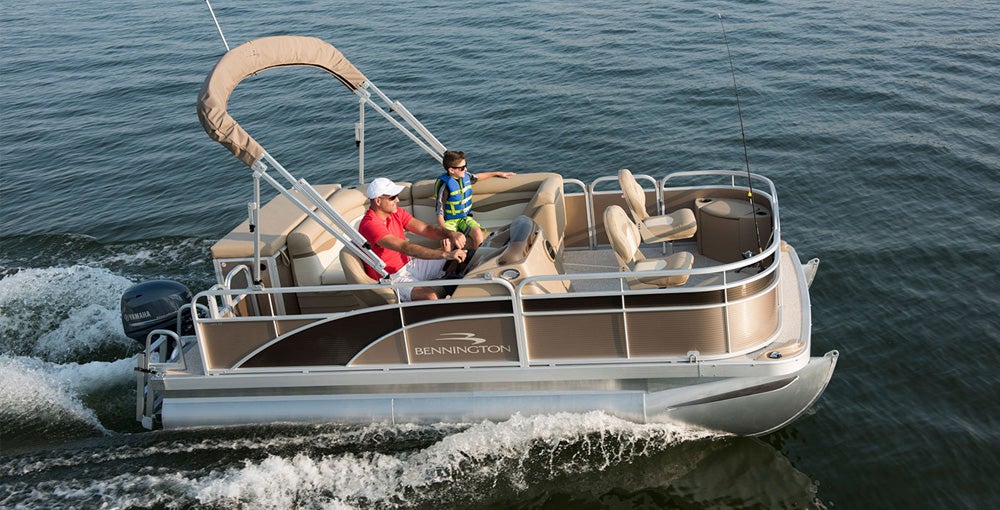 With twin pedestal-mount fishing seats up front, a live well, rod storage and more, Bennington's 16 SFXP is a capable and comfortable family fishing boat with plenty of space for everyone to get in the fun. A Bimini top, dual rod holders, and a standard fish box make this pontoon a versatile and capable fishing platform for everything from panfish to bass to walleye and trout.
Length: 17' 4"
Beam: 96"
Dry weight: 1,488 lbs.
Passenger capacity: 7
Fuel capacity: 24 gal.
Maximum power: 40 hp
Starcraft EX 20 F4
Starcraft has been making fishing boats for more than 100 years, so it comes as no surprise they make fishing pontoons as well. The Starcraft EX 20 F4 features pedestal-mount fishing seats, two live wells, lockable rod storage, a Bimini top, and ample space for gear. Add an available tri-toon third pontoon for enhanced handling and the ability to take outboards of up to 200 horsepower.
Length: 20' 10"
Beam: 102"
Dry weight: 1,850 lbs.
Passenger capacity:  10
Fuel capacity: 20 gal.
Maximum power: 125 hp / 200 hp w. tri-toon
Harris FloteBote Cruiser 200 FS-Fish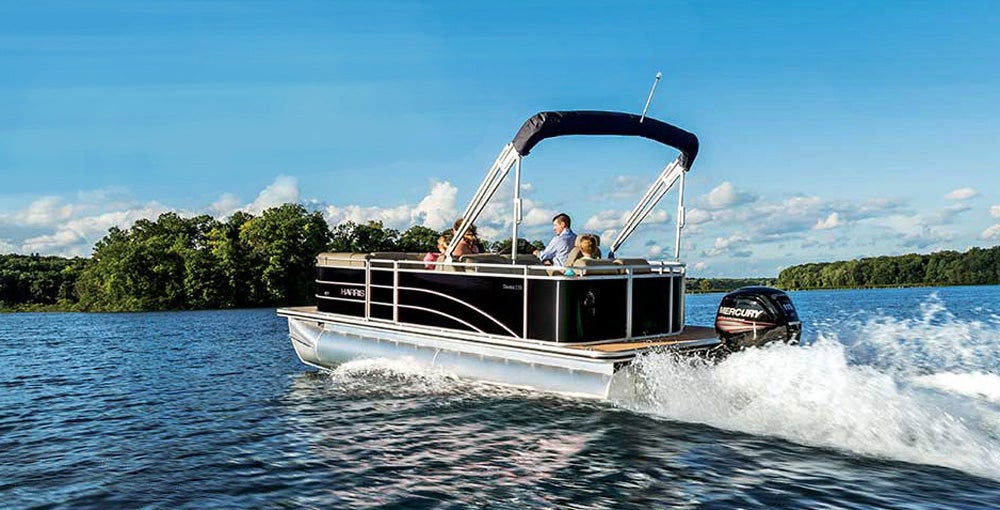 The fishing version of Harris FloteBote's Cruiser 200 model offers two pedestal-mount fishing seats in place of its standard bow loungers, plus two more in the stern in place of the aft lounge. There's also a well-appointed rear work station, aerated live well and rod holders. A standard 10-foot Bimini top is a bonus. Add a performance package and enjoy the ability to move up to a 150 horsepower engine.
Length: 21' 8"
Beam: 102"
Dry weight: 2,716 lbs.
Passenger capacity: 11
Fuel capacity: 30 gal.
Maximum power: 115 hp
SunChaser 8520 Classic Fish EXP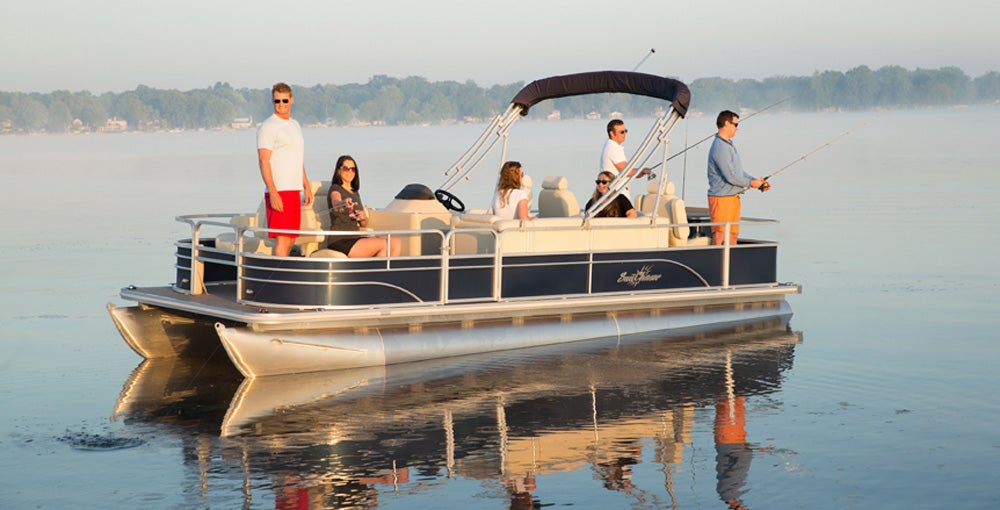 Start with four pedestal-mount fishing seats, then add a stern fishing station complete with a live well, dual rod holders, rod storage, and an integrated measuring tape to see who gets the catch of the day. With its Bimini top, standard stereo, and seating for 10, SunChaser's 8120 Classic Fish puts the whole family on the water.
Length: 20' 10"
Beam: 08' 6"
Dry weight: 1,850 lbs.
Passenger capacity: 10
Fuel capacity: 20 gal.
Maximum power: 125 hp