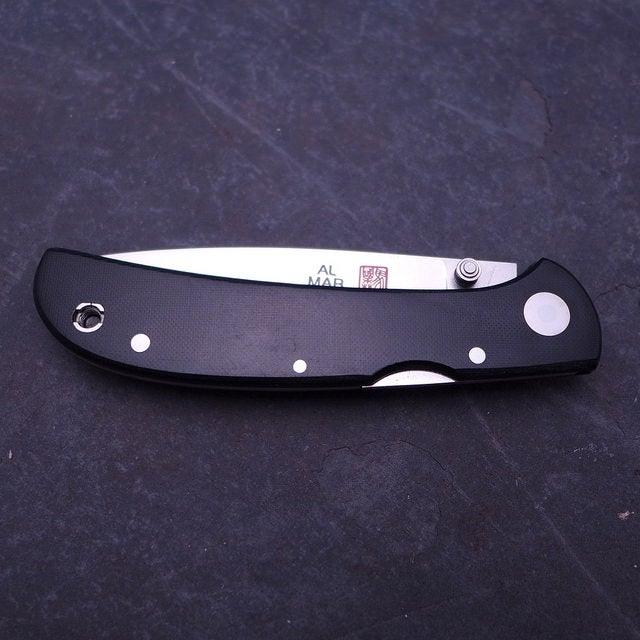 In many ways Al Mar knives remind me of high end mechanical watches. It's not because of their complex mechanisms, which aren't found on any Al Mar, but because these are knives that achieve superior performance not through cutting edge materials but through careful design and impeccable craftsmanship. Don't go looking for powder steels here. They are absent. Hold your fancy pants carbon fiber. It's also gone. And forget about flippers or framelocks–total no shows. But without these things as crutches, the master cutlers at Al Mar's Seki City OEM produce knives that routinely outperform much more high tech blades.
Among the best of Al Mar's product line are the Ultralight folders. There are three sizes: small (2.75 inch blade–the Hawk), medium (3.10 inch blade–the Falcon), and large (4.00 inch blade–the Eagle). The taxonomy nerd in me would like to point out that raptors are ordered differently according to size (smallest to largest–falcon, hawk, eagle), but nomenclature aside, each of these is a simple, elegant, ideal EDC.  But it took me years to appreciate the true magic of an Al Mar blade–consistent high performance in a user-serviceable package.
$100 plus is a lot of spend for an AUS-8 blade, but in a blind use test, you'd be very hard to tell the difference between the Al Mar AUS-8 blade from an M390 blade coming out of one of the big production companies. The Ultralights, like a good mechanical watch, are a testament to the power of superior craftsmanship.
Description
The Al Mar Ultralight Falcon is a folding knife with a thumb stud opener and a forward positioned lockback.
The handle is made of polished micarta with polished pins for the pivot and to hold the handle together. There is a lanyard hole that cleverly doubles as an attachment point for a pocket clip. The blade is made of AUS-8 and is a very keen, full flat grind (FFG).
The price comes in at around $120. There is another blade grind in the line, the Talon grind, which includes a swedge. It's more stabby but less slicey, and I have yet to stab something in serious use with my knife, so I'll always opt for the FFG blade. I have previously owned, reviewed, and enjoyed the Al Mar Hawk Ultralight.
Testing
After putting the Hawk through its paces, I desperately wanted to give the Falcon a go as it was a tad longer with no real increase in weight (.95 ounces to .99 ounces on my scale). The Falcon rode with me for about a month doing all of the classic EDC chores: breaking down boxes (though with a bit of care, there is some flex in the handle under very high pressure cutting), food prep, and opening packages. I carried the knife both during the work week (in a suit) and on the weekend (in jeans).
Design
With its very careful design, sparse appearance, and wonderful blade shape, the Falcon is a great design, a very "knife knife" in the sense that it is something that looks like the Platonic idea of knife. But it is not overly threatening or scary. It's just a basic blade. And that minimal appearance and design really speaks to me. I don't have to worry about rubbing my hand raw when slicing stuff over and over again. I am not concerned with anodizing coming off or complex mechanisms jamming. Everything is simple, effective, and easy to use. This is a classic knife design as much as the SAK or the Opinel. If you are knife guy, you owe it to yourself to try this blade. It's very, very good.
One thing that will really catch your eye if you follow knives is just how ingenious and clean the attachment point is for the clip. Remove the clip and it's a lanyard hole, use a clip and it is the threaded hole for the screw.
Given how brilliant the design is and how old the Ultralight is, I am shocked no one stole this concept. I love it.
Implementation
My first Al Mar was absolutely perfect. This one is like 99% as good. There is a bit of unevenness from scale to scale, as if one of the people hand finishing the blade drifted a little at the grinding wheel, but it is unnoticeable in hand and really you can only find it if you are being nitpicky.
Oddly enough it makes the scales asymmetric by a tad, which is better for my right handed grind. The blade itself is truly superior, better than all but my most rarified customs in terms of grind and performance. Chemistry definitely matters with steel, but grind and blade geometry are just as important, and here the grind makes the AUS-8 punch far, far above its weight. The lock has zero blade play, but don't thump on the Falcon, its not meant for that. It engages and disengages easily. The tolerances are so tight that the spine looks like a fixed blade when the lock is engaged. The entire surface of the handle, pins, pivot, and micarta scales are smooth to the touch and fingernail flush (meaning you can run your fingernail over them and not snag an edge).
SHOP NOW
Conclusion
I found the Hawk a bit too small, and since the Falcon adds virtually no wait, it seemed ideal. The clip also makes a big difference for me. This is a knife that really needs a clip and the extra thickness makes the handle better in the hand.
I'd like to see a rounded (also known as a "crowned") spine and a Falcon in ZDP-189 would probably prompt me to sell every other knife I own, but if you want to see what gifted craftsmen and inspired designers can make in the knife world, this is it. It is designed in Oregon but made in Japan, Seki City to be exact, and this is one of the traditional homes of the Japanese bladecraft world. The line from the katana to the Falcon isn't as curvy as you think. Both offered superior capacities born from knowledge of blade making. The price is a bit high for the materials, but it is a bit low for the end user performance.  Don't fret about $120 for AUS-8. Think of it as super steel performance from a blade you can readily sharpen. This is a great, great knife.
SHOP NOW