Build Review: Custom 10/22 Long Range Tack Driver
Major Pandemic 11.09.16

Back when I was doing Ultimate 10/22 builds, I never quite got around to working up a high precision long range 10/22 with higher-magnification optic, specifically set up for long range rimfire field work.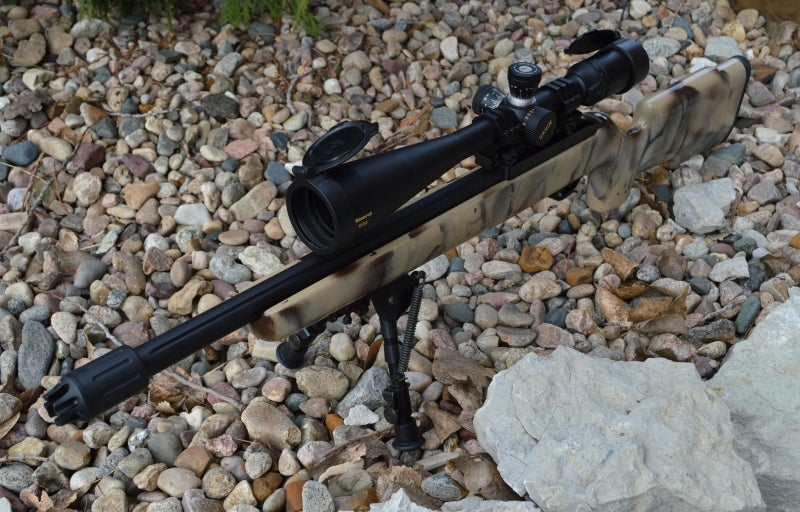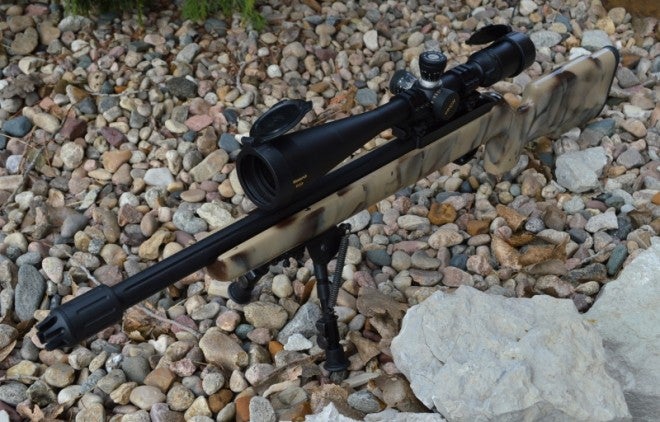 The Build
Boyds Pro Varmint Stock – Of all the stocks I tested, the Boyds Pro Varmint (previously named the Tacticool) was the most comfortable to lie down or sit behind. At only $100 for a laminated 10/22 stock, it is hard to beat, and it's ready to paint. I chose to create a simple and easy Krylon Camo paint job and then clear-coated it with multiple coats of spray lacquer to protect the paint from oil and solvents. The final finish turned out great and looks awesome with the blacked-out components.
Feddersen 10/22 Barrel – I have heard many precision 22 LR shooters claim that 18", 20", or 22" barrels will shoot better than my preferred 16.25" barrel. That may be true, but I was already shooting essentially single-hole groups at 50 yards with my other Feddersen 16.25" barrel guns with plain old CCI Standard Velocity ammo. I also have an 18" Feddersen barreled 10/22 and the 16.25" shoots better for me.
That makes it hard to justify a longer barrel, which adds weight and reduces maneuverability. Feddersen barrels are not picky about ammo either, unlike most match barrels. Feddersen barrels shoot extremely hot 22 LR ammo exceptionally well, which is what you want for a long-range gun that can reach beyond the 50 or 100 yard mark. Feddersen offers many options, including flat basic blue finish, threading, and fluting. I choose the 16.25" barrel fluted and threaded in the basic flat blued finish.
Timney Trigger Unit – There are a several great triggers on the market, but for a field trigger, I really like the Timney 10/22 sub-3-pound trigger.  It is crisp but not so light that it creates worries in the field. The entire assembly replaces the stock Ruger 10/22 assembly using just two pins.
In this case I pinned the Timney trigger to a Magnum Research receiver. The Timney 10/22 trigger has auto-bolt release functionality, a precision aluminum trigger assembly, extended magazine release, and an exceptional trigger pull. If you want to get fancy, Timney also has silver anodized frames with various trigger shoe colors. For this build I stuck with basic black.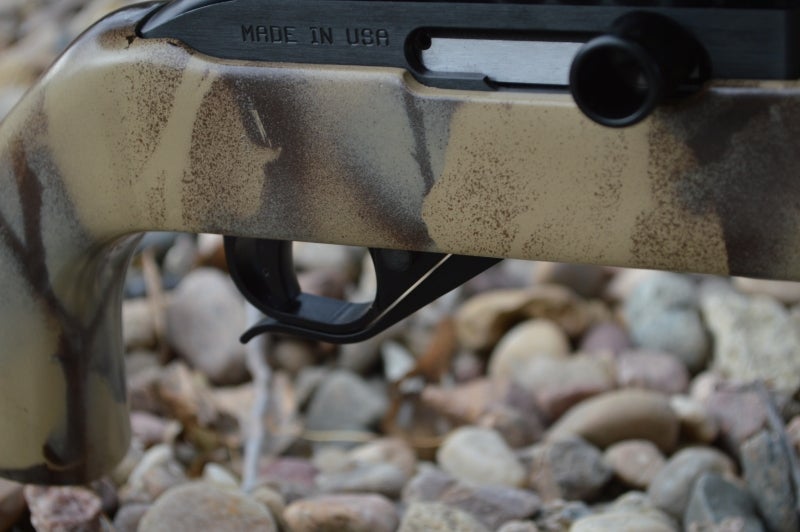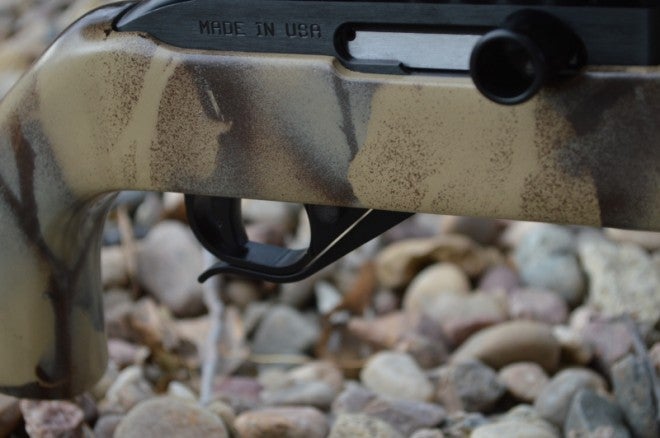 Magnum Research MLR-22ATU Receiver & Bolt – I have seen a bump in accuracy with billet 10/22 receivers and trued bolts, and one of the best deals in the industry is the Magnum Research receiver and bolt. The bolt is available separately, but currently the receiver is only available as a complete rifle. It does help when you have parts sitting around, and in this case I had just finished a review of the MLR-22ATU.
I started with a stock MLR-22ATU rifle, but I really wanted the Feddersen barrel instead of the MLR barrel. The MLR Receiver is a top-end precision billet receiver. The included MLR trued billet steel bolt is every bit as good as other "premium 10/22 bolts" on the market, and at only $70, it is one of the best deals out there.
I do think that Magnum Research is missing a huge opportunity to offer just their billet receivers. I am betting they would be one of the most competitively-priced precision 10/22 receivers on the market.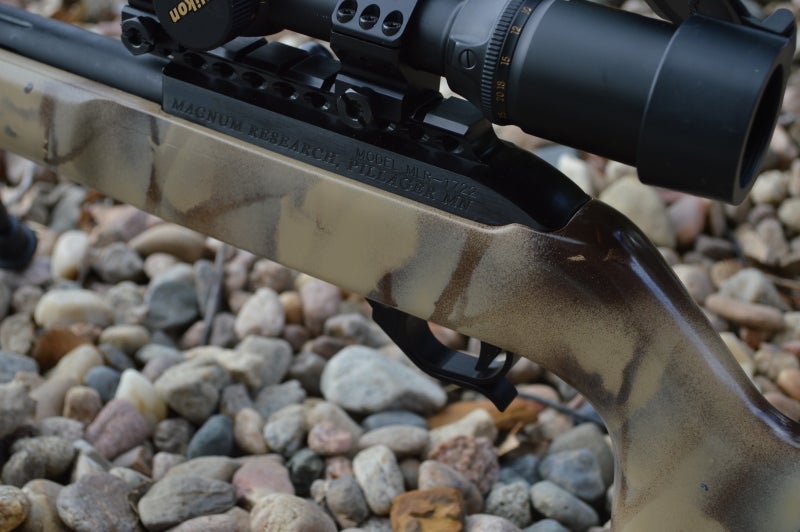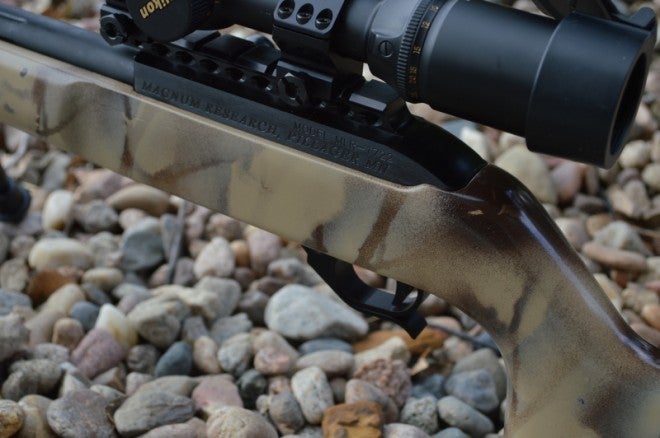 PWS CQB Brake – One of my primary concerns was that I did not want to wear ear protection in the field, but I didn't want to be exposed to the snap of the 22 LR round either. The 22 LR round already has such a mild report from a rifle that many people do not use hearing protection, but I wanted to be cautious. Most people immediately think of increasing barrel length or using a suppressor to reduce noise levels, but frankly I didn't want the paperwork headache or the added barrel length.
I decided to try a Krinkov style muzzle brake. This style of chambered brake has three basic features: a braking effect, added cycling back pressure, and physical redirection of the harsher concussive blast forward of (away from) the shooter. Performance-wise there is one difference between this style brake and a suppressor: they do not reduce/quiet the front of muzzle sound level and can even make it louder up front. The sound level is still there, but going a different, which is why they are not treated as a sound reduction device by the ATF.
Since I couldn't care less about increased sound levels downrange and these devices are legal to purchase off the shelf, it seemed like the perfect fit for this build. One of my favorites of this Krink design is the CQB from Primary Weapons Systems. This brake works wonders to push the deafening AR15 pistol blast forward/away from the shooter, and I thought it would be interesting to try here.
Using a smartphone app, I did some informal noise testing. It would appear that adding the brake actually increases the sound level forward of the muzzle, but behind the gun the report was reduced to a level where I would feel comfortable not using ear plugs.
On this build I did not see a zero shift with or without the CQB brake installed. The brake is heavy (especially for a 22) and I would not use it on all builds, but in this specific build it works well.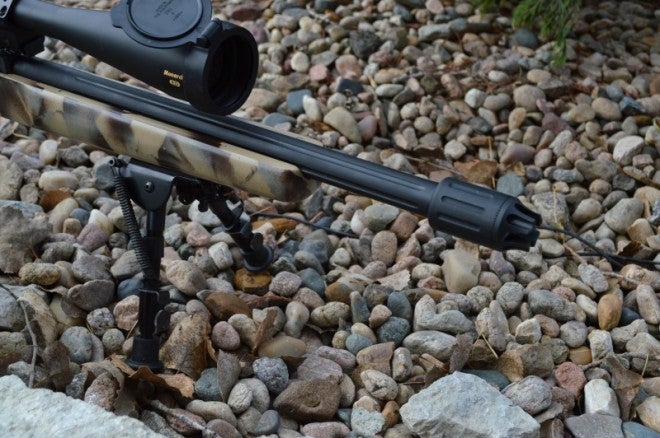 Nikon Monarch 8-32 ED Fine Dot Reticle – $699 – Some will say I went totally overboard on this $700 optic for a 10/22 build, but I disagree. Once you get past the 100-yard mark and want to deliver precise shots on tiny critters or targets way out in the distance, you need clarity and high magnification. The Nikon Monarch has it.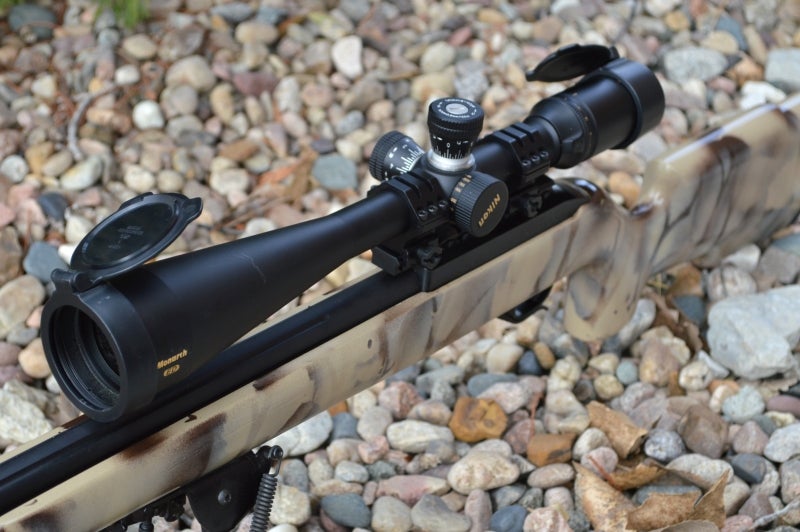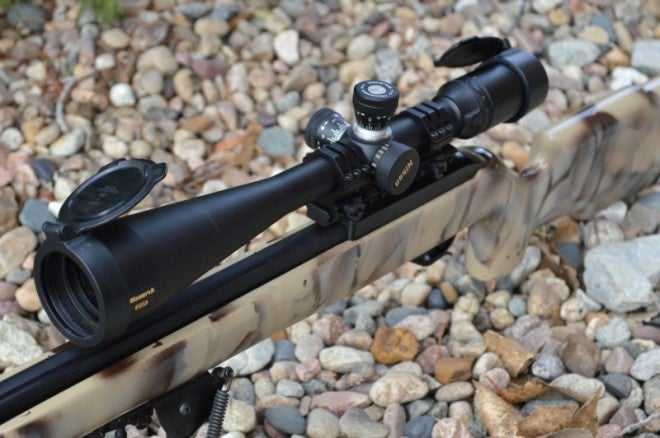 The power and clarity of this Nikon Monarch optic deliver down range. I have beaten my best groups with my other Feddersen barrels and was shocked at my 100-yard groups due to the magnification advantage, but more on that in a minute. The only limiting factor of this optic that would make me consider a lower-power option for a 22 LR is that is that the side focus only really allows clear focus down to the 50-yard line, so this optic makes short shots challenging.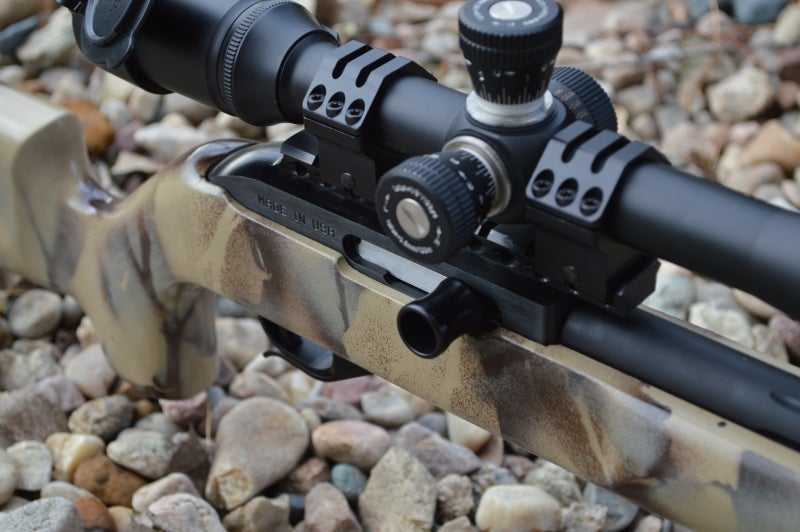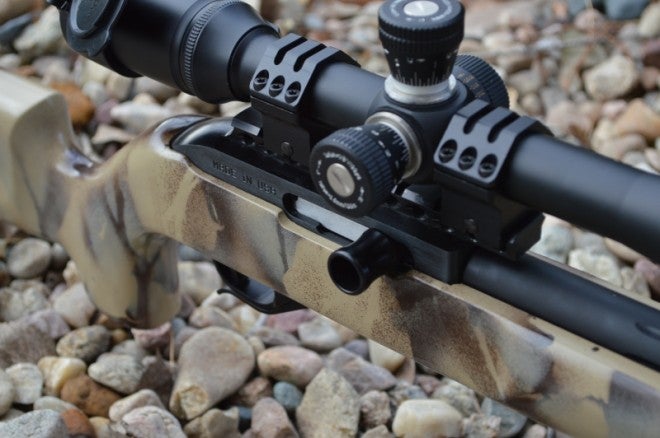 Accuracy and Function
This build is extremely stable in the prone position or off the bench. That stability equals accuracy down range. All the little things add up on this build to create the most-precise 10/22 rifle I own and also one of the most pleasant to shoot.
I have found that Feddersen 10/22 barrels shoot better and better as time goes by, and it's true on this build too. 50-yard groups from this rifle have been my personal best 5-shot one-hole group of a measured .00". Yep this was a single hole-er at 50-yards. At 100 yards I managed a .24" group with Lapua Midas. Now that is an awesome-shooting rifle.
Even better, at 200 yards I was still able to stay within two inches, and at 300 yards I was within 6″ on a regular basis. And ringing the 12" 300-yard gong was no problem. With a better shooter behind the gun, I am sure those longer-range groups would improve, but I am thrilled with what I can do with this gun.
Final Thoughts
This 10/22 build delivers everything I could want in a precision sniper-style field gun. It has the durability to tolerate bumps and bruises, and the precision to reach out far past the supposed limitations of the 10/22 platform.
None of the parts on this build were a surprise, with the exception of the PWS CQB compensator. The CQB brake makes shooting more pleasant, although at the front of the muzzle it may get a little more noisy. It does the job for which it was intended for far less than a $200 tax stamp plus a $200-$300 suppressor.
Build Specs