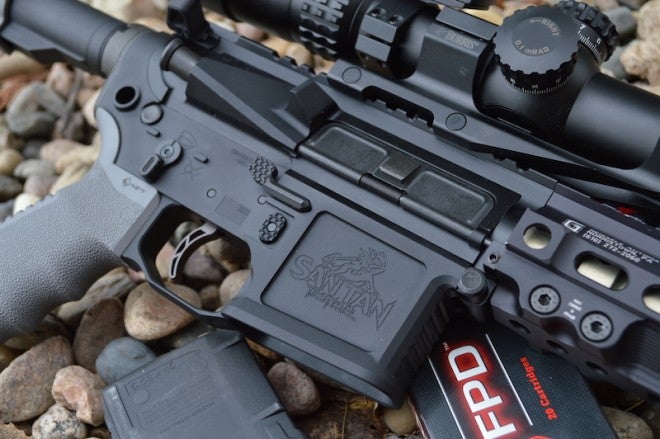 The other day at the range, it seemed that everyone was showing off their custom AR15s. If I was going to play that game, I thought building an Ultimate AR15 was a valid endeavor–or at least yet another excuse to build a custom billet AR15.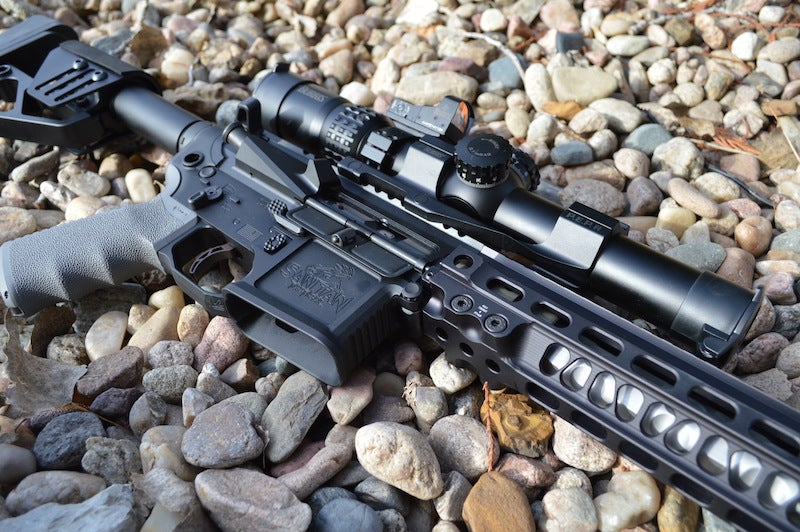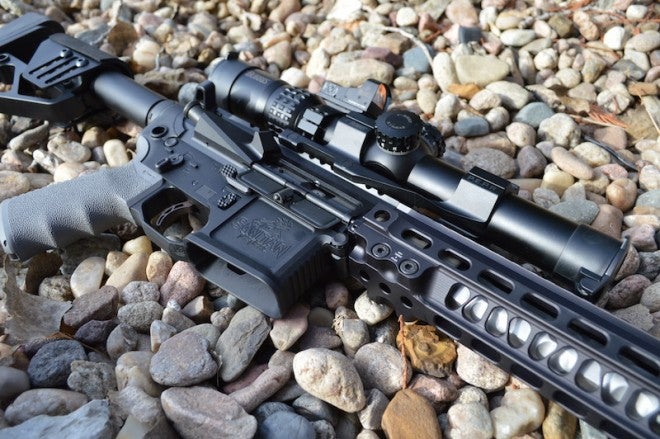 The next build always starts somewhere, and in this case it began with a stunning Hart custom fluted 17" AR15 223 Wylde barrel, which I had ordered and then pretty much forgot about for eight months.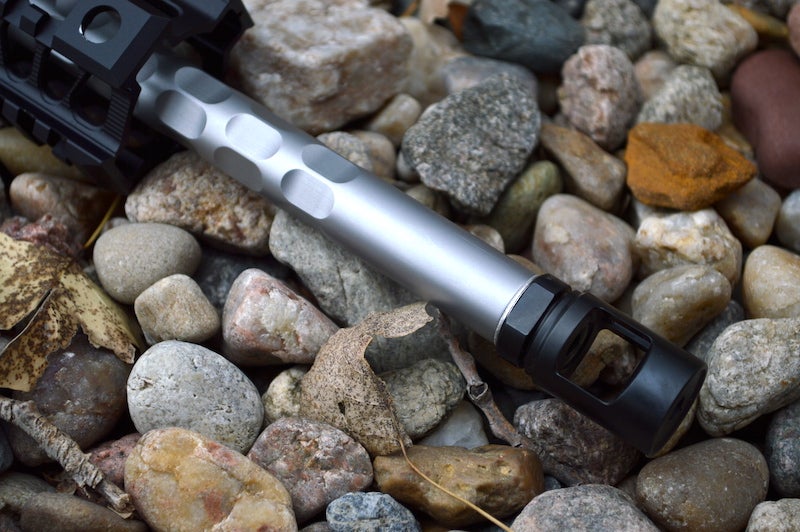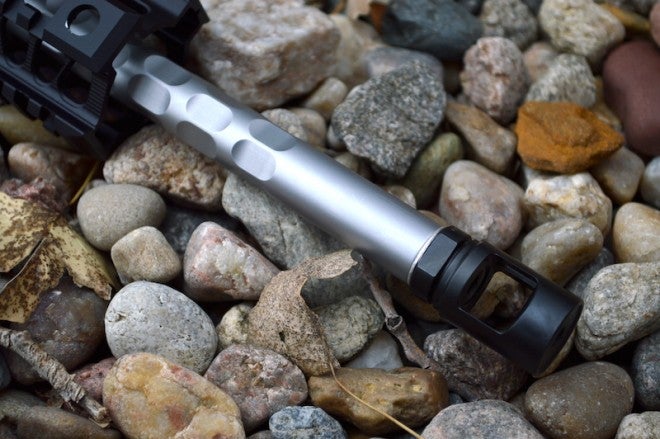 Hart Custom Hex Fluted 17" Barrel – $650
If we are going to play the "mine is better than yours" game, then starting with a barrel 1" longer than everyone else's standard sixteen-incher is the way to go. Actually the 17" barrel was a compromise between the popular 18" 3-Gun length and the compact 16" barrels on 90%+ of the AR15s on the market.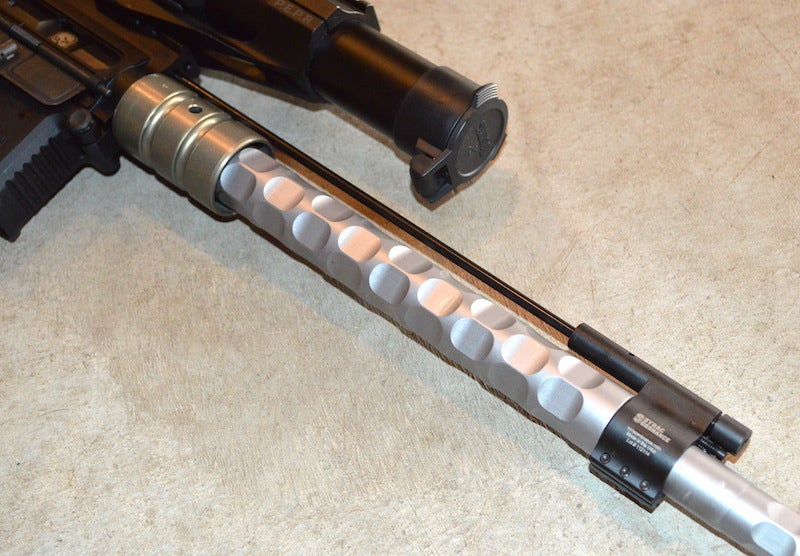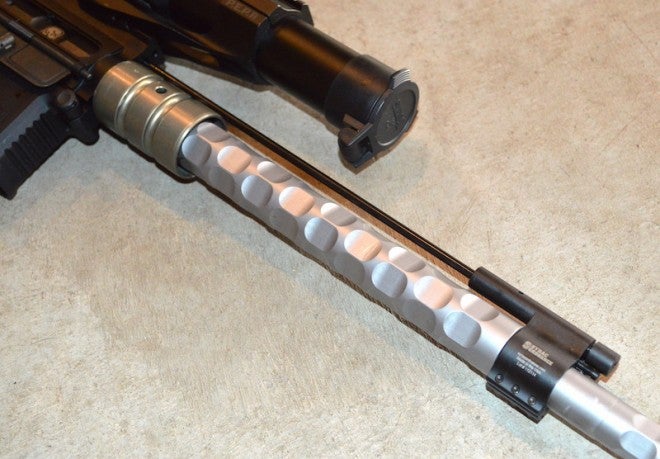 The profile of this match-chambered 223 Wylde barrel (its chamber was designed to optimally shoot both 5.56 Nato and 223 Remington) is basically a modified M4 profile with a full bull barrel behind the gas block and a mid-weight profile in front of the gas block. According to Hart, their profile should shoot just as well as a bull profile. His comment was that it should easily be a sub-MOA barrel for any decent shooter with match ammo. He was right.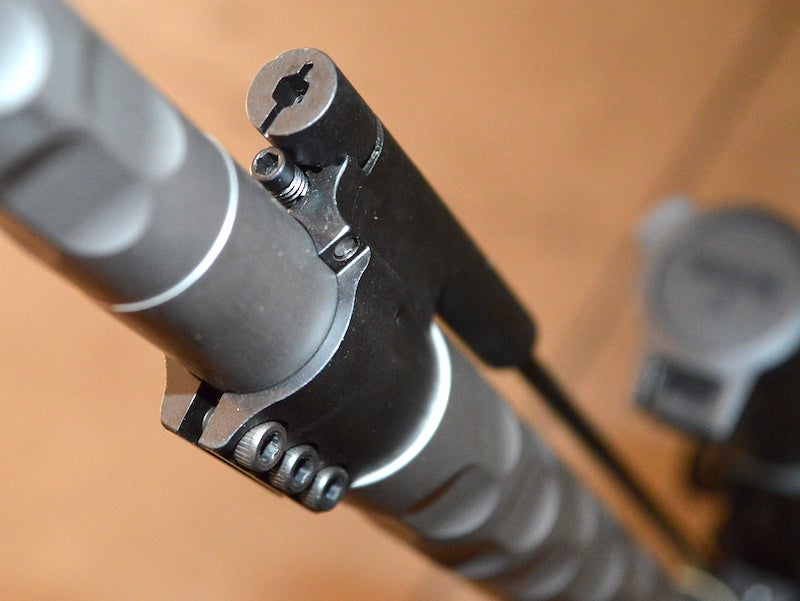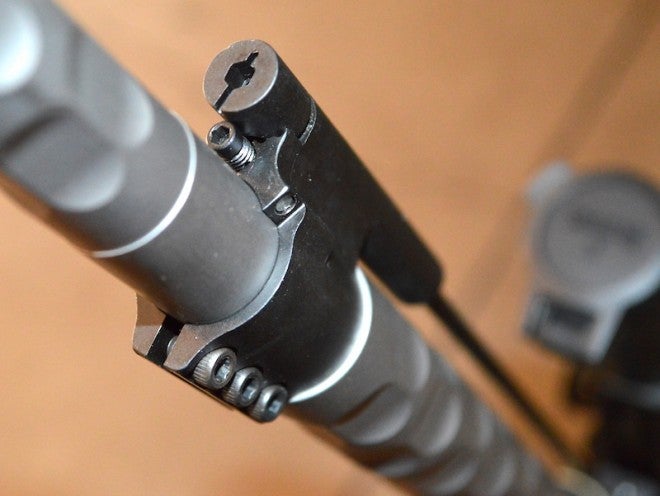 Hart's standard barrels are stunning enough, and adding optional fluting and custom finishes can really make them shine. Looking down the polished and lapped bore, you see the craft behind the production. Add in the absolutely perfect satin finish and I have a barrel that is second to none in looks and arguably one of the finest-shooting match barrels available. If your soul burns for a sultry and deadly performing barrel, Hart is the answer.
SanTan Tactical STT-15 PILLAR Billet Receiver Combo – $469
Mil-Spec will do on the battlefield, but not for this build. One of the world's most finely crafted barrels deserves to be mounted to the the world's best receiver set. I have handled and tested just about every receiver set on the market and no one packs all the quality, fit, finish, and features into jaw dropping billet 7075 aluminum like SanTan Tactical.
Like the Hart barrel, this receiver combo is a masterpiece of AR15 design. It is the most badass upper receiver I have ever seen, and I have seen more than a few.
SanTan is not just about an ambi-everything billet receiver with great looks. SanTan put a ton of research into developing a design with all the features and cool factor AND significantly greater strength than mil-Spec forged receivers. They have videos of abuse testing that exceeds normal mil-spec standard.
My only regret was not opting for a two-tone bronze and black finish like the Mercury One builds, but there is always next time.
AXTS Raptor Charging Handle – $90
There are many charging handles on the market, but none have the simple elegance of the ambidextrous AXTS Raptor. The design has been licensed to companies such as Rainier Arms and has been noted by more than one writer as the ultimate Ambi-Charging handle. I think it's one of the best and smoothest-cycling handles around. What better fit for an Ultimate AR15 than the this gorgeous symmetrical charging handles from AXTS?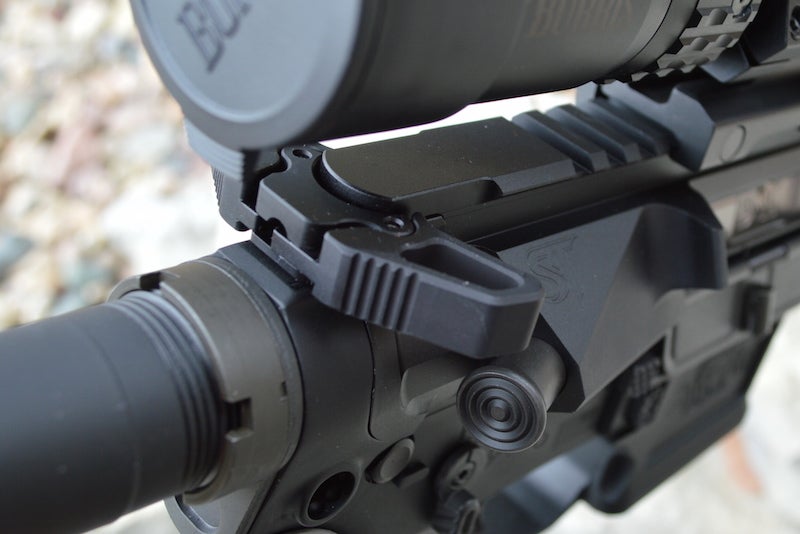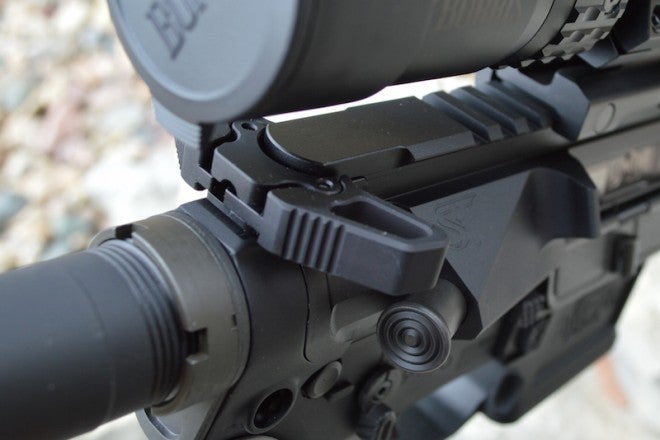 Sharps Rifle Company Relia-Bolt -$99
Early this year, I reviewed the Sharps Reliabolt and was impressed with the science, design, and engineering behind it. Sharps engineers looked at all the potential bolt and carrier failure points and designed their Reliabolt to improve reliability in extreme wear, impacted weapon, and alignment situations.
I personally have never had any issues with even standard phosphated bolts with proper lube, but I can understand how the Sharps design would greatly enhance reliability and continue operation in near-catastrophic conditions. In the case of this build, the Sharps Relia-Bolt wears a "wow even the bolt is custom" look with arguably one of the most reliable bolts on the market.
Battle Arms Development BAD ASS Ambi Selector $ 79 and EPS Enhanced Pin Set $40
There are run-of-the-mill pins and selector switches, and then there are the groundbreaking designs that Battle Arms Development created. B.A.D. delivered the first ambi selector switch with style never seen before and features never thought of. Battle Arms absolutely delivers on the cool factor, but they also offer unique features such as short throw switch design on the ambi selector.
Their Enhanced Pin Set offers a super easy install and and simple removal features that prevent your punch from scuffing your high-dollar receiver. Battle Arms adds that custom touch to any build, especially this one.
Timney Triggers AR15 Skeletonized Match 3lb Trigger – $280
I am a huge fan of Timney and I have used their triggers in many builds. This skeletonized AR15 trigger adds a little more "cool" to one of the best match triggers on the market.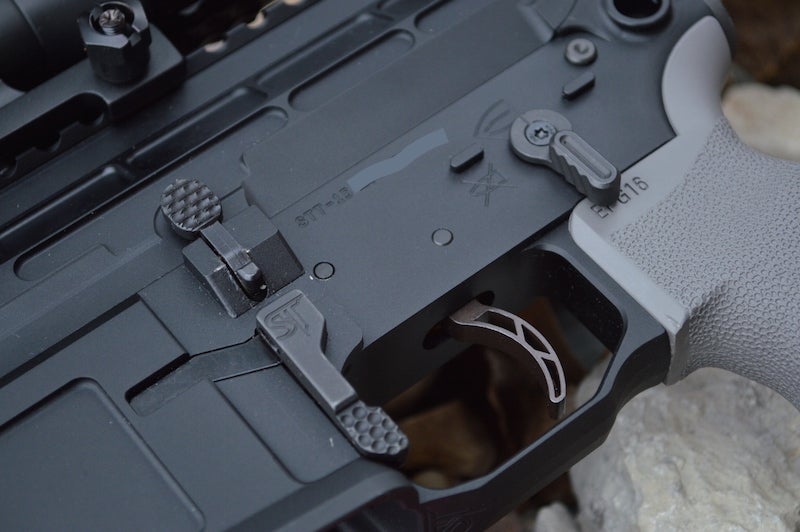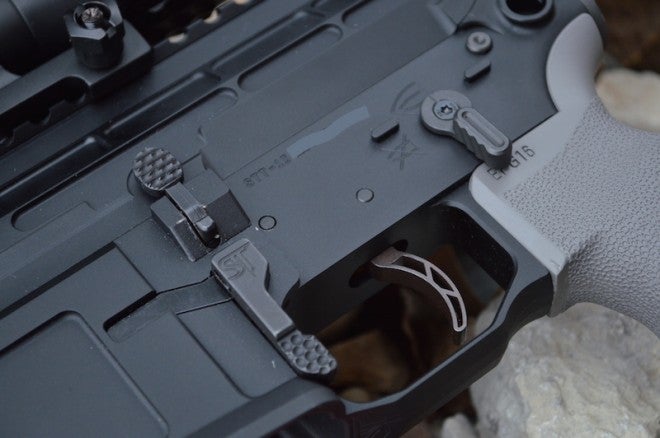 The Timney Match AR15 trigger is a drop-in cartridge with all precision EDM internal parts. I chose the 3lb version to get the most out of the Hart Barrel.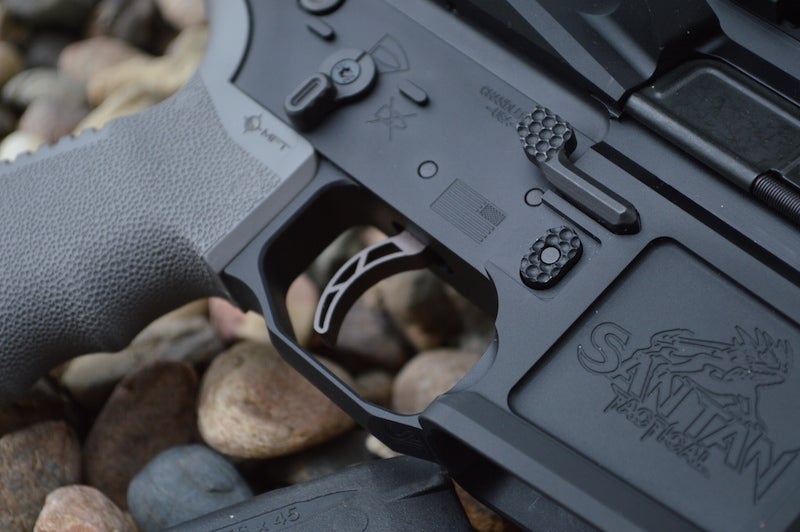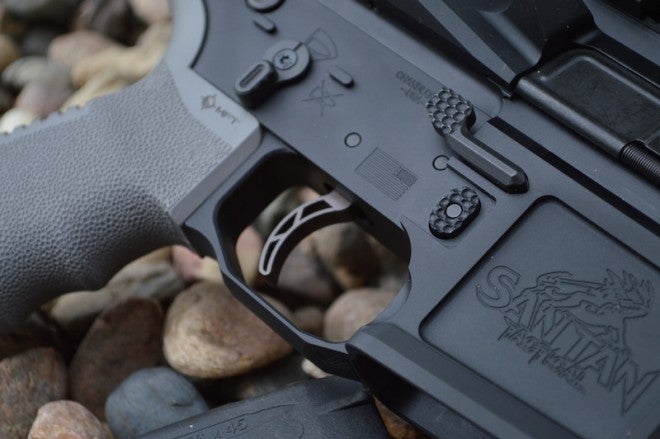 Burris XTRII 1.5x-8x-34mm Fast Fire III Combo 34mm Tube – $1577
The Burris combo optic combines both a 1.5x-8x scope with a Fast Fire III sight, piggybacked on the optic. This style of combo allows very fast transition shots between close and longer-range targets. Burris' version features a giant 34mm tube for maximum light transmission, stunning clarity, a Dual Focal Plane ranging/BDC reticle, calibrated CQB trajectory illuminated reticle, 5x zoom magnification, 25% thicker tube construction, and Zero Click Stop technology.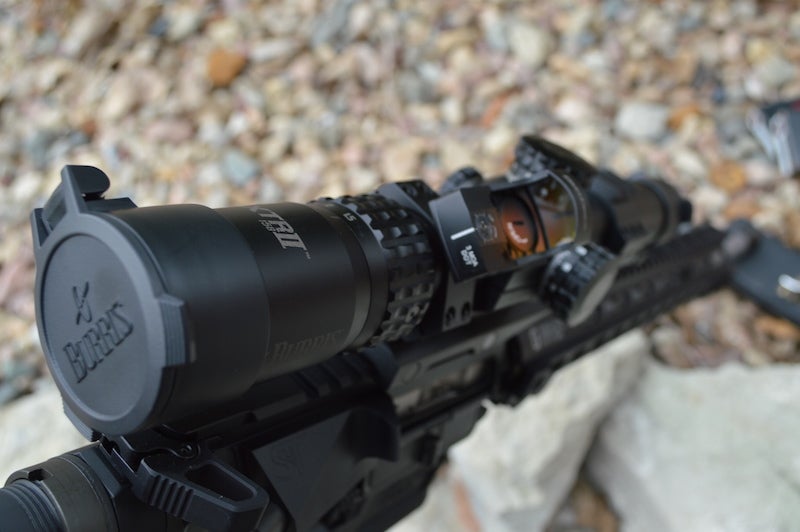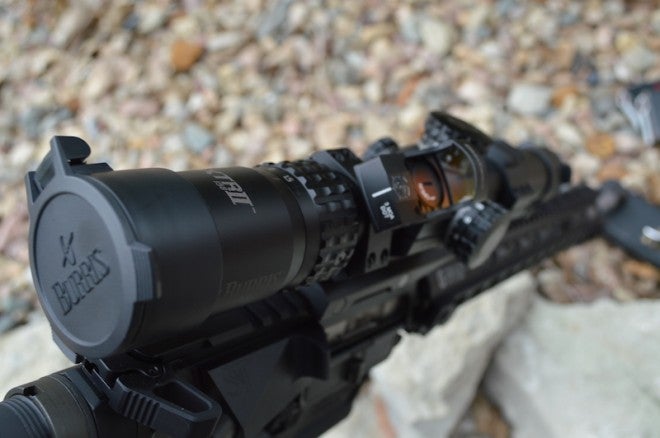 If you want to impress others with the quality of your optic, it had better be clear and that is what has impressed me with this setup. It features Hi-Lume multi-coated lenses, optimizing target resolution, contrast, and low-light performance, which gives a super clear image that surprises everyone looking through it. The internals are all hand-fitted and are triple-spring tensioned for absolute shock-proofing.
When I first saw this optic at the SHOT Show, I fell in love. Burris is one of the few sub-$1000 optics with true dual focal plane capability, which zooms the reticle with the magnification. This feature retains accuracy ranging of the reticle graduations throughout the entire zoom range and makes shot quicker regardless of what power your scope setting is on. Love this optic!
Geissele 13" Super Modular Rail – $300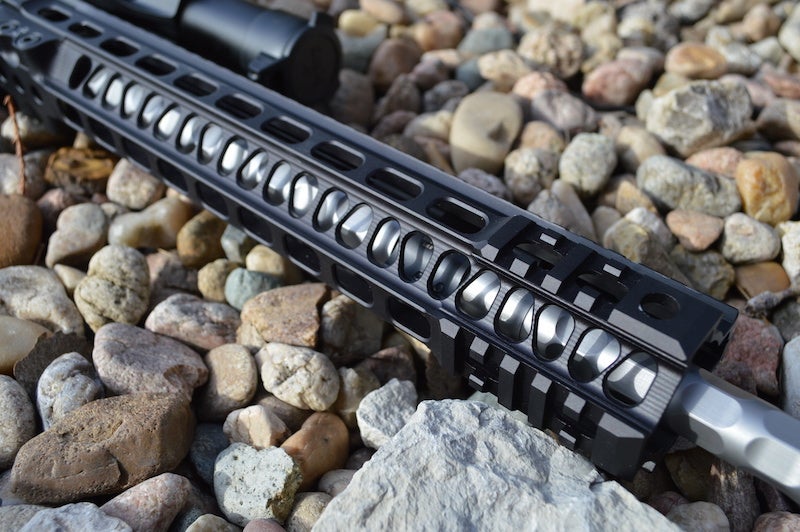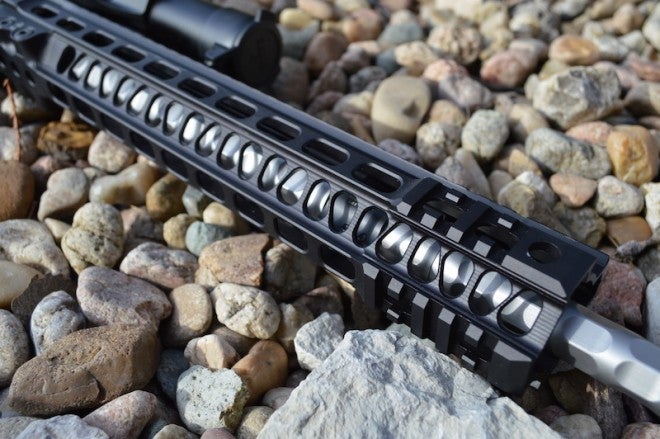 For this build, I chose the Geissele Super Modular Rail. It is the only rail I know of that has been 3D machined with beveled and rounded edges. The resulting look is that the rail has been custom-cast from solid billet to an artful level equal to SanTan Tactical receivers.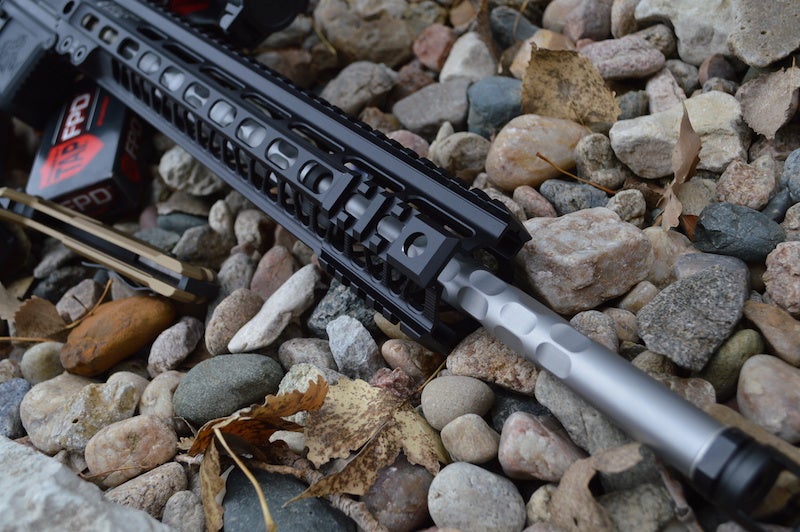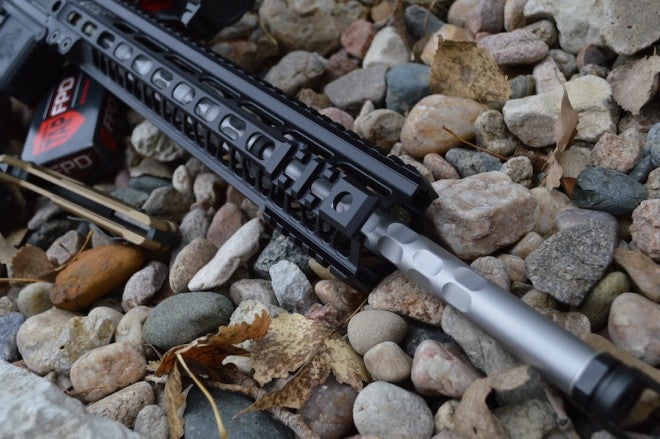 I consider the Geissele Super Modular to be top end of quality in handguard rails, with comfort and profile second to none. This rail offers all the creature comforts of other top-end rails, plus the stability of a long non-indexing barrel nut, which allows the installer to achieve perfect barrel nut torque and a stronger handguard-to-receiver union. The Geissele is the top end of rail and it deserved and earned its spot on this build.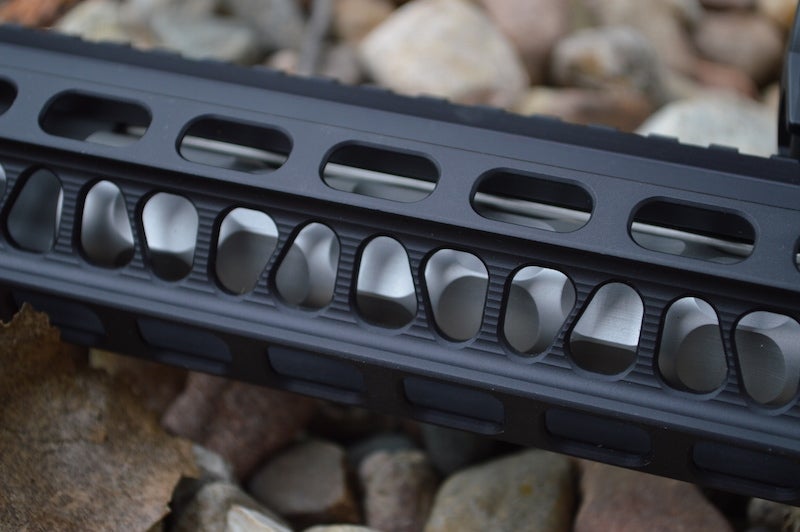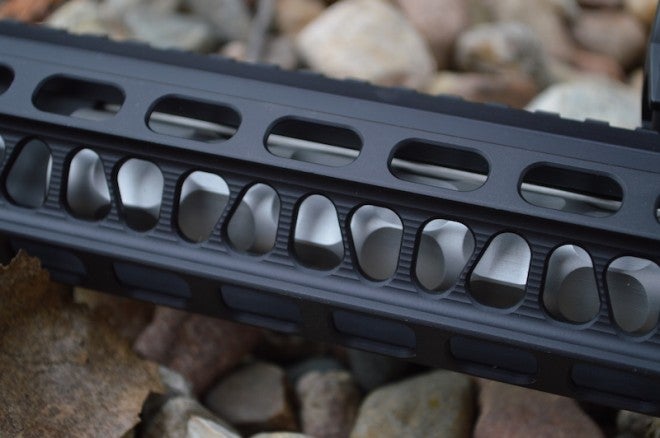 Syrac Ordnance Retrofit Low Profile Gas Piston Conversion Kit – $299
If you are a gun person you may know the name Jason Adams. He is the guy who invented the gas piston system for AR15s and founded Adams Arms. Later, he left his own company and started Syrac Ordnance where he created one of the finest adjustable gas blocks in the industry.
Now they have expanded into Low Profile Retrofit Gas Piston Conversion kits, which fit under nearly every low profile handguard in the industry. The retrofit system slipped easily under the Geissele handguard.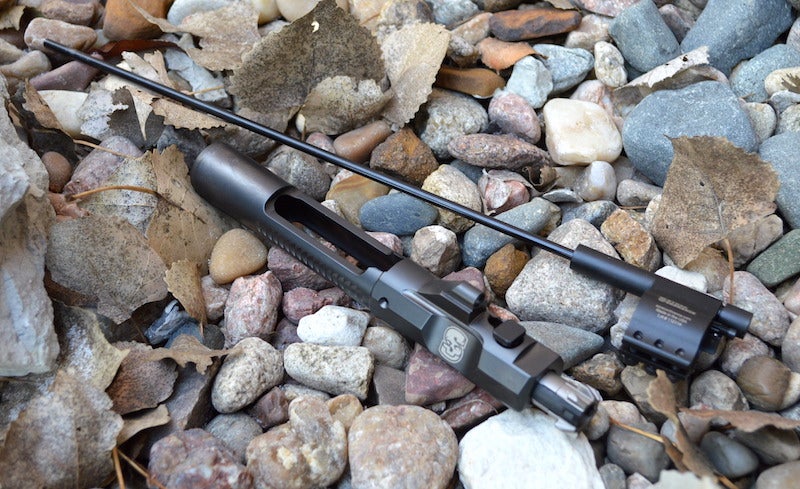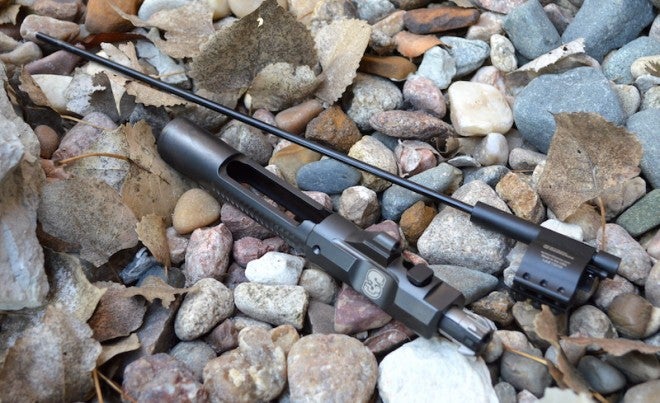 Traditional piston systems are bulky and heavy, but Syrac's system is about the same size as a direct impingement system and very light as well. The system allows any standard AR15 direct impingement owner to swap their carrier and gas block with the Syrac kit to convert their rifles to a more reliable gas piston system.
It's a beautifully engineered system, and the kit includes a premium carrier, pushrod, and adjustable gas block. Installation was as simple as slipping the Sharps Relia-Bolt into the included Syrac carrier and mounting the Syrac gas block piston. I was up and running after following Syrac's install and tuning instructions. They claim the Syrac gas system will outperform direct impingement system and prevent that hot gas blown back into the action.
ALG Defense Single Chamber Brake – $35
You may find it odd that I have chosen a simple $35 brake for a premium build. The reality is this build is so over the top it actually needs a little elegant simplicity to balance out all wow. ALG Defense sells amazing products at low prices, and their Single Chamber Brake does an awesome job in a tiny package.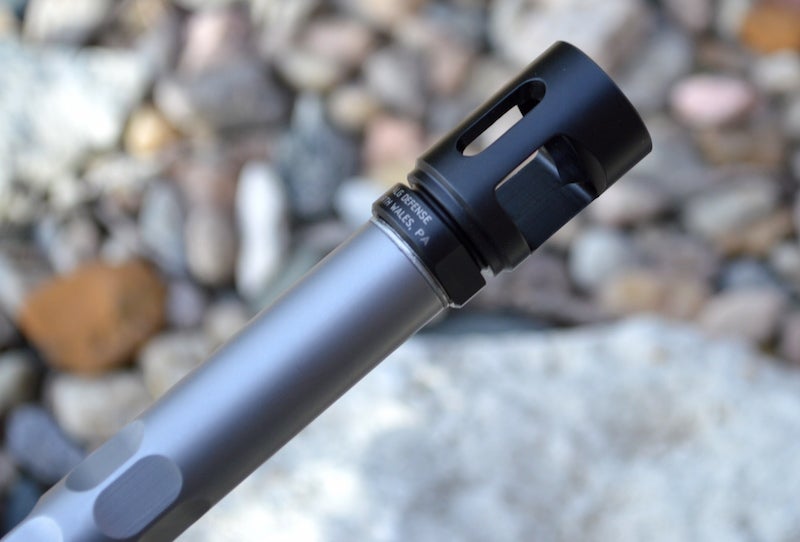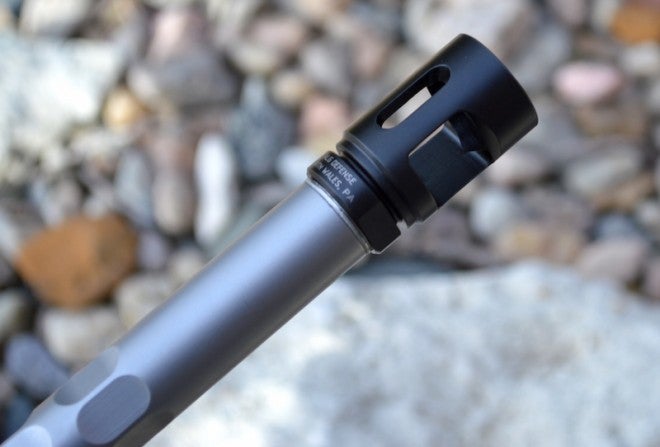 Due to the length, the installed ALG Brake delivers an overall barrel length that is 1/2″ to 1″ shorter than most standard aftermarket brakes. An excellent all-around brake.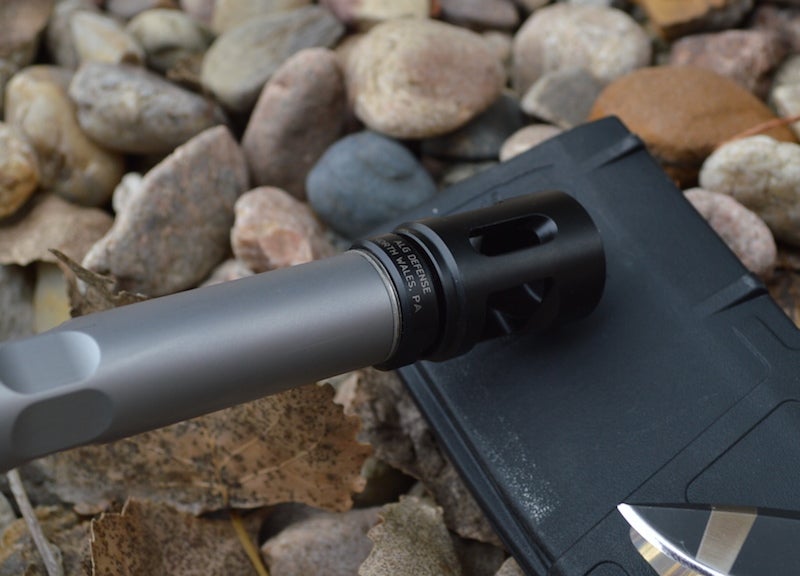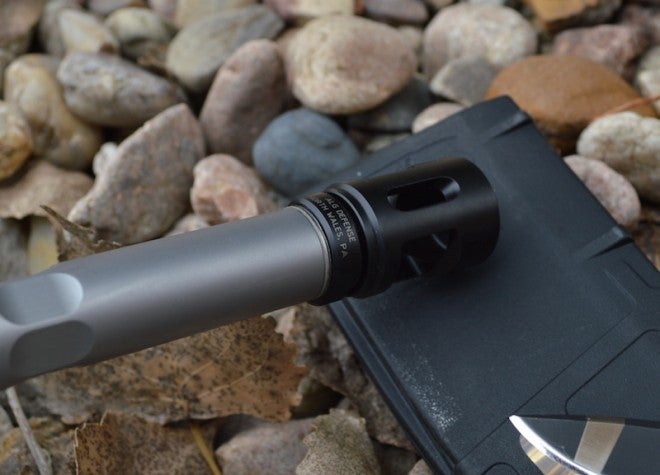 Mission First Tactical Engage Grip $34.99
I often flip flip back and forth between Magpul and Mission First Tactical, but my preference is the ergonomics of the Mission First design. MFT was also the first company to offer gray. Usually I hate finger grooves on grips, but MFT's grip works for me and looks great.
XLR Industries Tactical AR15 Stock $225
I was going to go with my typical choice and reach for an Ace Skeleton Stock, but I found a cooler option. After working with XLR Industries on some Remington 700 chassis, I decided their Tactical AR15 stock would be perfect for this build.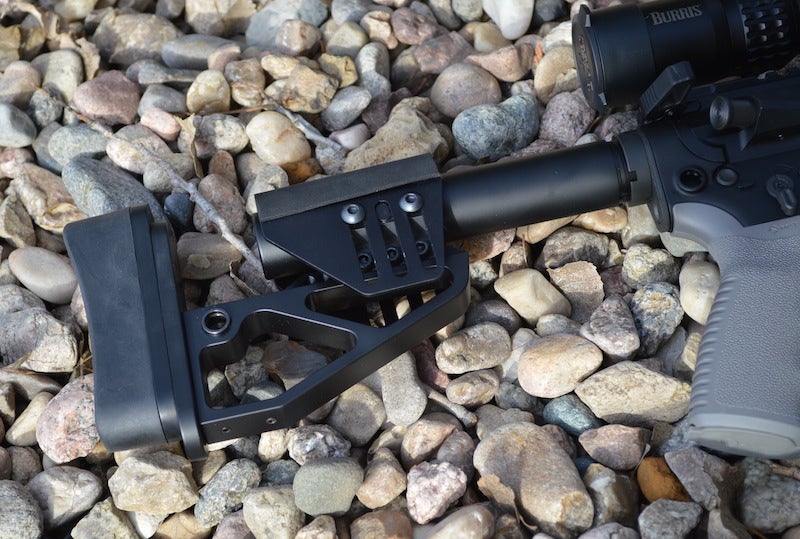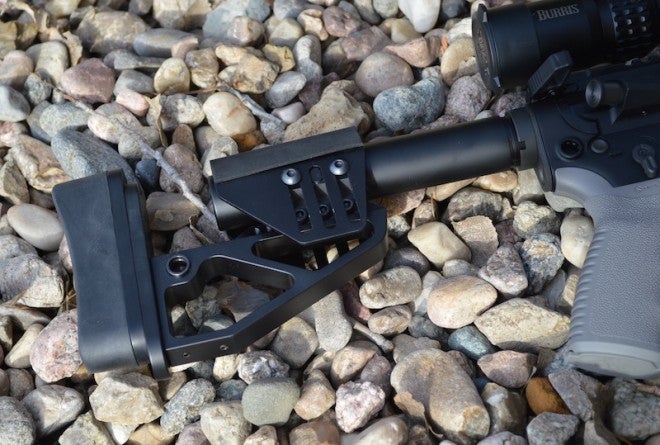 On top of the stunning machining and finish, it offers full adjustability, including length of pull, cheek rest height and fore-aft position, recoil pad height, and recoil pad cant. Because this stock utilizes a carbine length gas system, it is fully compatible with any AR15.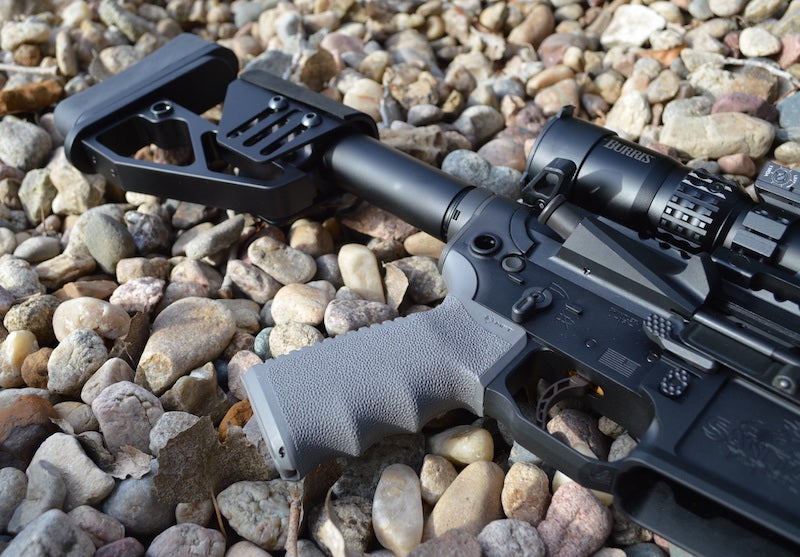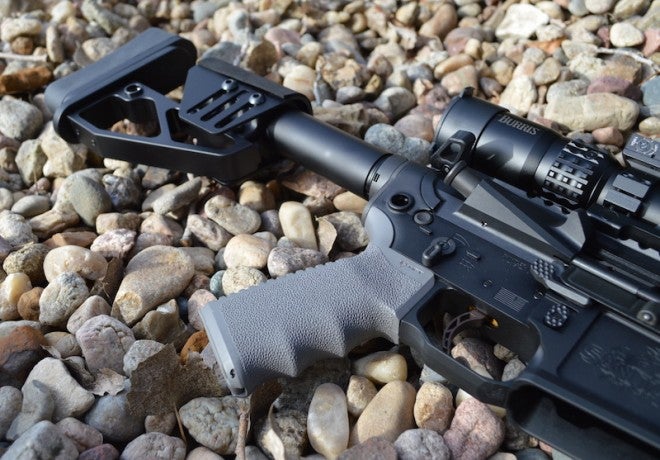 What I liked most about this stock for this Ultimate AR15 build was that it provided ultimate adjustability and comfort for the shooter.
Final Thoughts
So the big question is, does it perform as well as you would expect? This build shoots like a dream after I worked through tuning and fitting it to my preferences. As with any adjustable gas system, you will likely work through a magazine of rounds to ensure the adjustable Syrac Piston system is tuned properly.
My best 100-yard group was right at .26″ off the bench, which is one of my best-ever 100-yard groups. Not that I am capable of doing that over and over, but .5″-.6″ 100-yard groups were pretty normal with the setup with high quality match ammo. It is a high precision build far more capable of fine accuracy than I am.
The build contains everything I could ever want in a high end 3-Gun/DMR style AR15 and it does it with a level of style that simply blows people away.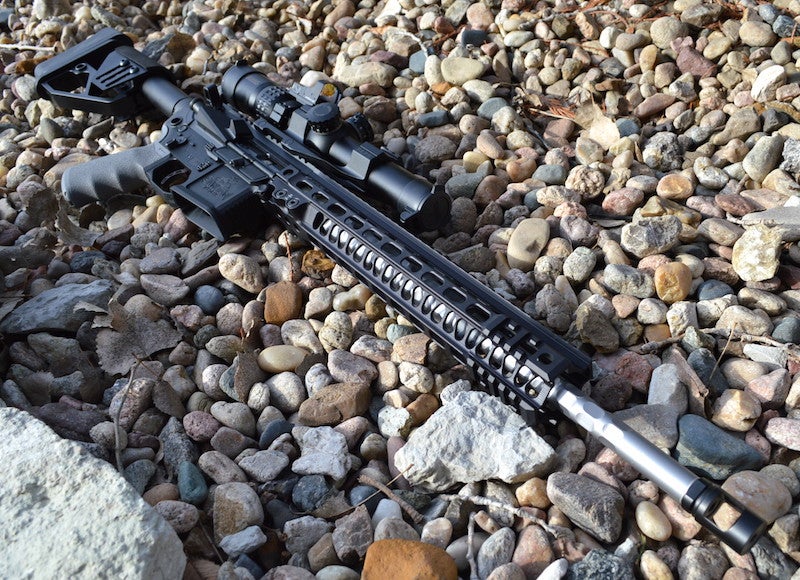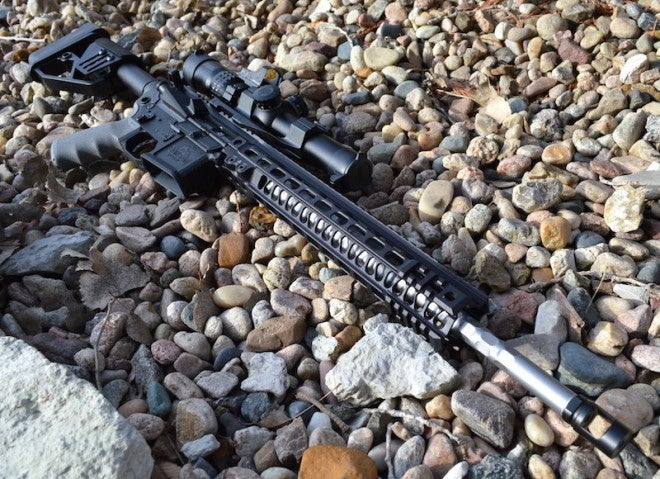 If you start to add up all the components you get to a stunningly expensive $4,278–yeah, damn! Generally it is tough to push past the $3000 mark with a AR15 build unless one of the insanely expensive German optics are added.
This is definitely one of the bets custom AR15 firearms I have ever seen or handled, but I could have even gone further. Believe it or not, I looked at having a custom made Hydro Dip pattern made just for my builds, but at this time the cost was too high.
Meanwhile, back at the range this build just produces blank looks and awed stares. Mission accomplished.