Review: San Tan Tactical STT-15 AR15 PILLAR Upper and Lower Receiver Set
Major Pandemic 11.14.16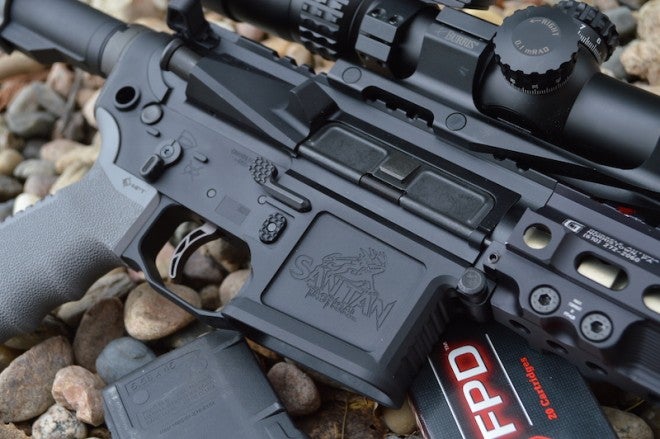 If you appreciate a well-made AR15 loaded with well-executed details and don't mind paying for quality, read on. This San Tan Tactical receiver set is the Bugatti Veyron of the AR15 world.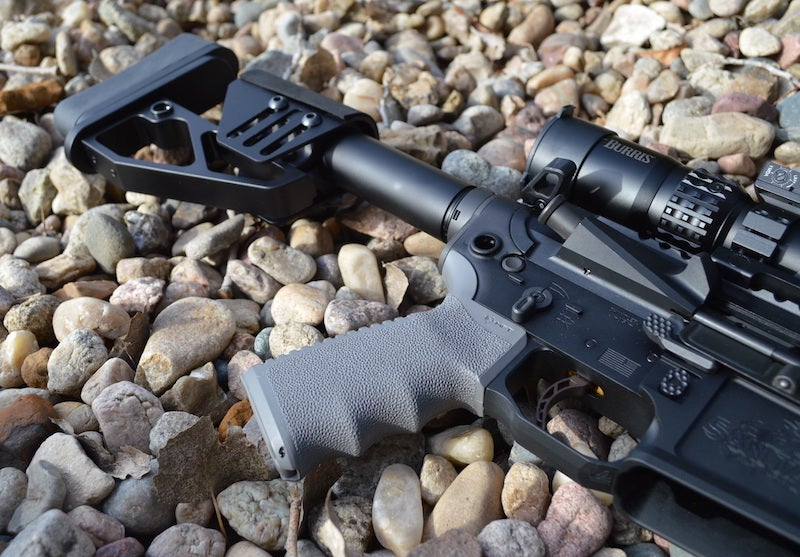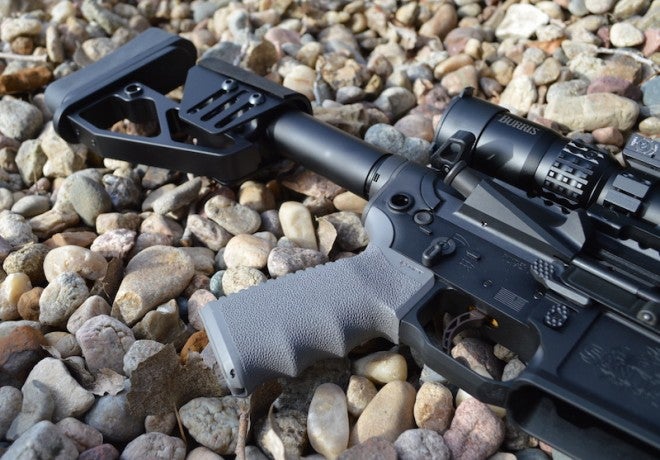 The SST-15 Ultimate AR15 Build
Before I jump into what makes San Tan's billet receiver set special, let's talk about the Ultimate AR15 build I created with it:
Hart Custom Hex Fluted 223 Wylde sub-MOA 17" Barrel – $650
AXTS Ambi Raptor Charging Handle – $90
Sharps Rifle Company Relia-Bolt – $99
Battle Arms Development BAD Ambi Selector $79 and EPS Enhanced Pin Set – $40
Timney Triggers AR15 Skeletonized Match 3lb Trigger – $280
Burris XTRII 1.5x-8x-34mm Fast Fire III Combo 34mm Tube – $1577
Geissele 13" Super Modular Rail – $300
Syrac Ordnance Retrofit Low Profile Gas Piston Conversion Kit – $299
ALG Defense Single Chamber Brake – $35
Mission First Tactical Engage Grip $34.99XLR Industries Tactical AR15 Stock $225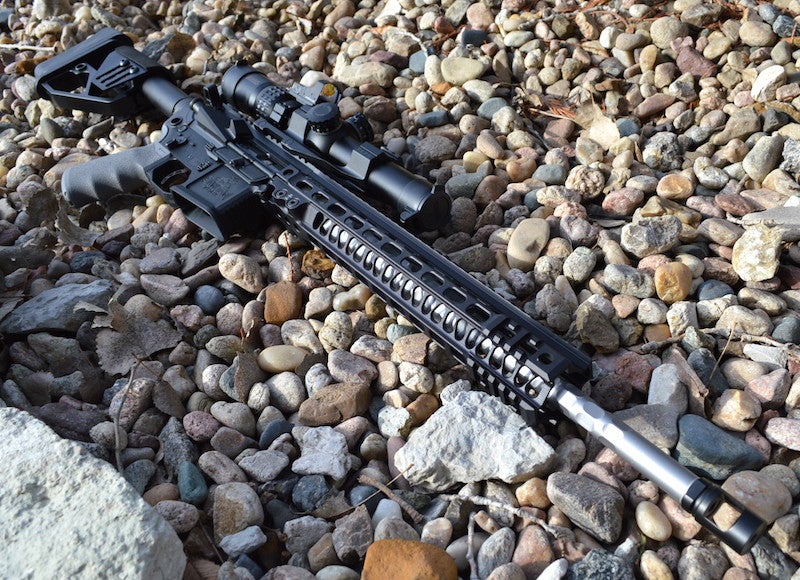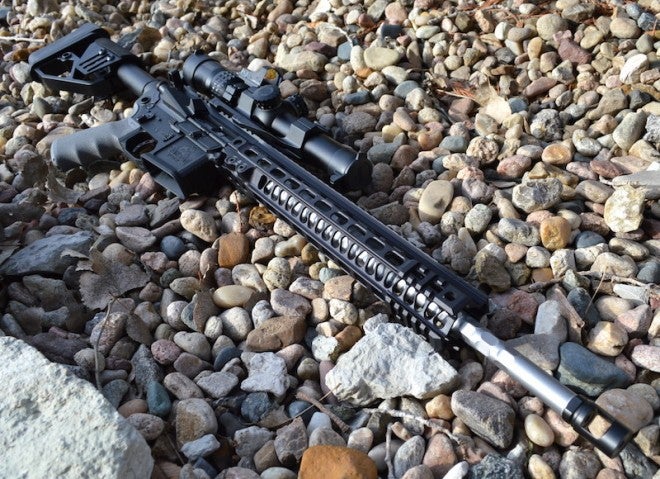 Mil-Spec will do on the battlefield, but not for the custom AR15 builder. And one of the world's most finely crafted barrels deserves the world's best receiver set. I have handled and tested just about every receiver set on the market, and no one packs all the quality, fit, finish, and features into billet 7075 aluminum like SanTan Tactical.
Like the Hart barrel, this receiver combo is a masterpiece of AR15 design. I consider it to be the most badass upper receiver I have ever seen, but looks are only a small part of the story.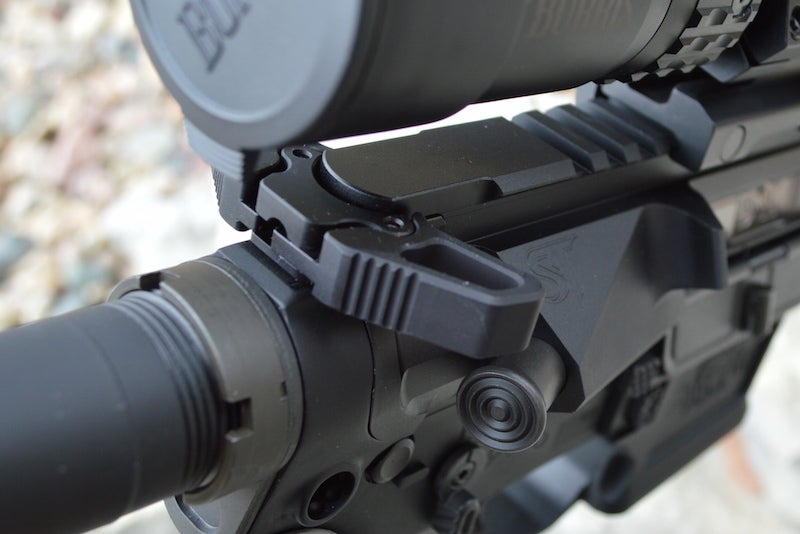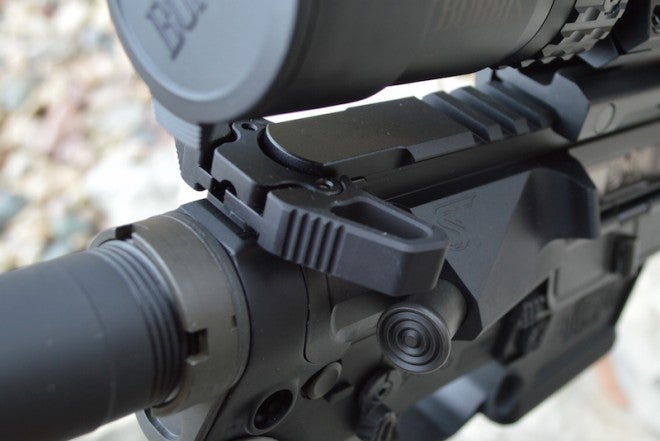 Why billet? Billet offers the firearm manufacturer the ability to think and create outside of the box and usually results in a beefier and heavier design, more-flared magazine well, and cool looks with the same functionality as a regular forged receiver. Most billet receivers just deliver cool looks with the same old functionality and features, but a some manufacturers go above and beyond. San Tan has exceeded even that.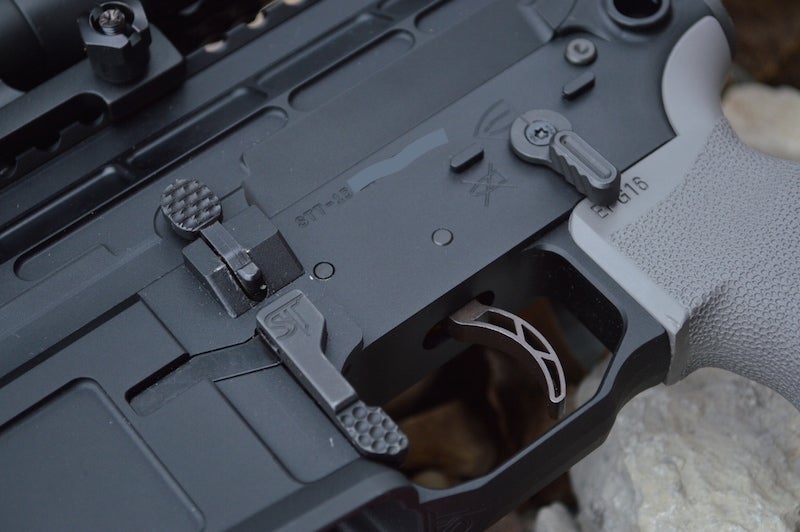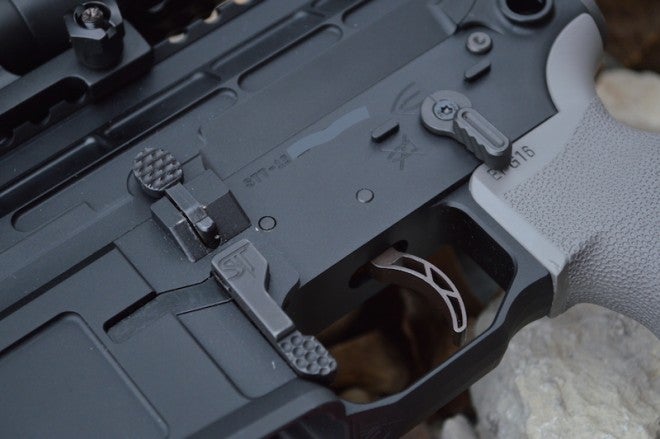 Each SST-15 is milled from a solid chunk of 7075-T651 aluminum on CNC machinery, which ensures consistency and precision tolerances. Once milled, the finished receiver is MIL-A-8625 Type III hard anodized for corrosion resistance. Unlike most billet receivers, the STT-15 is not fat and bulky.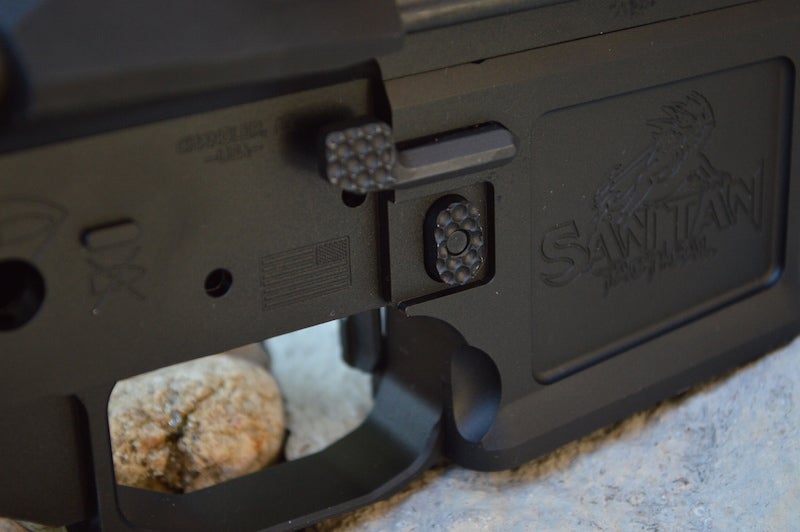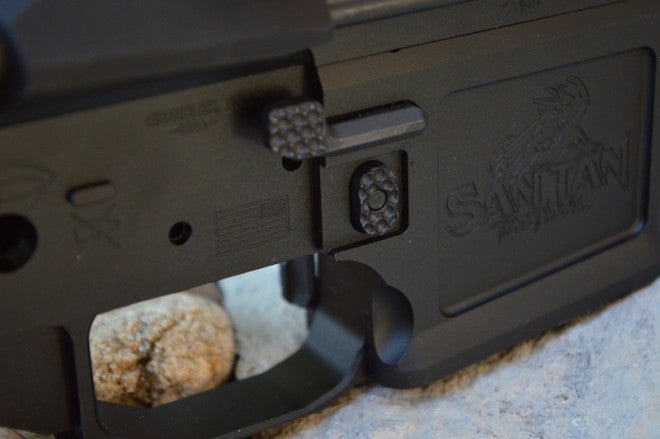 The overall fit and finish is impeccable. Stylistically, San Tan wanted to avoid the typical bulky billet look. Instead of a heavy extended magwell lip, they have created a huge funnel without adding much extra bulk. The extended trigger guard is thin and contoured, and actually flows into the grip. The SST-15 has been lightened and strengthened in key strategic areas to retain strength but minimize weight. Ergonomics were enhanced with a lot of extra contouring, rounding/radiusing, and otherwise softening the corners and edges to provide a more comfortable fit.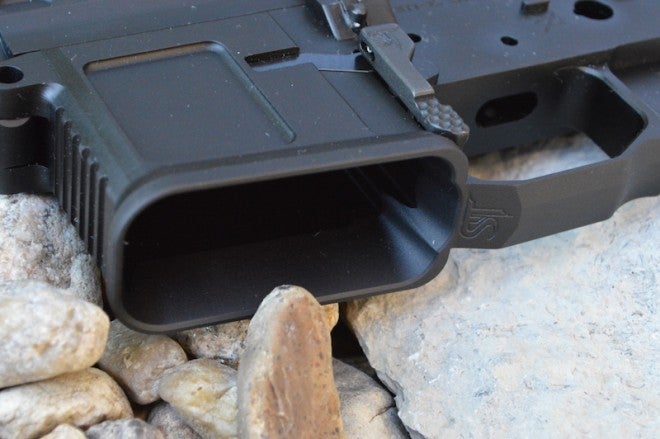 Features include a huge magazine well, integrated QD sling mounts on each side of the receiver with 45-degree anti-rotate stops, integrated ambidextrous bolt and magazine releases, ambi selector switch with bullet pictograms, shooter ready trigger finger rest just under the magazine release, oversized winter trigger guard, dowel/grub screw (no pins) assembly, and extra grip on all the ambi releases. But the features do not stop there.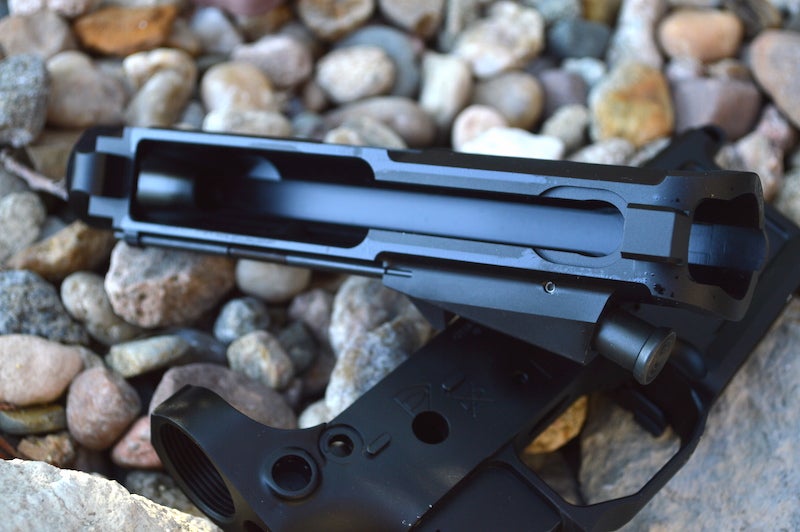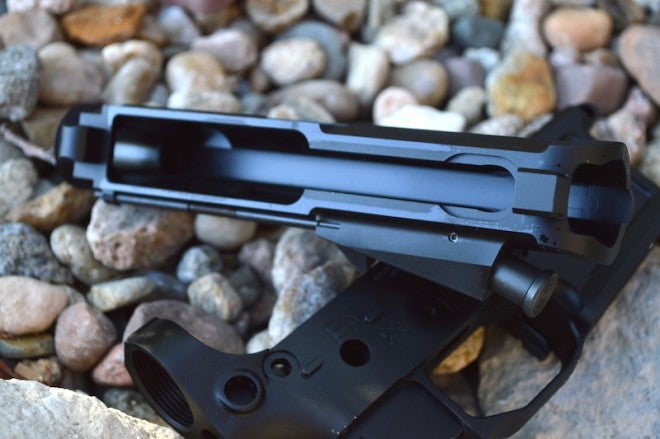 If you are into higher-end AR15s, you are probably familiar with receiver tension screws and their ability to tighten up a worn or loose upper. San Tan has gone about it a little differently, with a small nylon-tipped screw. Tension can be adjusted via hex wrench after removing the grip.
While the grip is off, you can also adjust the unique trigger overtravel adjustment, which can make a stock trigger feel pretty good or remove minute slack from a match trigger. It's a cool feature that most will not utilize. If you are dropping $330 on a billet receiver, you are probably springing for a high end trigger, which generally negates the need for overtravel adjustment.
SanTan is not just about offering an ambi-everything billet lower receiver with great looks. SanTan put a ton of research into developing a design with all the features and coolness while being significantly stronger than mil-spec forged receivers.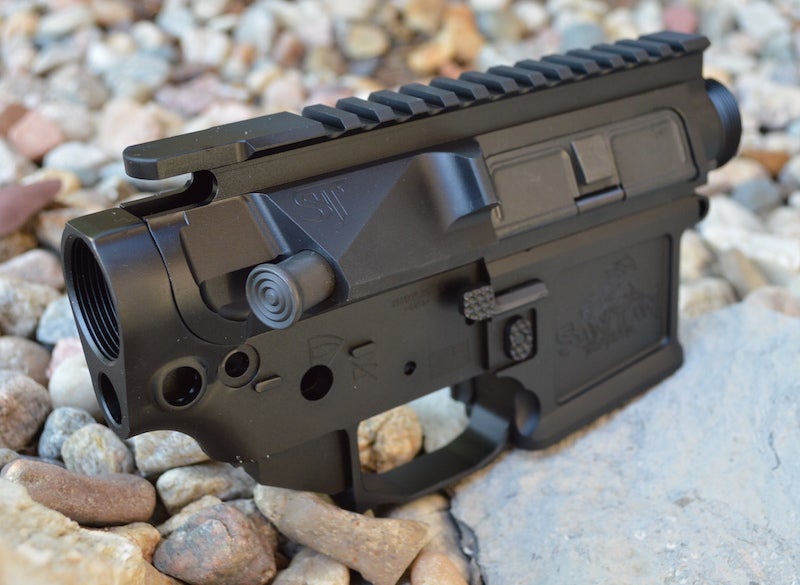 Included in the price of the $290 lower receiver are are all the control buttons and levers, so you don't need to go out and buy $100 worth of ambi control parts. The only parts you need are the selector switch and pivot/takedown pins. 

Their 8.2-ounce upper receiver follows the same strategy with a design, which is significantly lighter than even flat-sided (non-forward assist) receivers but significantly stronger. In fact, San Tan notes their upper as being the lightest on the market.

SanTan Tactical does all this in a design that is still elegantly simple without all the blockiness of a typical "fat billet" look. My only regret was not opting for a two-tone bronze and black finish, but there is always a next time.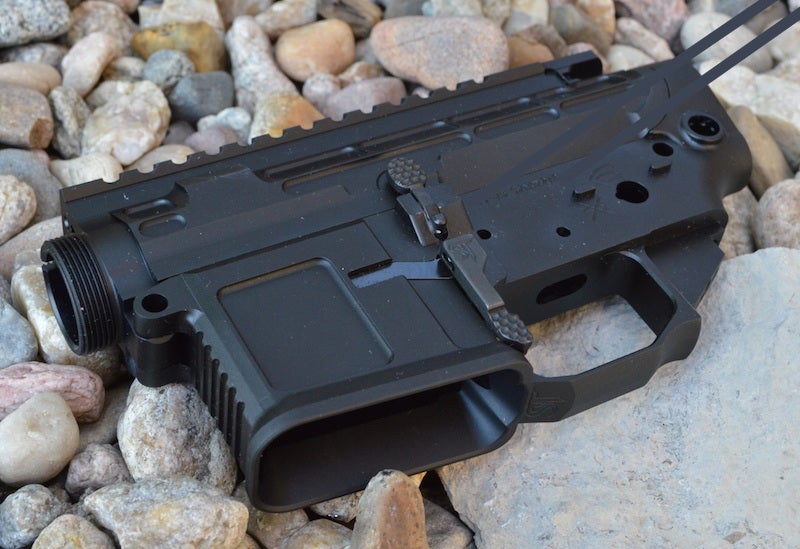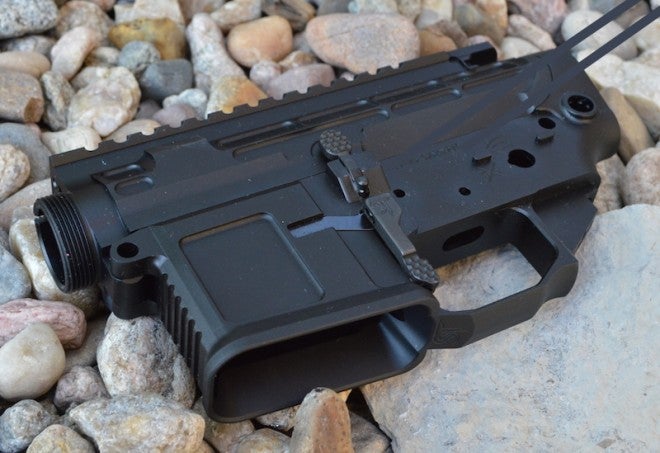 Final Thoughts
San Tan Tactical designed the SST-15 with every feature the shooter could possibly want in a design and finish quality that is executed with Swiss watch precision. It is by far the most detailed and intricate AR15 receiver I have tested or seen, but the features, strength, and weight make this $469 receiver set worth the extra money.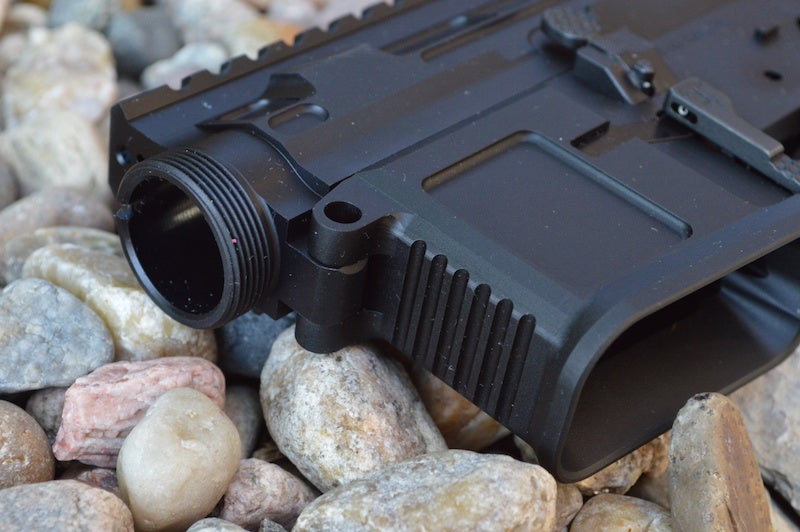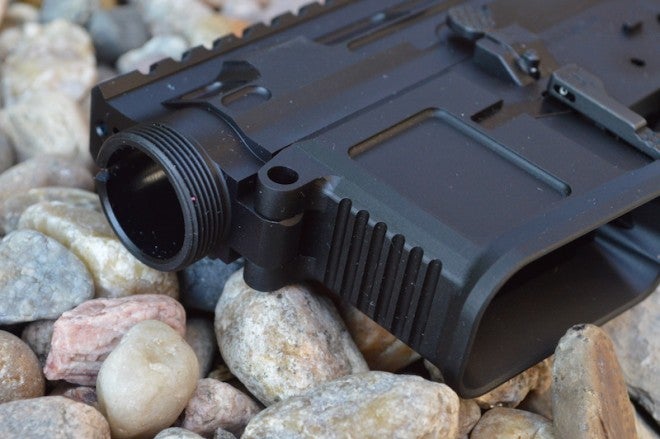 Manufacturer Specs
STT-15: 8.2 OZ
Trussed High Strength Lower Weight design
Model: STT-15 L
Caliber: 5.56 NATO \ 223 REM, 300 BLACKOUT, 22 LR, Multi-Cal, Custom Caliber Markings Upon Request
Huge 1.38" Integrally Machined Magazine Well Flare
Ambidextrous Quick Attach \Detach Sling Swivel Points With Anti-Rotation Stops Every 45 Degrees.
Ambidextrous Bolt Release.
Ambidextrous Magazine Release.
Bullet Pictogram Safety Selector Markings.
Set Screw Trigger Creep Adjustment.
Set Screw Upper Takedown Tension Adjustment.
Shooter Ready Finger Rest.
Oversized Winter Trigger Guard.
Dowel Screw Assembly.
Ultra Grip Texture On All Controls.
Action: Semi-Auto
Weight: 9.4 Ounces /268 Grams With Ambidextrous Controls 8.4 Ounces / 238 Grams Without Ambidextrous Controls.
Dimensions: Length: 7.69" Width: 1.490" Height: 4.015"
Material: Billet 7075-T651 Aerospace Grade Aluminum, Cast A-2 Tool Steel
Finish: Aluminum – Matte Black MIL-A-8625 Type III Hard Anodize, Steel – Black Oxide
Butt-Stock: Works With Any Mil-Spec or Commercial Buffer Tube and Stock.
Magazine Compatibility:(Lock In, Drop Free Additional Magazines Will Be Added As Tested)
Factory tested magazine function – 100 Round Beta Mag, 100 Round Surefire,60 Round Surefire, 30 Round Magpul P-MAG Any – Generation, 20 Round Magpul P-MAG Any Generation, 10 Round Magpul P-MAG Any Generation, 30 Round Mil- Spec Mag, 20 Round Mil-Spec Mag
Component Compatibility:Works Will All Mil-Spec AR-15\M16 Components.*
MSRP $329.99