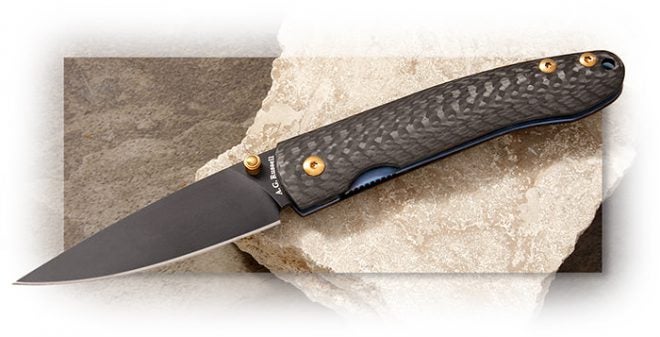 You never get something for nothing, but in this case, you'll be delighted because you're getting nothing for something. That is, you get no unnecessary baloney and some very good basics, all for a reasonable price.
Over the years I have been repeatedly delighted by AG Russell designs. The Medium Barlow is a wickedly clever blade. The Skorpion was very competitive in the mid-tier market. And the Acies, despite a few design snags, was quite competent. The Light'n Bug looks to continue that trend. The knife has all of the classic Russell design hallmarks: simple, familiar blade shape; great blade to handle ratio; and surprisingly low weight. I am not thrilled with the steel choice. 8Cr13MoV is a bit below par for a $75. On the other hand, the knife looks like it would cost three times as much.
AG Russell has been designing and producing EDC knives for more than thirty years before that term came into existence. He is primarily known for traditional folders, but he has done quite a few modern blades, and every one that I have reviewed has been at the very least good. Some were noteworthy because of beguiling mechanisms, like the One-Handed Knife. Others, like 3 Inch Titanium Lockback, blew me away in terms of materials (mother of pearl and black lip pearl, seamlessly integrated into a handle for $80 is pretty crazy). There is always something special with an AG Russell design–a clever feature, fit and finish worth two or three times the price, or incredibly solid specs.
For me, the Light'n Bug looks like something close to an ideal EDC knife, especially for those of us that can't wear jeans to work. Thanks to very clean lines and a striking combination of black, blue, and gold (in the classic 70%, 20%, 10% ratios), this is a knife that isn't out of place in a suit pocket. It's also unlikely to frighten fellow cubicle dwellers thanks to its petite but not uselessly small 2.5 inch blade. The fact that its handle is less than an inch bigger than the blade, well, that's how you know AG designed it. That and the fact that it weighs 1 ounce.
The Light'n Bug is a liner lock and, like another favorite of mine, the Kershaw Skyline, it too has only a single liner. A knife this size sometimes lacks a clip, but AG, even at more than 90 years old, is tracking the market closely and so, this tiny cutter, comes with a blue anodized pocket clip (which matches the blue liners).
My only reservation about the knife is the steel. 8Cr13MoV is a Chinese steel (this is a Chinese made knife BTW) and it is traditionally found on lower to mid-tier knives–a slightly worse version of AUS8. Like AUS8 it takes a keen edge and gets it back quickly, but it lacks any sort of retention capacity. Unlike AUS8, it is not that stain resistant. But of the knives I have had with 8Cr, the Russell blades have been the best performers. A good blade is not just a matter of chemistry. If the heat treat, grind, blade shape, and blade geometry are all done well, you can get surprisingly good performance out of mediocre steels. I'd take my AUS8 Al Mar Falcon over quite a few powder steel blades in various knives. So while 8Cr isn't ideal, I trust AG to get the most out of it.
The only truly bad thing about the Light'n Bug is that right now: it's out of stock.