Hey, Duck Hunters: Check Out the ALPS OutdoorZ Wetland Seat
Russ Chastain 11.23.16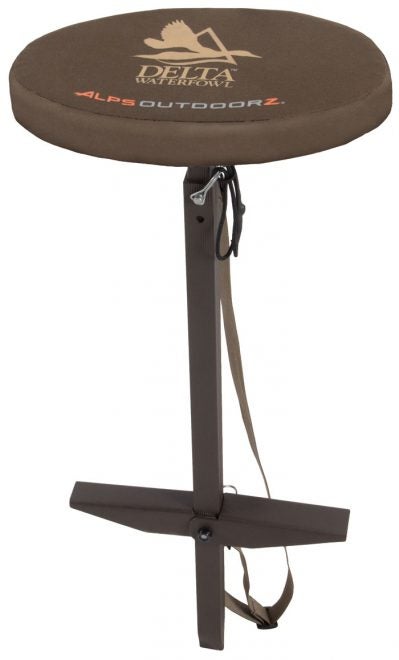 I see a lot of new product announcements and press releases, and most of them fail really to catch my eye. So much of it is empty fluff or simply doesn't interest me. But this looks useful.
It's a one-legged stool from ALPS, which they call The Wetland Seat. The bottom end of the single seat post is tapered to a wedge, so it sticks into marshy ground–the type of ground you do NOT want to sit on.
To prevent it from sinking in too deep, a pair of metal parts (they call them "feet") fold outward to create a tee.
Height is adjustable via a pin. They say it adjusts from 24 to 34 inches, but it's not clear whether that is measured from the tee or from the bottom of the sharp wedge.
The lightly padded seat is oval, 8 by 12 inches, and has a "non-slip logo," whatever that means. Cool thing: the seat folds 90 degrees to lay against the post, which should make it easier to pack via the included adjustable shoulder strap.
You can attach your game hanger to a D-ring to suspend your ducks above the water, if you'd like.
It's not just for duck hunting; I have hunted deer, hogs, and other game in wet areas of soft ground, and could have used a handy seat like this on many occasions. I'd definitely want to pack it up against a tree or something of that sort, though. Otherwise it seems like your legs would get mighty tired of trying to keep it from falling over in really soft ground.
Aluminum leg with wedge end to help secure seat
Two side feet to prevent sinking
Shoulder carry strap
12″ x 8″ Padded seat with non-slip logo
Seat folds flat with frame for ease storage
D-ring for attaching game strap
Height adjust from 24″- 34″
Weight: 4 pounds, 2 ounces
Product Number 9200230
MSRP $49.99
SHOP NOW