12 Days of EDC Christmas, Day 1–Victorinox Midnite Manager
Tony Sculimbrene 11.28.16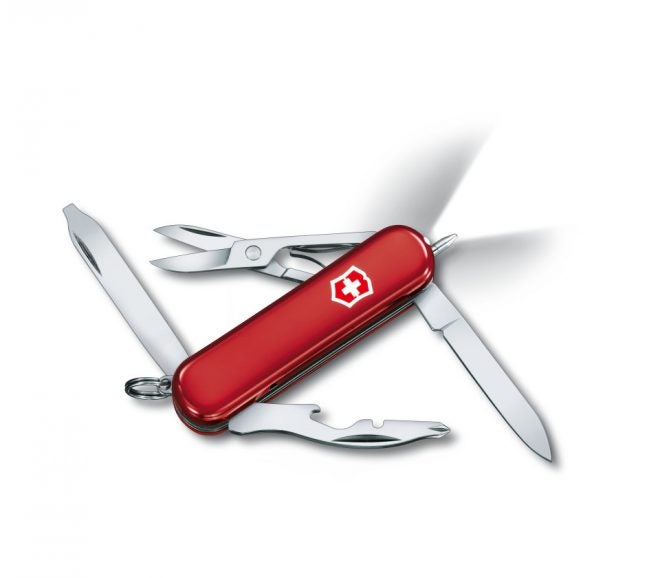 First, let me start out by complaining about two things: 1) the humbugs that moan when Christmas decorations come out in October and 2) the PC crowd that tries to outdo each other by issuing ever more generic Christmas greetings.
To the humbugs–what are you complaining about? Christmas is amazing, especially if you have kids, so tacking on a couple of extra weeks of savoring and anticipating is really a good thing. Mind you, I was the kid that had Halloween candy until Easter and Easter candy until Halloween, so dragging things out as been something I am good at doing.
To the PC folks–cut it out. I had someone wish me a "Happy Winter Season" two years ago. Really, "Happy Winter Season?" I understand the urge to be inclusive and I have no problem with people celebrating whatever they want, but if you can't bother to remember if one friend is Jewish and the other celebrates Christmas, then your PC baloney is merely covering over the fact that you have superficial relationships. Wish people Merry Christmas, Happy Hanukkah, and whatever else. And you'll be surprised how well people respond to you when you remember their names, their kids names, and their favorite sports teams. Or just keep on being a self-centered putz. Your call.
Sorry, a little soapboxing. The idea here is I will run down awesome gift ideas, one per day for 12 days, leading up to Christmas. Hopefully this will come out well before Christmas (ahem…editor…) so you can actually use this information. I am going to focus on new or a bit less heralded stuff. If you want a rec for a Delica, this isn't your list.
Victorinox Midnite Manager
So this is not a gift you should give a hardcore gear geek. This is a gift you can give to your significant other that is not a gear geek. You can also give this to a person that you suspect may harbor gear geek tendencies but never got sent down the path.
Think of this little gem as a nudge, pushing them in the right direction. This is one of the smallest and more expensive Victorinox knives out there, usually running around $40-$50 (compared to a $25 Cadet). It has a very nice complement of tools–the awesome cap lifter/Phillips Driver/wire stripper tool (my favorite caf-a-gym-atorium tool made by Victorinox), a pen blade, a flat head/file, and the always great Victorinox scissors. Good stuff for sure. But this gem is set apart by having some other tools–a clever but low utility pen and the hidden flashlight.
Make no mistake, the entire tool is compromise. The pen knife is very thin and small, the pen itself is basically only good enough to sign signatures, and the light is a LRI Photon clone. But in a package the size of your thumb, this much utility, even if it is Smurf-sized, is still good.
Plus there is something unmistakably gadgetitis about this sweet, red tool. It will infect the person you give it to. They will think, "Hm, not bad." Then two weeks later when they are at a restaurant, ready to go and there no pen in the credit card tray, they will remember this gift, pull it out, and sign the slip. A few weeks or months later, when it is raining and they drop their keys under their car, they will again remember and use the light to snag the dropped item.
There is no better way to preach the gospel of personal preparedness better than the Midnite Manager. Any friend would be happy to get this guy, and come next year they will thank you for it.