DoD Directive Lays Groundwork for Ending Gun-Free Zones on Base for Military Personnel
Russ Chastain 11.29.16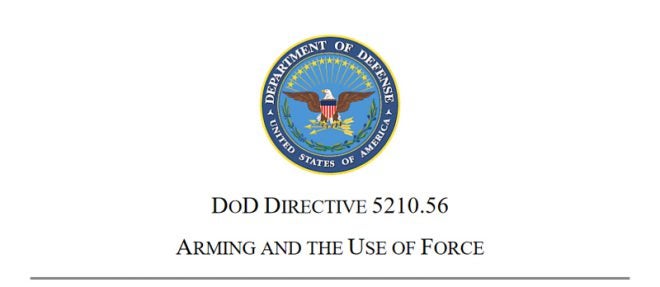 Finally, it appears that some changes in the works to allow U.S.A. military personnel to carry personal firearms on base for their own personal protection.
Military.com reports that this is "a move that the Army's service chief argued against publicly."
A Department of Defense (DoD) directive, effective November 18, 2016, contains policy and standards for "arming and the use of force" and "provides guidance for permitting the carrying of privately owned firearms on DoD property by DoD personnel for personal protection purposes that are not associated with the performance of official duties."
As a combat veteran friend of mine said: "About freaking time."
Per the Military.com article:
[T]he lengthy document also provides detailed guidance to the services for permitting soldiers, sailors, airmen, Marines and Coast Guard personnel to carry privately owned firearms on DoD property, according to the document.

Commanders, O-5 and above, "may grant permission to DoD personnel requesting to carry a privately owned firearm (concealed or open carry) on DoD property for a personal protection purpose not related to performance of an official duty or status," the document states.
and
The directive states that personnel authorized to carry privately owned firearms must "acknowledge they may be personally liable for the injuries, death, and property damage proximately caused by negligence in connection with the possession or use of privately owned firearms that are not within the scope of their federal employment."

The eligibility requirements also state that applicants should not be subject to past or pending disciplinary action under the Uniform Code of Military Justice or in any civilian criminal cases.
The hope is that this will allow servicemen and -women to defend themselves in the event of an armed attack, such as those committed at Fort Hood, Texas in 2009 and in Chattanooga, Tennessee in 2015.
I pray that this policy is never put to that test, but I'm glad to know that our military veterans will have the option to arm themselves. It's always better to have a gun and not need it, than to need a gun and not have it.