Watch: 1908 Italian Bolt-to-Semi-Auto Conversion on M91 Carcano
Russ Chastain 12.01.16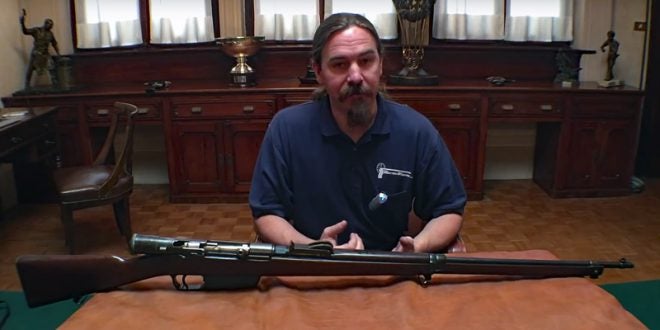 This is an interesting beast. Ian of Forgotten Weapons gives us a tour of this unusual rifle, which apparently began life as regular old M91 Carcano manually-operated turnbolt rifle–the same model allegedly used to slay John F. Kennedy in 1963.
The rifle in the video was originally dated 1908, and at some time afterward it was cleverly converted into a semi-automatic. Here is what Ian says about it in the video description:
Rather than adding a gas piston to the barrel, Terni engineered a short recoil system. The barrel and bolt travel rearward as a unit about a centimeter (3/8 inch) upon firing. Instead of the original bolt with two lugs and a 90-degree throw, a new 8-lug bolt was used, which only requires a slight amount of rotation to lock or unlock. Unlocking is done by an angled wedge that the bolt travels up as it recoils rearward.

The rifle is still chambered in the original 6.5x52mm caliber, using standard 6-round Mannlicher style clips.
Details and explanations can be found in the video below, which shows the action in some detail.
Enjoy!