12 Days of EDC Christmas, Day 4–Scout Leatherworks Pocket Protector
Tony Sculimbrene 12.02.16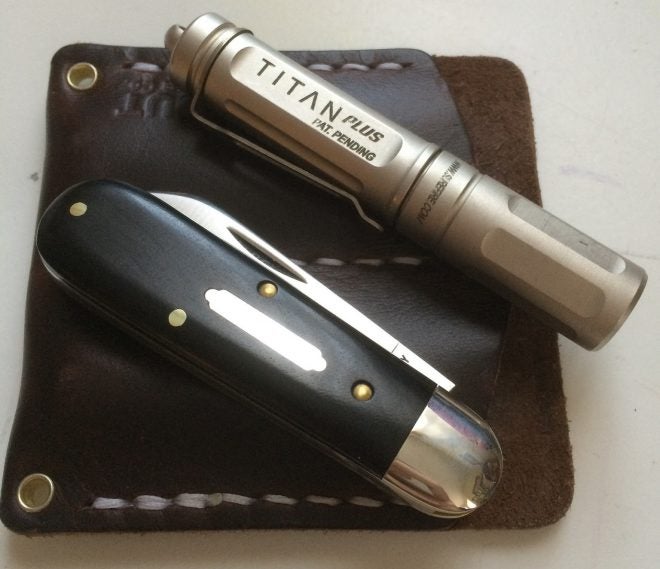 Don't lie–you are a bit of a hipster. We all are. There is nothing we can do about it, what with all of the craft beer and painted-handled axes on the internet. It's impossible to resist the allure of the hipster. Because, weird enough, they actually have good taste some of the time.
They can keep their pubic-hair beards and skinny jeans, but I have no problem with their fondness for traditional knives. And there is no better traditional knife accessory (or one more ripe with hipster stink) than the Scout Leatherworks Pocket Protector
Scout Leatherworks Pocket Protector
This is a perfect gift for that friend of yours that tells you about new bands that you "just have to hear" (bands that inevitably have way too much banjo). He is just the coolest dude and while you are tired of his taste in music, you are a bit envious of his Red Wing Iron Rangers. They are really goddamn cool.
Oh, the Scout Leatherworks Pocket Protector has got all of the hipster bona fide's you need. It's made in small batches by a craftsman. It is sold at pop-up flea markets. It is made of uber premium leather. It has contrast stitching. It is sold on a minimalist twee website. Only a throw-in can of mustache wax would make this more hipstery.
But don't be repelled by association alone. This is an awesome piece of kit. In fact, when paired with the right stuff, this gives you a very nice EDC package. My favorite carry, a 3 inch traditional and a 1xAAA light (like the Surefire Titan Plus above), rides perfectly. And since your friend is a dilletante, this probably all he will ever bother buying when completing his EDC kit, though he will likely track down some super hard to find awesome traditional, like a GEC Tom's Choice or that last run of Boy's Knives from Canal Street Cutlery (mine is in Gold G10 and looks like it has an LED in the hand, the G10 is so gleaming and bright).
I have found that the Pocket Protector not only protects those rare gem pieces of gear, it also keeps them put. Instead of sloshing around in your pocket, giving you that clock pendulum feel or banging up your smartphone, the knife and light play nice and don't move around. You can even drop the Pocket Protector into your back pocket and carry it like a wallet.
Finally, for all of this hipster beauty, the Pocket Protector isn't all that expensive, not like that obnoxious hand-hammered copper cup your friend's wife got him last year for Christmas, the one that costs $300 and now looks like it was dredging silt from the bottom of the Hudson River. The Pocket Protector comes in at a sane-for-hipster-gear price of $50. If you are feeling really generous you can even fill it for your friend. The Prometheus Beta QR is one option, if the Titan Plus is too tacticool for your hipster friend. I'd strongly recommend the aforementioned Boy's Knife. That set up–the Beta QR and the Boy's Knife in the Pocket Protector–is like the Triple Word Score of Hipster Scrabble.