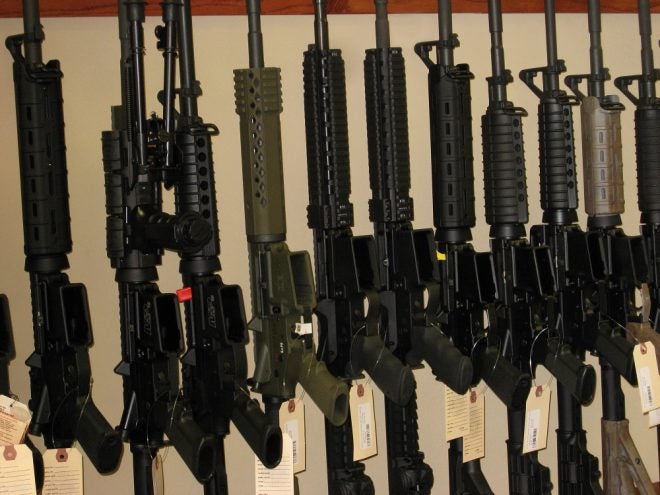 One of the neatest things about the AR rifle platform is all of the customizations the gun owner can do to the rifle themselves. Now granted, the majority of factory ARs come with a perfectly suitable handguard so it is not usually necessary to switch it out, but you can.
Different missions call for different setups, so while the average AR shooter will be completely satisfied with a factory rifle, somebody in law enforcement, security, or other special services might want something different. There is a tremendous variety in aftermarket handguards available to AR users.
First, know that most AR handguards are of two types. One attaches front and rear with the regular handguard holding mechanism on the factory rifle. These handguards can simply be switched out by releasing the holding clamp ring at the front of the rifle receiver. There is a special tool for this, but sometimes you can pry it open to release by hand.
The second type attaches to the receiver in different manners, but the front end is not attached. This allows the AR barrel to "free float," which in theory permits greater accuracy. Do not fret about how the various handguards attach to the rifle. The high quality ones come with complete instructions that anybody can do with basic tools.
The majority of AR custom handguards are manufactured from aluminum or other alloys that offer extreme strength yet supreme light weight. The major differences between the many various aftermarket handguards are the mode of accessory attachment. This has undergone vast design and engineering enhancements the past few years.
Typically an accessory attachment handguard uses the historic Picatinny rail system. This is a series of slots mill cut into the top and/or sides and bottom of the rail. These rails are three sided or four sided. Other ARs may only have a Picatinny rail on the top for mounting various types of optics or BUIS open sights. Accessories mount in these slots with clamp type attachments using bolts or flip over friction latches.
More recently rails offer other mounting options including the KeyMod or M-Lok systems. The KeyMod type has holes and slots where attachment studs slip into the holes and slide into the slots to lock down. The M-Lok system uses a different rail lock mechanism. Know which type you are getting so your accessory attachments match. The deal is an AR rifle can be customized in so many ways.