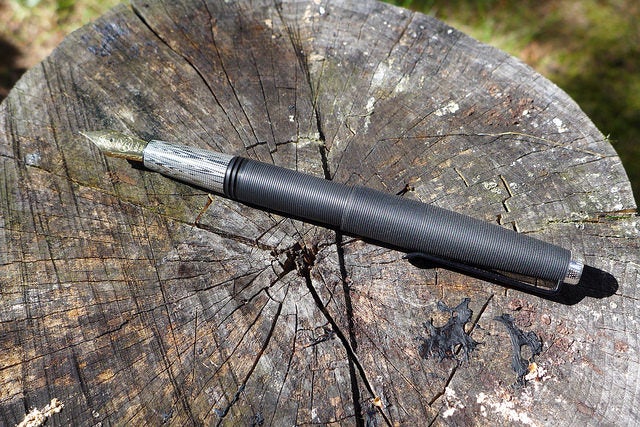 Last year at Christmas my uncle in law asked me to get him a specific bottle of liquor. I drive past one of the largest liquor stores in the world on a daily basis, so I knew they would have it. He wrote down the name, then gave me cash. Not paying attention I put it in an envelope and didn't think anything of it.
Later when I arrived at the store, I read the words on the paper and the guy behind the cash register told me I had to go to the help desk. I wondered over, surprised that the liquor store was big enough to have a help desk (and half thinking it was a AA kind of help desk). I again repeated the name and the person paged the manager. Now things were getting crazy. The manager came and waved me along as we took a walk to the back of the store. There, in a glass case, was a box of hand carved wood with a silk interior and the liquor I was sent to get. The manager unlocked the case and got me the box. He handed it to me and said, "Our last one. We usually only get one or two of these a year." Then I reached into the envelope panicking and thinking I wasted his time, only to discover a small stack of high value bills. I walked out with a penny in change and a bottle of liquor more than a car payment or two.
We all have that classy guy or gal on our list, that person that doesn't just have a tie, they have a seven fold tie. They are the person that insists on remakeable shoes because, even at $400 they are a good value. I have a solution to your troubles–something that is impeccably classy and still not terribly expensive.
Tactile Turn Gist
Yes, this pen is a bit pricey at around $100 for the polycarbonate version, but it is a damn good pen and a damn good writer. It is very similar to the Lamy 2000, an all-time classic.
The version above had a gold nib, which makes the smooth writing even smoother, and damasteel grip and finial, which fits perfectly with the classy gent's attire. For me, the big plus is the clip. Like all Tactile Turn clips, this one is a legit piece of hardware, more like the clip on a tactical folder than one you'd find on a typically dainty fountain pen.
And importantly, this pen is made by Will Hodges right here in the USA. Will is a great guy and one hell of a pen maker. Everything he has made that I have used has been a sterling representative of the type. The Shaker and the bolt-action Slider and Glider were also excellent. Will's fit and finish is second to no one's. One fun trick I like to pull is to hand someone my Shaker and ask them to find the seam between the two halves. Invariably they can't until the twist the pen to open it.
If you have that classy person on your list, just get the Gist. Did you see what I did there?