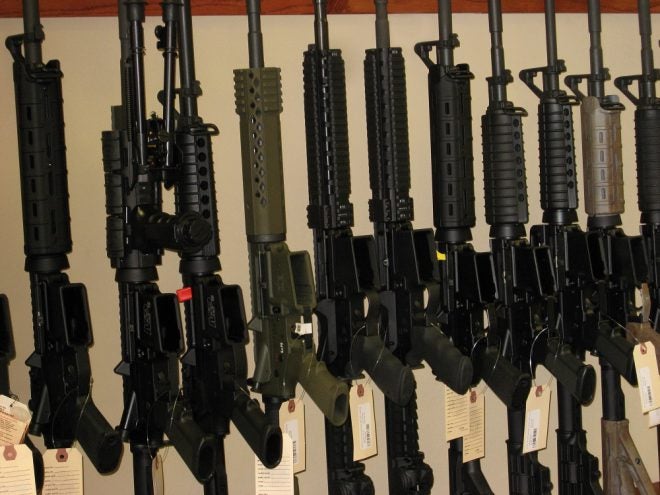 With the public's current appetite for the AR-15 reaching record highs right now, numerous calls are coming into the office seeking purchasing advice. One of the top questions is whether to buy an AR that is an "Optics Ready" model or one with the front post sight arrangement.
"Optics Ready" basically means that the rifle is equipped with a Picatinny top rail system for mounting any variety of standard glass optics, electronic sights, or red dot optics. There will be a smaller front rail section where an open BUIS (Back Up Iron Sight) can be installed by simply screwing one down along with a matching rear pop up BUIS sight.
The front post sight models are what I can the "A-Frame" front sight, which is from the very first original M-16 rifle designed for the military. Those rifles had the rear hand carry handle with a built in rear open sight. Modern versions still can have the front post sight, but the carry handle is gone. In its place is a fixed rear open sight. So, which model to buy?
Everybody has their own personal preferences when it comes to anything they buy from cars, to baby strollers, to guns. Either model functions perfectly well, so it is just a matter of the preference you have for the sights on the rifle.
My own preference is for the optics ready version, but more specifically a complete Picatinny rail system handguard up front along with a rail over the receiver. I just never liked that A-Frame sticking up on the front of the rifle. To me, it is just ugly. An optics-ready rifle is just slicker and it permits many more options for mounting different kinds of sights or even swamping out different sights with the flick of sight mount lever or a quick loosening of a couple bolts.
I definitely advise new AR buyers to inspect as wide a variety of rifle brands and models as they can examine. Don't just buy the first one they hold or the only one the dealer currently has in stock. Handle each rifle to feel the balance. Sight down the barrel to get a sense of the sight plane. Check out the buttstock type to see which model suits you best, adjustable length or fixed. Decide for yourself if the OR or A-Frame is the best way to go.