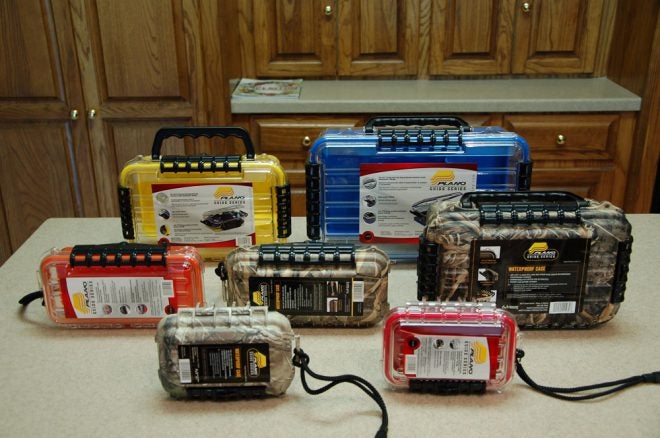 Preppers simply cannot have enough plastic containers to store critical stuff in. Of course this applies to anglers, hunters, and virtually anybody else with a hobby that includes the stores of lots of parts, pieces, and other items that need rugged protection.
Lucky for me, the local Bass Pro Shops held a member's only night a couple weeks ago with a free giveaway to the first 100 members in line. The line was long, but everybody that waited them out got a Plano Guide Series 3400 waterproof stowaway box. These are one neat item and come in all kinds of sizes other than the freebie Bass Pro handed out.
The heavy duty clear plastic case has a hinged top with three snap over sealing locks that secure the top onto the waterproofing seal around the parameter of the box. This seal is fast and secure and will protect its contents under the usual worst conditions like a torrential rain or storm. I think the box would float even loaded, but if it did not due to weight, I am not sure how long it would keep water out, but I bet a long while.
This seal around the box is called a Dri-Lock O Ring Seal. When the lid is torqued down with the three lock over latches, I cannot imagine water seeping in. The seal itself is rubber feeling but is probably some type of slick synthetic material. These locks don't just simply snap over either, it actually takes a bit of strength to latch them and also to open them.
Plano boxes comes in a host of sizes and types. While as Bass Pro I actually walked back to the fishing section to see what else they had in stock. The options are many and all are basically designed the same. The difference is in the square or rectangular size of the boxes and or the depth of the boxes for larger items like fishing electronics and such.
What to put in these Plano boxes? Well, I guess whatever you want to protect from the elements. I can easily envision black powder components pieces, tools, nipples, and other components needing to be kept dry.
These boxes would be great for gunsmithing parts like springs, and parts inside the internally divided sections of the boxes. They would be great for crafts of all kinds. Next time you visit your favorite outdoor gear outlet, be sure to check out the Plano boxes.


SHOP NOW