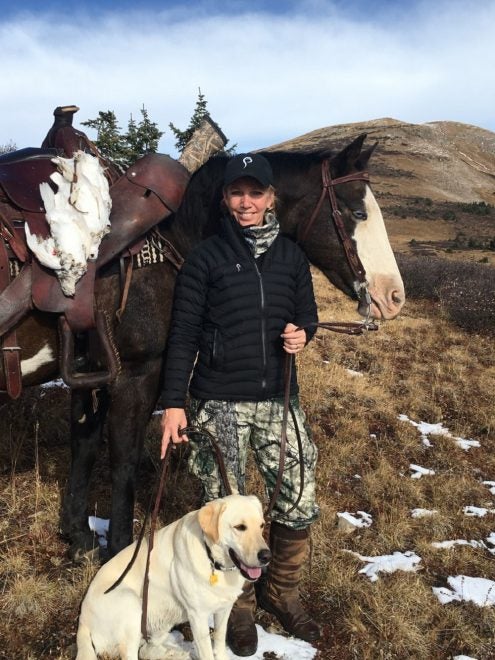 At its best, the camouflage hunting garment business is a tough industry over all. Add to that producing a line of high end, high quality hunting garments designed just for women. There is little doubt that hunting as a recreational sport has attracted a growing number of female participants in the past couple of decades, but still that number is a relatively small market share.
Back in 2008 enters one Kirstie Pike with her new company called Prois. The term itself means prowess and that is the spirit and marketing attitude with which Pike started her new business. She knew from her own hunting experiences afield that women needed and wanted their own line of clothing cut to their fit, movement, comfort, and durability. Prois has filled that niche well.
"The women's market is not at all the size that people think it is. While it is growing, it is still incredibly small compared to the men's market," says Pike. She found out the hard way what a struggle it was to get her hunting clothing line on hangers in the same outlets normally offering large inventories of hunting clothing for the male side of the market. It was a tough mountain to climb.
Trying to survive in the big box environment network of stores nearly ruined her business. Small businesses often get enticed by the sheer potential of sales in the big stores, but they quickly learn their business dealings are designed to make them succeed, not necessarily their suppliers. Their requirements and demands are hard for a small outfit to deliver and still eke out a profit for themselves. Often they lose money and the product they supplied.
"Oh man, the big boxes. I don't mind working with them from a dropship perspective because I can control the products, customer info, and customer service. Other than that, it isn't worth it," Pike commented. Accordingly Prois has made the business decision to move into a new business approach. That is selling customer direct.
Now by selling direct to the female hunter market, Prois can control her business issues and offer customers better service and rewards. Lady hunters can now go direct to Prois to find their complete line of jackets, tops, pants, vests, and other accessories in the hottest camouflage patterns to match hunting needs anywhere in the country. Check out their complete line at www.proishunting.com. And kudos to Kirstie for making such a bold business move.