I've never been known to write glowing reviews. In fact, more than one company rep has been angered by my no-nonsense criticisms of their products. But it looks like this won't be one of those times.
This time I'm reviewing a backpack from Lander, a name I didn't know before. It's a simple, thoughtful, well-made piece that's simply called the TIMP Backpack (25L).
The company says this about their TIMP line:
The Timp bags flaunt a lightweight, minimalist design that strikes an ideal balance of style and function for urban living or off-grid adventures. These bags were designed for convenience with well-placed stowaway pockets, padded shoulder straps, front webbing for accessory attachments, and adjustable sternum straps.
I have owned a plethora of packs over the years. Some bristle with pockets while others keep it more simple, and I have learned that, most of the time, simple is best. Uncomplicated design coupled with ease of access to the bag's contents provides the best possible result, and this TIMP bag does it while being solidly built at the same time.
Pros
Weather resistant TPU-coated ripstop shell and zippers.
Large main compartment that can be opened wide.
Interior pockets and bladder pouch offer organization & options without adding bulk.
Exterior flat pockets can accept laptops, iPads, concealed firearms, etc.
Unobtrusive grab handles on all four sides make it easy to get hold of.
Reflective strips on four corners.
Tough and well-stitched.
Cons
Made in China.
Only offered in one color (black exterior/red interior).
If you think you need many large pockets or compartments, keep looking.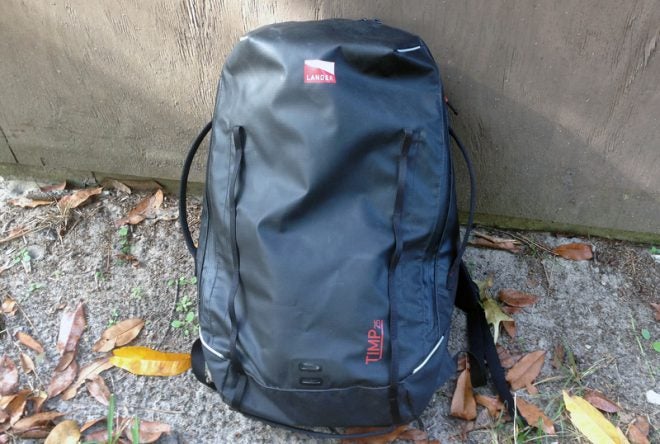 The Bag
Again, this bag is simple. You have one large compartment, which can be opened almost all the way via the dual-pull zipper. The zipper itself is weather-resistant, offering only a thin slit for moisture or dust to intrude, rather than exposing all of the teeth.
Inside the compartment and against the front is an unpadded sleeve pocket that could accept a tablet, small computer, or whatever.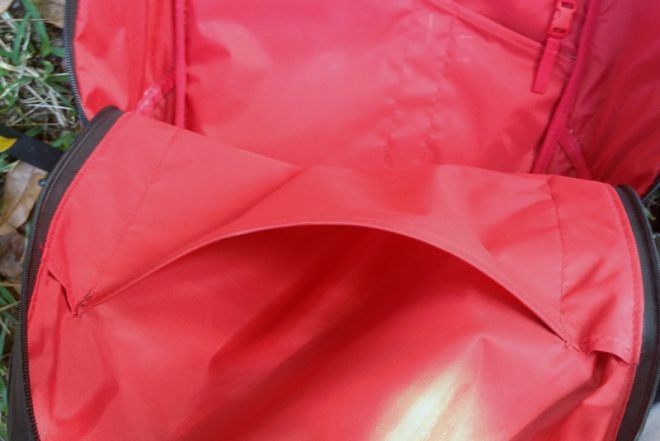 Against the back inside there is a sleeve that would work for a Camelbak bladder or a laptop. There's a well-stitched opening atop the bag for the bladder hose if you choose to use one and a few other sleeve-like pockets that would accept a small iPad, phone, stylus/pen, or the like. There's also a small detachable key chain clip.
The outside of the bag is pretty sleek, notably lacking the obligatory front pocket that we've come to expect, but that's not really a problem. There are a couple of sleeve pockets, accessible from the exterior of the bag, sandwiched between the padded back portion and the interior compartment. One is large and padded and is clearly intended for a laptop, while the other is smaller and would probably work well for an iPad, concealed handgun, or something else compact and slim. Lander calls this a Quick Tix Pocket, and it would indeed make a good place to store your boarding pass and other travel documents.
The larger exterior sleeve pocket has dual zipper pulls, while the Quick Tix Pocket has just one. These zippers are also weather-resistant like the zipper for the main compartment.
The rear of the bag has slim reflective strips built into all four corners, which would help you show up while walking or biking in the dark or make your bag easy to spot in a dark tent with a quick sweep of a flashlight beam. It also has two series of fabric loops for clipping stuff on, as well as a rugged-looking spot near the bottom to strap or clip on a–something. Reflector, maybe? Most backpacks seem to have something like this.
My Review
With the arrival of the TIMP 25, I admired it and set it aside. Soon thereafter, it was time to pack for my first-ever mule deer hunt, which would include marathon drives from Florida to Colorado and back in a small motor home with a friend and his dog.
His large, rambunctious, largely undisciplined dog.
I packed the TIMP bag and laid it on the floor just behind the front bucket seats of the motor home. During the drive, the bag was accidentally stepped on, spilled on, and kicked a few times by the two humans, and positively abused by the canine member of our expedition. He laid on it, clawed it, stomped it, jumped on it, then repeated all of that and more.
When the trip was over (and yes thanks, I did get my first-ever mule deer), I simply wiped off the drool and dog hair and the bag was just fine.
Next, I made the TIMP my main travel bag for non-clothing items. Whenever I drive to visit family or to go hunting, I carry a bag with pretty much anything I could possibly need in the way of personal hygeine, first aid, and the like. With modern life, it has grown to include all the stuff I need for charging a bunch of electronic devices.
My old bag was poorly designed, which made it tough to pack, tough to know what exactly I had in the bag, and a real headache to find anything. So I swapped over to the TIMP and haven't looked back.
My favorite part is that I can open it almost all the way and lay the top back to expose my gear, most of which is contained in smaller bags. One for charging, one for showering, another for pain relief/vitamins/first aid–you get the idea. And the TIMP does the job admirably.
Chances are good that this will be my main carry-on bag whenever I fly, too. The four grab/carry handles–one each on top, bottom, and sides–are easy to get hold of while remaining unobtrusive and unlikely to snag on things. This makes the bag easy to grab from under an airline seat or in an overhead compartment.
Conclusion
The Lander TIMP 25 is a good, tough bag, one of the best I've used in recent years. The price is steep, with an MSRP of $129.99 (I've seen it for $76.98, but that site was sold out), but it's tough to find this kind of quality, both in construction and design, without spending a chunk of change.
In the end, you get a good quality bag that should stand up to a lot of use, whether urban or out in the woods.


SHOP NOW