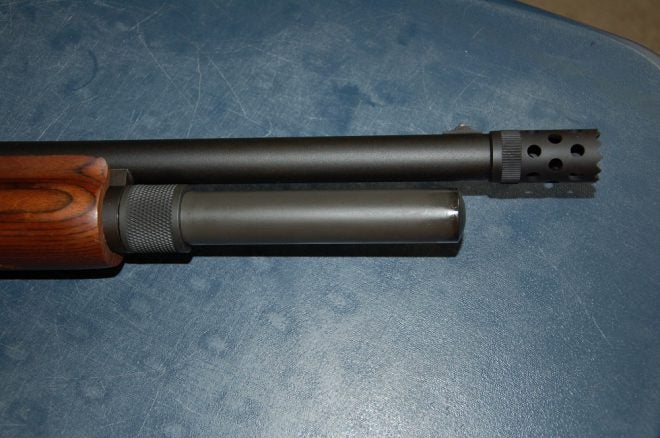 Preppers, survivalists, and those interested in having a top notch shotgun for protection will want to consider this accessory modification. The magazine extension allows the insertion of more shotshells than the factory magazine. This gives the user considerably more firepower.
A number of different brands of magazine extensions can be found. Some of them are factory accessory kits like Remington while others are aftermarket offerings. These can be located online at gun accessory venues.
I recently found a really good deal on a Remington Express 870, 12 gauge shotgun with the brown laminated stock and matte blued metal finish that also offered the current Remington rebate deal. I also ordered a combat barrel from Remington giving me an 18.5 inch barrel with a tactical choke. This was the shotgun used for the mag extension project.
I elected to order a Wilson Combat magazine extension kit from Cheaper Than Dirt. That was a mistake. The quality of the finish on the extension tube was pitiful. I should have returned it, but the project was pressing. Also there are no instructions included in the Wilson kit. Luckily I have done the install before. When I sent a complaint notice direct to Wilson, I got a very rude reply and no offer to fix the issue. I won't be buying Wilson any more.
Start by unscrewing the factory magazine cap and remove the barrel. Using a screwdriver, turn and remove the spring holding cap. It is under spring pressure, so use care as you remove this. The factory spring and shell follower will then come out. The shell follower may have opposite grooves in it so it will slip by two "keeper" dimples pressed into the factory magazine tube.
Those two dimples have to be removed in order for the new follower to move beyond the position of the dimples so more shells can be loaded forward into the new magazine extension. These dimples can be filed down flat by hand or with a drill and stone. Only remove what is necessary to allow the follower to move freely back and forth in the tube.
Insert the new follower and new longer spring into the magazine tube. Compress the spring down until the threads on the new magazine extension tube can be screwed down tight. Confirm the function by loading 4 or more shotshells following gun safety procedures. This will complete the installation. Now you will be ready to rock and roll.