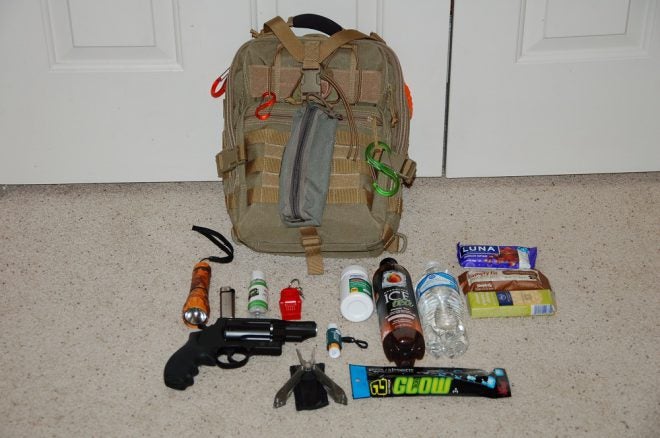 Could there actually be anything new or different in the discussion of an EDC, bug out bag, back home bag, vehicle bag, or bag of bags? Well, preppers and survivalists continue to be one of the most innovative sectors of society. Every time I talk to one or read some new how-to article on prepping, I am amazed at the creative thinking going on within this group of SHTF planning participants.
Accordingly, this is a review of another idea. It's not rocket science new, but it is another way to look at packing and having access to a small, concise supply bag or pouch.
It is highly likely when you think back about a canteen, flashbacks come to mind about days in the Boy Scouts or Girl Scouts or camping trips with the family. One of the iconic pieces of gear was the canteen. Often that meant a round, metal container covered with a canvas cloth cover, often sporting a western design, capped with a black plastic cap attached to the canteen via a metal link chain. But the vessel is not the issue, it is the contents.
Whatever type of SHTF event occurs and you are forced to flee the office, home, shopping mall, vacation spot, business convention, or other venue, the idea is to escape to a safe zone as quickly as possible. Sometimes that does not always work out. Roads might be jammed. Protesters could have city blocks shut down. Your escape plan might get delayed or derailed altogether.
So, during that interim time, how do you survive? Have a canteen kit, that's how. What should be in a canteen kit? You design it the way you want, but think of it in terms of hydration, some nutrition (not Twinkies), communication, first aid, and self-defense. This is a short term fix until you can reach a safe place with supplies or scrounge for essentials on the move.
The canteen kit then will contain water or a hydration drink, some power bars or energy snacks, a cell phone, maybe a small FM radio, a light first aid kit, and your small pack handgun with one extra load of ammo. The kit needs to stay light and highly portable. Maybe this is an over the shoulder strap satchel, fanny pack, or sling pack. Add other things like gloves, knife, or signal mirror to customize your kit. Keep the kit close at hand all the time.