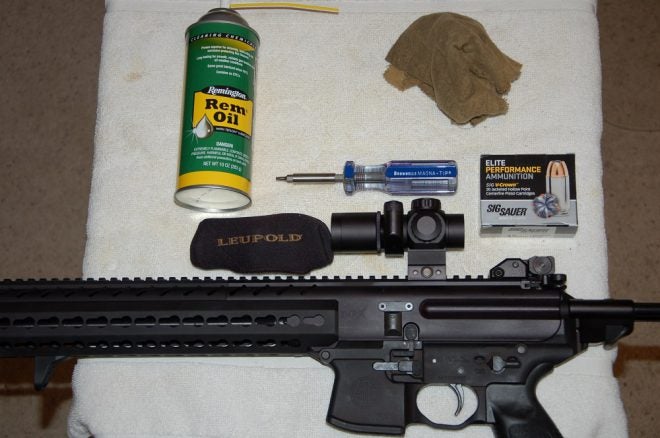 For some time now, I have been working with the factory sample of the SIG MPX Carbine in 9mm. It is one slick gun designed for close quarter's defensive work with the full capability to extend an offensive line of fire just as well.
The MPX is sort of AR-15ish in aesthetics and operating controls. It has a KeyMod rail system. The carbine came with two sets of Picatinny rail sections to mount wherever via the KeyMod slots, plus a rather unique push button sling mount. Unfortunately, there are no installations instructions in the parts bags, so you have to have an intuitive nature. SIG offers 10-20-30 mags for the MPX.
Also included with the carbine are BUIS open back up sights. These pop up or down with the push of a button. These sights are very easy to adjust on target. There is a forward hand stop rest that can be mounted on the rail bottom to provide enhanced control. I will probably replace this with a small sized vertical grip.
The top of the rail is cut in Picatinny slots for mounting optics. The SIG MPX is keenly ripe for the mounting of an electronic red dot optic. Currently I have a Leupold red dot mounted right now getting ready for the range. As a backup, there is a Trijicon MRO sight in the wings.
The Leupold is a Tactical Prismatic scope with a 30mm tube, 1X power, illuminated reticle powered by a battery module via a 3N lithium battery. The scope has a 3-5 inch eye relief and an integrated mount. Unfortunately, Leupold discontinued this scope, but it is a nice unit.
An interesting aspect about the SIG MPX is the rather short length of pull even when the stock is fully extended from the receiver. I wish there were several more inches of length. SIG offers a one-inch accessory recoil pad but thus far I have not been able to locate one. The MPX works well with a red dot scope, as shooters may find the rear sight too close.
One other accessory I added to the included KeyMod rail section is a GG&G push button sling mount. This is a heavy duty unit, but admittedly, it protrudes out a bit. I may look for a flat KeyMod sling mount later. Bravo Company has those.
The SIG MPX is a fine weapon. It is great for personal defense, property protection and security so long as the user recognizes the limitations of the 9mm even in a carbine rifle.