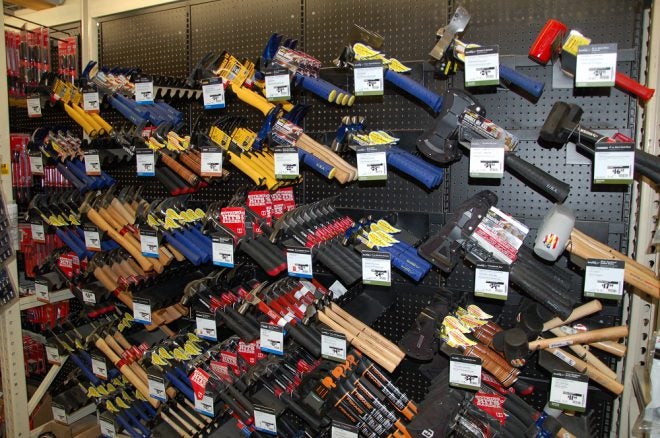 Preppers must have a hammer, or better yet several of them. If you have experience swinging a nail driver, then this is going to be too elementary or redundant, so you are excused. However, if you are like many an urban prepper, the use of common every day tools may not have been part of your upbringing so a review of some of the selections is in order.
Simply put a hammer is a handheld tool designed to pound a nail into something, most likely wood. Or as the case may be in some uses, certain hammers can be used to withdraw or pull nails from whence they had been previously driven. Of course, there are many different kinds of hammers designed for many different applications.
The most general everyday use type of hammer is referred to as a claw hammer. Why, because opposite the nail driving head is a "Y" shaped claw. That claw allows the insertion of a nail head so the leverage of the hammer (upside down) can be used to pull the nail out. Once you do it, you'll get the hang of it.
Claw hammers can come in many different models. They might vary by the head type, size, or weight. The handles could be wood, plastic, or fiberglass. These hammers can vary in overall weight depending on how much driving thrust the user wants to apply. Regular carpentry-house framers hammers are one thing, but roofers use different kinds of hammers to put on roof shingles, etc.
Ball peen hammers have a flat driving head on one side with a rounded ball on the other. The "peen" side is also called a machinist or metal working hammer to work on sheets of metal for shaping, forming, or knocking out dents or other imperfections in the metal surface.
Gunsmithing hammers usually come with a brass head on one side and a hard plastic head on the other. These are used to work on guns to keep the blued or stainless surfaces from being marred. They are used for fitting parts, driving pins, or with punches.
Heavy duty hammers simply have a larger, heavier head to apply more force to the hammering effort sort of like a short handled sledgehammer. Other hammer types include mallets, rip claw, rubber, dead blow and many other types. Shop a good hardware supply store to see a wide selection.