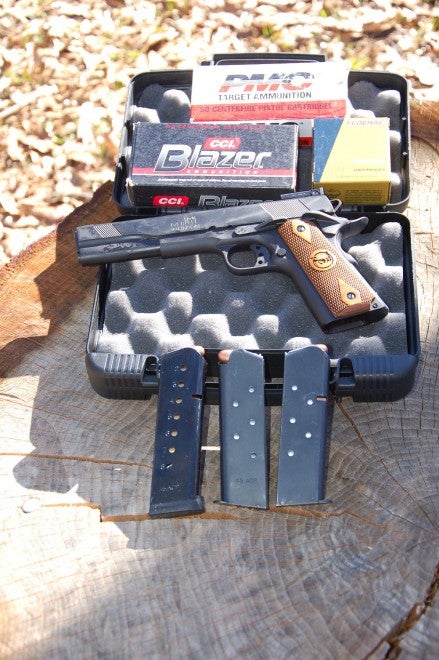 So, what does the world need with another 1911 design handgun? Well, duh, that is like asking why we need another anything. Sure, we can get along fine without another chicken recipe, tactical knife, survival book, hiking boots, and more assorted gismos and gadgets. But, heck this new stuff not only drives our interest as preppers and survivalists, but it generates a huge engine for our economy. We hope that engine runs well as long as possible.
I have never had the good fortune to work with a long slide 1911 until now. I have always been enamored with the longer 6-inch 1911, but these guns have always been custom shop versions from somebody like Les Baer or Nighthawk.
Unfortunately the prices of these specialized custom pistols rival the sticker price I paid for my first new car, a 1969 Pontiac GTO for $3600. These may be exceptionally well made pistols and perform like a Swiss watch, but most of us preppers or survivalists simply cannot justify paying that much for a personal firearm. Well, now there is another option.
Iver Johnson Back on Line
Iver Johnson Arms and Cycle Works began tinkering with the idea of making guns as far back as 1871, but began manufacture of firearms in earnest in 1883. That organization ceased operation in 1993, but by 2004 was back making guns again. Over this tenure, the company made all types of inexpensive revolvers and some models of pistols as well as other guns.
Today's Iver Johnson Arms makes their new line of 1911 pistols in the Philippines. Incidentally, in doing some background research, I discovered that more 1911s are made there than anywhere else in the world just in terms of production numbers. I did find that rather surprising.
So, knowing that, I would be lying if I did not wonder what the quality of such guns was coming from that location not particularly noted for its manufacturing prowess. But, despite that, I wanted to try a 6-inch slide 1911 and Iver Johnson was producing one. So, I had my dealer order it, despite a tinge of nervousness.
When the pistol arrived, the dealer called. I asked my gun bud what his initial impression was of the Iver Johnson 1911. He was delighted in what he saw. He reported the out-of-the-box fit and finish was excellent. He bragged on the finish and the adjustable sights. I felt a sigh of relief for sure. The unknown is always a bit scary.
Iver's Eagle XL
Iver Johnson Arms' new 1911 long slide has been titled the Eagle XL. It is the full 6-inch barrel and matching slide in a matte blue finish with very attractive walnut grips. The slide bears a fully adjustable rear sight with a dovetail front sight. The slide carries both front and rear angled serrations that are easy to grip to cycle the slide.
The frame comes with an extended slide stop and thumb safety. There is an aggressive Beavertail grip safety with a memory bump. The trigger is a modern 3-hole style with a combat type skeletonized hammer. The ejection port has been lowered and flared.
What all these included factory features say to me is that Iver Johnson has made a real dedicated effort to produce a more or less standard pistol package with a number of custom features. Had they added ambidextrous thumb safeties and included two factory magazines, the pistol would really be special. This base model retails for $845, but that is list price. Shop around.
Though I am just giddy about the 6-inch slide, it does serve several practical purposes. First of all is the increased sight plain. If your eyes are aging or you wear glasses, that extra inch can help sight focus. The extra-long slide also adds weight up front to assist with muzzle control flip. The pistol's overall handling characteristics are improved as well. It holds well and points better. That is the first thing I noted. All in all the Eagle XL is a finely made pistol with lots of features. But does it shoot?
Range Bangs
The mag for the Eagle XL holds the standard 8 rounds. They hand load easily. The magazine locks up firmly with a secure snap. The slide charging is typical 1911, but the serrations help, especially those lines cut up front. The Eagle XL has one of the easiest slide cycles I have ever experienced. It was smooth, even, and easy to manipulate.
I consider this pistol good for personal protection, but borderline for on body CCW. Beside the car seat, in a crossdraw holster on an ATV or horse, or in a slip case at the ready, the Eagle would be great. It would be an imposing defensive weapon upon perpetrator view.
For the initial range break in testing, I used simple, standard ball .45 ACP loads with .230 grain bullets, Remington UMC and Blazer. I like to see if a gun will work with basic ammo before I move on to the max expensive specialized self-defense loads.
If a 1911 will throw ball ammo into a 10-inch pie plate at defensive ranges then I can get down to business with a hollow point or defense load. By the way, recent self-defense incident shooting data has reported that most 1-1 shooting encounters occur at 3 to 7 feet. Yep, feet. I usually shoot such a pistol at 10 feet to 10 yards. I may have to modify that approach.
During my range session, I used the Eagle XL magazine supplied with the pistol and two other magazines just to test their accommodation. One of the extra mags I used was a Colt and the other was a total non-descript 1911 magazine. All three magazines locked up, fed without issue, and locked the slide back open at the last shot. That is a good sign.
The Eagle shot all rounds without issue, everything cycled fine, no hang ups, stovepipes, or stoppages. Trigger pull was for me, ideal, smooth with no grind or glitches. Shooting at a defensive 10-feet, the accuracy was exceptional in my opinion. This is one fine shooting 1911. It is definitely a keeper and the 6-inch slide is just a welcomed bonus. Check it out online, then get your dealer to order one.