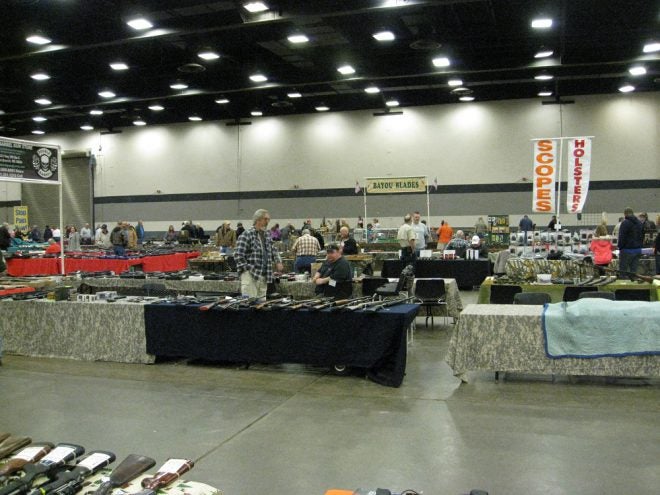 Gun shows continue to be a primary event to secure needed or wanted firearms and shooting supplies for prepper plans, personal self-defense, property protection, and other requirements. Always promote the local gun shops, but they don't always have everything in stock that shooting consumers want to buy. One thing about gun shows is selection and choice in goods and prices.
Gun show activities in terms of sales have been slow now for over a year. The problem is a lot of dealers simply cannot get the guns and ammo from their wholesale suppliers. This is a mystery to most of us in the industry.
If you wanted to go out today to buy a new Ford F-150 or a Chevy Silverado or just about any other new car, you would find literally hundreds of vehicles sitting on dealer's lots. But not so with guns and some ammo. Go try to buy a Glock 42 or 43, a Ruger LCP, an SCCY 9mm, or many other guns. Look for a Ruger AR-15 or a Smith and Wesson, 'cause they are hard to find.
A lot of store front stocking dealers and gun show dealers simply do not have the inventory. My gun show dealer buddy I work with has had his prime selling stock of pistols and ARs on order for months but nothing is available. What he can get just trickles in 1-2-3 at a time. He has waiting lists for some guns and cannot fill the orders.
Show aisle activity continues to be strong, but the overall economy is still hurting. A lot of people work the oil industry here and they are laid off big time. Other industries and jobs are hurting, too. Buyers are getting just the minimum of what they need, particularly ammunition. However, you used to see buyers toting out full cases of ammo, but no more.
Ammo dealers also used to stock 10-20 cases of the most popular calibers including 9mm, 40 cal, .45ACP, .223 and .308, but now you just maybe see two or three full cases for sale. Ammo supplies have improved but the prices have not.
Gun show dealers anticipate a stimulus once the democratic candidate is confirmed. I have always said, "What gun sales need is another good crisis!" However, supply lines need to fill up.