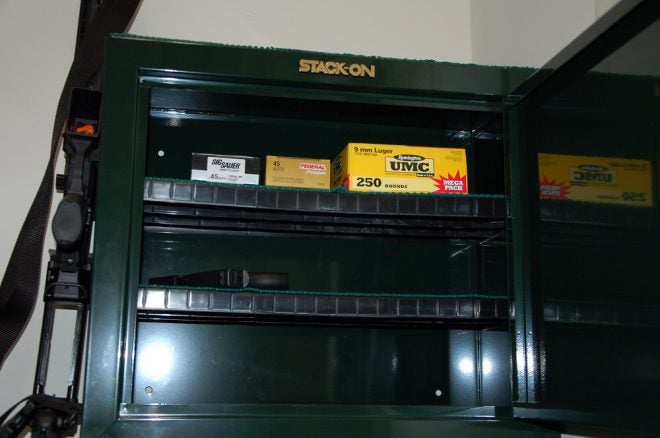 Every gun owner needs some kind of a lock up security cabinet for sensitive equipment, ammo, permits, papers, and important stuff. A full scale heavy duty safe is a good idea, but not everyone can handle such a beast or has the space to put one, especially out of sight.
Stack-On manufacturers a host of cabinets, gun safes, and other types of security boxes to lock stuff up. These are economy based units based on over all pricing, but they're not cheap by any means. These cases, cabinets, and safes are made of steel, not thin aluminum.
One of Stack-On's neater small heavy gauge steel security cabinets is their Model Number GCG-900. First it comes in green or black enameled type paint finish. The keyed cylinder lock door is fully hinged on the right side. The cabinet comes with two full sized key for a full sized lock.
The key lock when turned into the lock position pivots a heavy duty bar through a slot in the front door frame. This bar then turns inside the door that swivels to lock behind the cabinet frame. This is a very strong set up for a small steel cabinet.
Inside are two removable shelves molded of heavy plastic. Each shelf is attached inside the cabinet by four bolts and star washer lock nuts. Either shelf could be left out or both installed depending on the items you want to store in the cabinet. Any variety of items can be locked in this unit.
The GCG-900 is intended to store guns, ammo, optics, electronics, jewelry, important papers, or whatever. The external sizing of the cabinet is 21 inches wide by ten inches deep, and 18 inches high. Compact, concise, but just the right size for small hiding places anywhere in a house, closet, or secure area. The cabinet weighs 30 pounds.
So, you ask, why not just tote the cabinet off? Because as the instructions show the consumer with the supplied bolts or heavy wall screws, the case is designed to be anchored down. This can be done via pre-drilled holes in the floor, side wall, or through the back of the cabinet. Bolting this cabinet down in this manner helps to further ensure its security. It could also be bolted down on top of other Stack-On cabinets.
Shop around. You can buy this Stack-On cabinet for under $100. It is certainly worth that piece of mind.