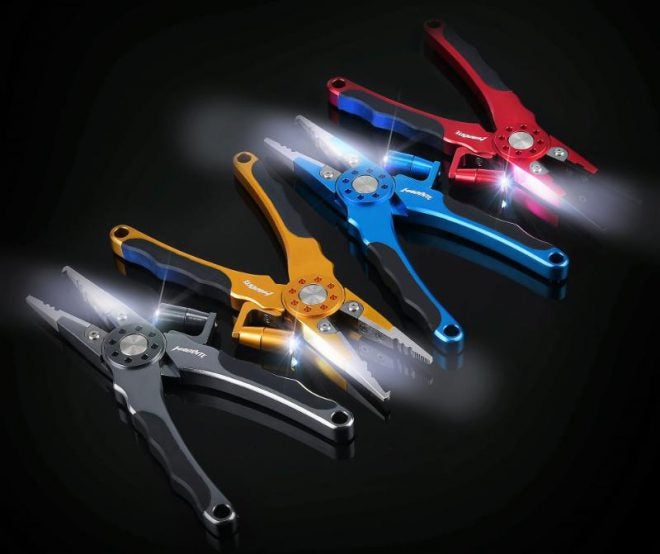 Here's a new and novel way to make using fishing pliers easier in poor light conditions. MadBite's new and unique MadBrite Lighted Fishing Pliers allow anglers to focus a bright beam of light directly on a fish for de-hooking or for other angling work.
MadBite's MadBrite full-sized 7.5 inch hardened aluminum alloy pliers feature an ultra-bright 18000 millicandela LED bulb that focuses an incredibly bright beam of light directly on the job.
Made of durable hardened aluminum alloy, the spring loaded 6.5-ounce lighted fishing plier's precision jaws feature a split ring tool, replaceable tungsten carbide braided fishing line cutters, crimpers, non-slip silicone grip handles, and stainless steel saltwater corrosion resistant components.
These pliers eliminate the need to hold a flashlight during nighttime fishing, which can quicken catch and release. The LED light turns on and off with a twist.
Affordable MadBite MadBrite lighted pliers do away with bulky head lamps or having to hold a flashlight in your teeth. A bonus is that the light is focused directly on the job so there's less chance of shining a light on the water and spooking fish.
MadBite MadBrite lighted fishing pliers use easily replaceable and readily available LR41 batteries and are included with the tool. MadBrite 7.5 inch lighted pliers have an In-Store Retail Price of $47.98 and an On-Line Direct Price of $32.98.
They are available online in various colors at www.amazon.com/MadBite and other online retailers.


SHOP NOW