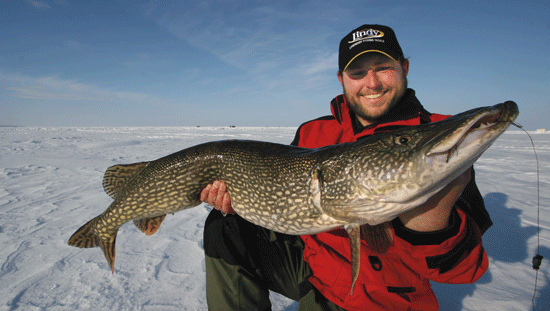 A good case can be made that more big pike are caught through the ice than at any other time of year.  Plenty of 12 to 20 pounders are hauled through hard-water holes every season in the North, and the great majority of them are caught with 4 to 7 inch live minnows (shiners, suckers and chubs) from tip-ups. And often with pike, good-size largemouth bass also are caught.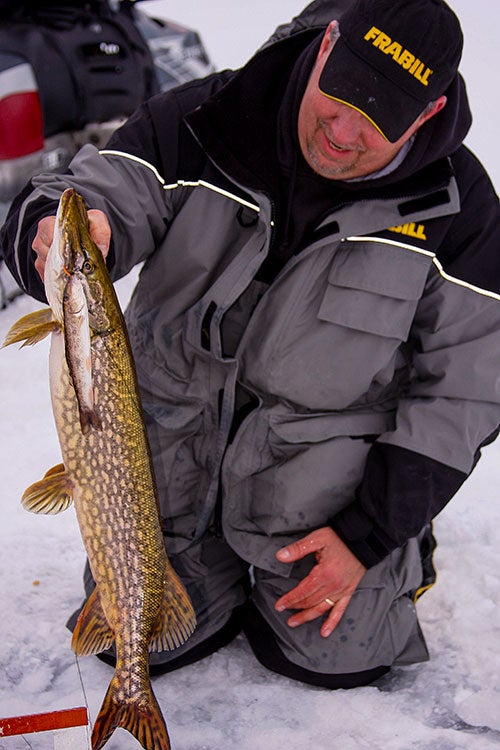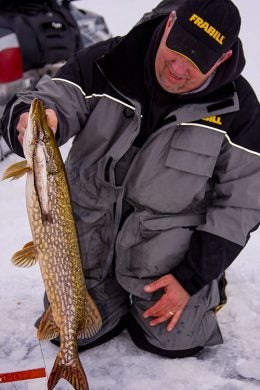 Lively baits are best to tempt oversize pike, so many veteran ice anglers use comparatively small treble hooks (size 4, 6 even 8) with baits. Eagle Claw and Excalibur Rotating models are good, using only one hook barbed lightly in a bait's back. Lightweight, all-black wire leaders with small snaps and swivels are preferred, 8 to 12 inch models.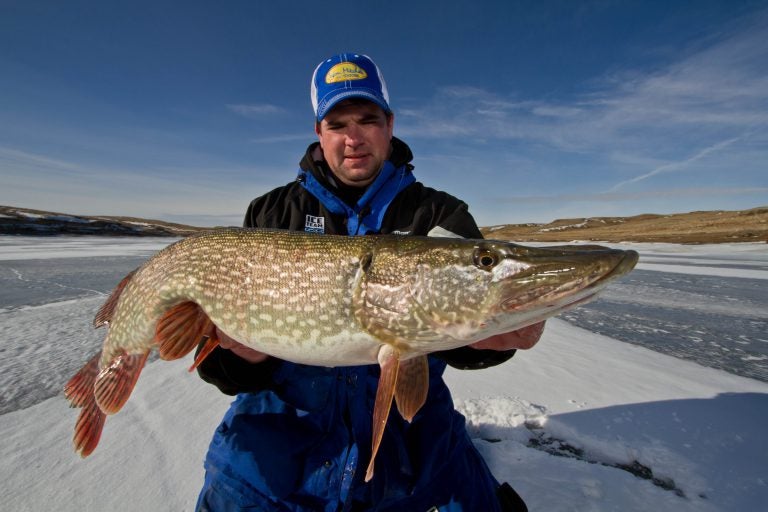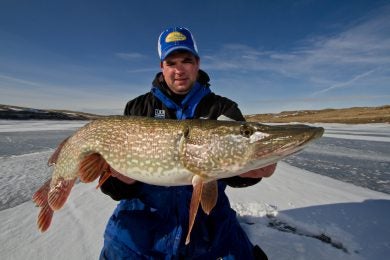 Many serious and successful big pike ice anglers rig their tip-up spools with high-tech braided line like Power Pro and Spiderwire, saying old monofilament is too stiff. Braid in the 12 to 20 pound range is limp and tough for sharp-edge ice and pike teeth.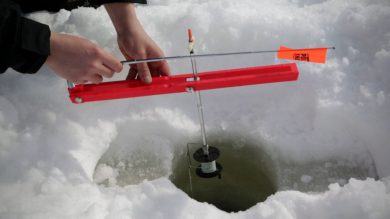 Like most fishing, working precise depths is important for successful ice pike. Once a northern is caught, returning a bait to that exact depth often results in subsequent fish. To help ensure this, code fishing line at five foot intervals with a permanent marking pen. For depths less than 15 feet, pike tend to hold within two feet of bottom. Deeper water fish suspend more, often at mid-depths.
In recent years many pike pros have learned winter fish relate closely to panfish-abundant, weedy flats (10 feet and less), where they dine on sunfish, perch, and crappies. The first sharp deep drop-off from such a panfish flat in 10 to 30 feet of water is a good place to start looking for pike. Place a tip-up set on the drop-off with a live bait about two feet from bottom. Position a second tip-up deeper, suspending the bait about half-way down in 20 to 30 feet of water.