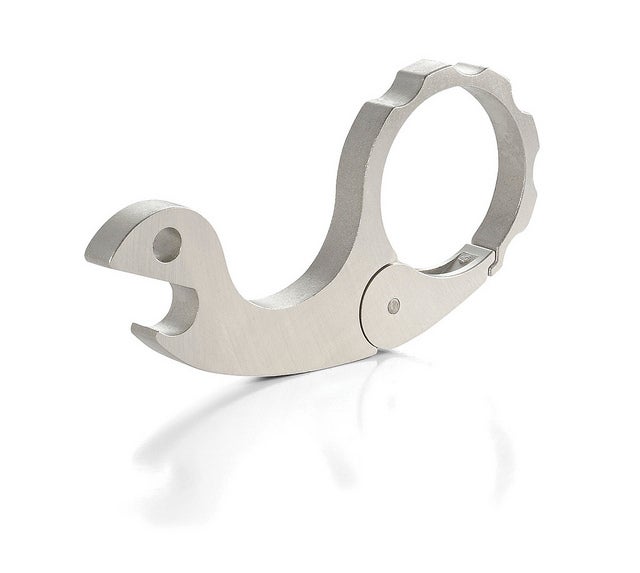 CRKT had good year in terms of releases and a few missteps in terms of steels. Overall 2016 was good for them with a few new collaborators, including the exceedingly popular Jespers Voxnaes. They also had a knife, the Homefront, that got a lot of attention in mainstream sources and for very good reason. Following a great trend from the power tool world, the Homefront can be disassembled without tools ("Field Strip" technology in CRKT parlance). This means it can be serviced and cleaned while out and about. In my mind this is a brilliant idea and worthy of all the attention CRKT got. It also happens to be further proof of the greatness of Ken Onion. That signing a few years ago has paid off in spades for CRKT.
The 2017 line up continues to deliver a lot of good designs. Overall, I am very excited for a few knives, happy to see a few others, and surprised at one particular item. I have the same criticism of CRKT as I always do: I want better steel. But if you set that aside, you are left with a large number of new designs, some of which are very compelling. Let's dig in.
Getting the early access preview to the catalog is fun. I love seeing all of the new blades and trying to figure out what will be hot.
The first few scans missed what I think might be the best new knife from CRKT in 2017–KHC (Karen Hood Chopper). Karen Hood is the widow of Ron Hood, a long time outdoorsman and gear and knife designer. In the past few years Karen has collaborated with CRKT to produce a series of very nice 1095 steel knives. They were all small to medium sized blades that competed very well on price, features, and materials with KaBar and ESEE. The one thing missing though was a true wood destroying chopper. No more.
The KHC has a 9.125 inch blade of .20 inch 1095. With its deep belly and negative blade angle, the chopper is sure to bite deeply into wood. This is a pretty easy call for me. I love choppers, and this looks like a good one. It also happens to be made in the USA by a very highly regarded company, TOPS. They usually make their own knives, but here they are acting as an OEM for CRKT and the result is a sweet, sweet chopper. Though not a driving factor, it's a plus for me that CRKT is given women a more prominent role in designing knives than any other major manufacturer. Between Karen Hood and Mary Lerch, they have a few blades designed by females.
Jesper Voxnaes drops a few more blades. The Batum and Batum Compact, the Pilar, and the unfortunately named Vizzle (Snoop Dogg has to be in the promotional literature CRKT–you missed a golden opportunity) all look excellent. In particular I am excited for the Pilar with its compact size, modified sheepsfoot blade, and its excellent looking half and half finger choil.
All of the blades run something in the 8Cr family, but as designs they all look nice.
I also like the Lucas Burnley designed 2017 offerings. The fixed blade and the folder version of the Aux are really exciting to me.
Both have that classic, stable, simple shape that marks a Burnley design. The folder looks very nice with a classic drop point blade and a thumb disk deployment. The fixed blade has a similar, though cleaner, handle shape and weighs in at 4 ounces exactly for the blade and sheath. They are basically an enlongated Squid, and that design did very well both sales wise and critically.
Ken Onion has a slew of new stuff for CRKT in 2017. The Homefront has expanded into a full series of knives–the original with aluminum handles, the EDC with poly handles, the tactical version with a tanto blade, and the hunting version, which removes the flipper tab for easier processing. He also has a Fairbairn-Sykes-ish blade, the Bombastic. It's not my speed at all, but it is pretty cool to look at. There is also the Gusset, a large blade with a 3.5 inch handle. Thanks to a skeletonized handle, it only weighs 4 ounces. He also designed a more production (and wallet) friendly version of the Hi Jinx, the Hi Jinx Z.
I really regret missing out on the original. The curvy handle and high end fit and finish really raised the bar for CRKT and got a lot of notice by critics and the press winning overall Blade of the Year from Blade Show. The Hi Jinx Z runs a much more common steel (1.4116, the steel used in Swiss Army Knives from Victorinox) and it is now a liner lock flipper instead of a titanium framelock. But the shape and size are still there and a bit of the weight has been cut off. I'd be happy to get one in for review.
There were a few odds and ends that caught my eye. Matthew Lerch has a new design–the Directive, which looks nice if you need something bigger. Liong Mah is releasing a new knife, the Remedy, which also looks nice (though again pretty big). Pat Crawford's Desta pulls on his strap lock design and melds it with the one handle scale set up of an Ed Halligan KISS. I am not sure how practical it is, but it is neat to look at and ponder. There is a Terzuola fixed blade, the Terzuola Highway Rescue that is different and has a seat belt cutter in the sheath.
Finally, and most surprising, CRKT is making not one, but two versions of the uber-hot OPMT from Jesper Voxnaes–the Snailor.
A single knuckle/beer opener, Snailors have been a dominate feature of Instagram and have sold in many different variations very well. The CRKT version seems pretty loyal to the custom originals, but then again, these are pretty simple objects to begin with–not much to screw around with and make different.
Overall Grade: B
Instabuys: 3 (KHC, Pilar, and the Hi Jinx Z)
This is a very solid line up with something for everyone. With better steel this would be a grade A line up. It's weird because it used to be "Chinese knife=inferior steel," but with Kizer and Reate and the like, that is no longer even close to true. It seems that only OEM work out of China gets the 8Cr stuff.

SHOP NOW