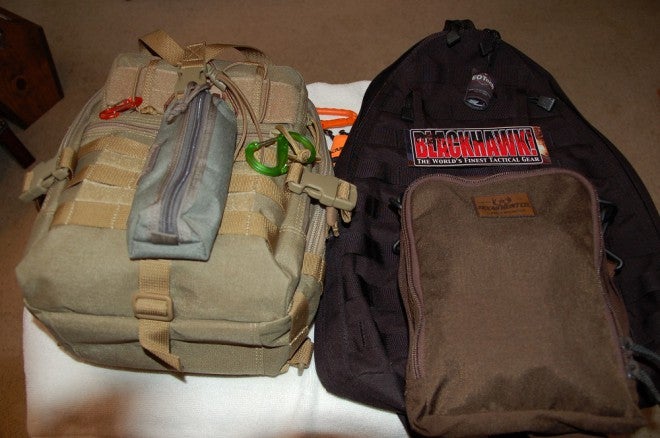 Preppers and survivalists are obsessed with bags. Most start with the quintessential Bug Out Bag known colloquially in the survivalist movement as the BOB. Depending on your interpretation of what a BOB needs to be and loaded with what, it is typically a quick grab bag that contains enough supplies to sustain yourself and family for about the first 72 hours of a SHTF event. There are many options and nuances to building out your own personal BOB bag.
What I am here to advocate is not to replace the BOB, but rather to add another option by creating what I will call a Ready Bag. This may in fact in some cases actually duplicate some of the items you might have in the more long term sustainment BOB bag, but it is a bag you would keep in your daily travel vehicle, office, or other location nearby on an everyday basis.
The Ready Bag can contain a lot of useful items, but keep the choices focused on the immediate needs to protect ones' self in the short term, such as getting from work to home or from home to the grocery and back, or to pick up children at school or daycare in the event of a sudden SHTF occurrence. The Ready Bag is not intended for 2-3-4 days of keeping yourself alive.
So, what would you put in a Ready Bag? Right now my lightweight Ready grab bag has a pistol, four loaded magazines, two canisters of water, two packs of snack crackers (cheese and peanut butter), light gloves, flashlight, compact first aid kit, metropolitan map, flip-open knife, vial of headache meds, and $50 in cash. Other seasonal stuff could be added like a space blanket, wool hat, sunglasses, common OTC meds, and more water. What would you suggest adding?
As to a type of bag, I like a heavy duty bag of nylon, canvas, or Denier material. Thus far I have tested and used bags from L.L. Bean, Filson, Maxpedition, and Tenzing. I like exterior handles to grab, but am not too crazy about the strap ones that have a fold over Velcro® wrap. Don't go overboard with the number of smaller outside pockets to confuse things. If your bag goes/rides in a SUV type vehicle where things inside are visible, go with a black bag for low visibility.
We would love to hear your thoughts on a Ready Bag of your own. Give us your thoughts so we can all learn. Nothing is perfect in this business.