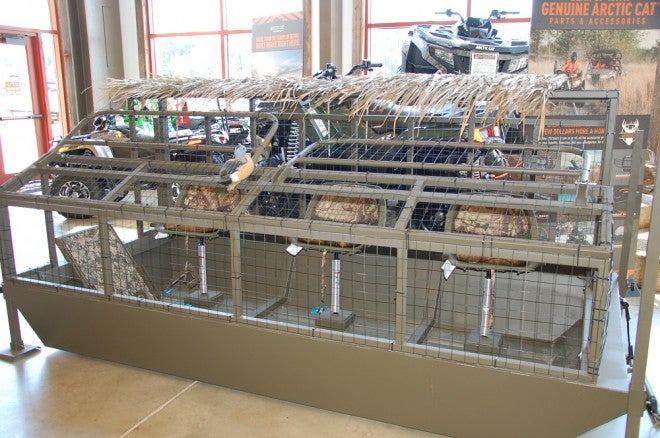 When I was a kid back in Southeast Missouri, my dad was a big time duck hunter. When he came from the Big War he and three other partners bought 20 acres each in a block of woods called Ten Mile Pond. That property is now owned by the State of Missouri and has been turned into a prime waterfowl hunting sanctuary open to the public.
Dad and his buddies would spend months ahead of the duck season building blind huts on the "Pond." They actually used dynamite to blow out big pot holes that would later collect water to attract the ducks. They would plant sorghum milo all around the rims of the dynamite holes to attract the ducks.
Blinds back then and even today were basically small houses with plenty of amenities including benches, pop out windows, heaters, small cooking stoves, and other features to make them as comfortable as possible. Hunters could motor out to the blinds in boats and store them under the blinds.
Waterfowl blinds come in all kinds of homemade modes and even some quite expensive and elaborate commercial blinds are available. Some of these stand on top of earthen dikes, sit down into the water, or even below it in sunken affairs. Other hunters just drive metal posts into the mud, form chicken wire around them, and cover it up with camo fabric or natural cover of all kinds.
Recently, I was walking through our local Bass Pro Shops store and stopped suddenly to study a new type of duck hunting blind I had never seen before. Sold under the BPS name this waterfowl blind is basically a metal tubing frame with the main features already built it. All the hunters have to do is place it, then finish it out as they wish.
The frame includes a rectangular box that has a roof frame over it with a swing out and drop down shooting port that can be covered up with multiple types of camouflage options. The sides of the frame could be covered in plywood. Inside is a frame for a bench seat that can be covered in plywood or planks. The bottom can be sealed, too.
Then the outside of the waterfowl blind can be covered in camo fabric or fixed with wire to hang local brush, cattails, weeds, and other kinds of native cover to blend it right into the habitat. Check these out the next time you visit Bass Pro.