Backpacks: Large ALICE Versus MOLLE II
Kevin Felts 01.09.17

Military surplus backpacks are some of the better values on the market. Even with prices inching up over the past few years, surplus gear is still a good buy.
ALICE is an acronym for: All-Purpose Lightweight Individual Carrying Equipment. It was adopted by the United States military in 1973.
MOLLE is an acronym for: Modular Lightweight Load-carrying Equipment. It was introduced in 1997 and has slowly gained traction with the military and civilian market.
Around 1992 I bought a medium ALICE pack. This was my primary camping backpack for several years. Sometime close to 1995 I bought a large ALICE pack. I switched between the medium and large ALICE depending on the situation and trip length. In 2010 I bought a large MOLLE II pack, which I have taken on numerous camping trips.
In this article, we will be comparing the large ALICE to the large MOLLE II backpacks from a recreational point of view. Which one has the more favorable features, easier to use, and perhaps the better value?
Frame
Both of the large ALICE and MOLLE backpacks use an external frame. Neither pack can be used without the frame.
Large ALICE:  Has an aluminum frame. To attach the pack to the frame, slip the straps through the frame then back through the buckle, and you are ready to go.
The frame is made out of aluminum tubing and flat bar held together by rivets. Sometimes a rivet on the frame will break. This is usually caused by dropping a heavy loaded pack on the ground. If a rivet breaks, simply replace it.
Instead of waiting for the rivets to break, I have heard of people drilling out the aluminum rivets and replacing them with stainless steel.
MOLLE II: Has a polymer frame. Attaching the MOLLE backpack to its frame is an act of frustration. Small buckles attached to the pack have to slip through notches in the frame. Have a multi-tool and a prayer book handy because you are going to need both.
If the frame breaks, throw the frame away and buy a new one.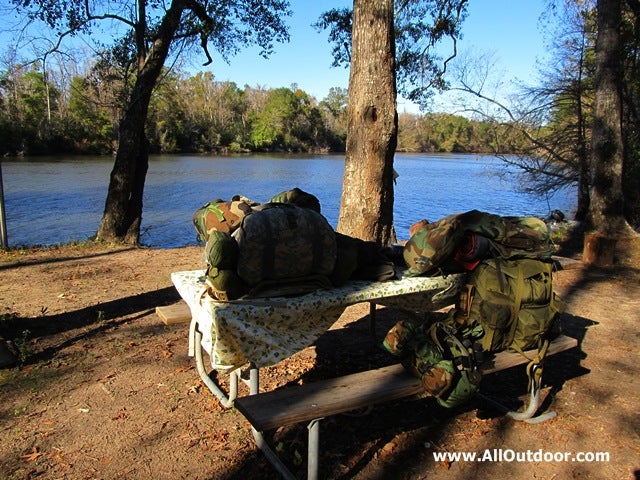 SHOP NOW
External Pouches
Whether is it hiking or camping I like to keep certain gear in exterior pouches. This is usually a flashlight, head light, mosquito repellent, small knife, multi-tool, hand sanitizer, small stuff that I want close at hand.
Large ALICE: Has six permanently attached external pouches, three small and three larger. They are sewn into the pack and can not be removed.
The small pouches measure 3 1/2″ wide X 2 1/2″ deep and 7 inches long. This is where I keep mosquito repellent, hand sanitizer, flashlight, head lamp, multi-tool, and other small items.
The large pouches:
One pouch measures 7 1/2″ wide X 2 1/2″ deep by 9 inches long.
Two pouches measure 5″ wide x 3″ deep and 9″ inches long. The larger pouch is where I keep a rain poncho. The slightly smaller pouches are where I keep a fuel bottle for my stove, water filter, couple of AR-15 magazines, canteen, and other odds and ends.
There is an ALICE webbing to attach other pouches if you want.
MOLLE II: Has no permanently attached external pouches. If you want an external pouch, you have to buy one. The good news is that there's a wide range of pouches on the market that are available in numerous sizes.
If you want something specially designed for the large MOLLE II backpack, there is the sustainment pouch. They measure an estimated 8 1/2″ wide X 4″ deep and 12 1/2″ long and are designed to go on the side of the MOLLE pack. As such, adding sustainment pouches increases the width of the pack. This moves the weight of the sustainment pouches closer to the body and puts less strain on the back.
Each sustainment pouch has an estimated capacity of around 432 cubic inches.
Internal Pouch
Large ALICE: Has a large internal pouch at the top of the pack, which is permanently attached. The pouch measures around 10″ wide X 5″ deep and 8″ long. This is where I keep my personal hygiene kit and stuff I use a couple of times a day while camping.
When I used a single burner propane stove, the stove top would go in the ALICE internal pouch and the propane bottle would go in one of the large external pouches.
MOLLE II: Does not have an internal pouch. From what I understand, there is a radio pouch that can be purchased that fits inside the MOLLE II pack.
Capacity
Large ALICE: Main compartment 2,075 cubic inches. Total of 2,412 cubic inches counting all of the external pouches.
MOLLE II: Main compartment is around 4,000 cubic inches. Add two sustainment pouches with a capacity of 432 cubic inches each, for a total of around 4,864 cubic inches.
Modular
ALICE: The only place you are going to find extra pouches that fit ALICE packs are military surplus.
For the most part, ALICE gear is on its way out.
MOLLE: The civilian market is flooded with pouches for MOLLE packs. First aid kits, canteen pouches, small and large accessory pouches can all be easily moved from one pack to another.
If you have a gearsling pack and want a canteen on it, take the canteen pouch off your large MOLLE II and put it on your gearsling pack.
MOLLE gear is the here and now and looks to stay that way for a long time.
Two Quality Backpacks
The large ALICE and MOLLE II are two quality packs. However, the ALICE was designed in an era when little thought was given to ergonomics. Due to this, it is not a comfortable backpack.
The MOLLE II has a good sized waist belt and wide shoulder pads. This is a modern design where ergonomics and comfort were considered.
In my opinion, it boils down to what you want. Both are good backpacks that should provide years (if not decades) of use.
SHOP NOW