Slip-Bobber Jigging for Deep Ice Crappies
Bob McNally 01.09.17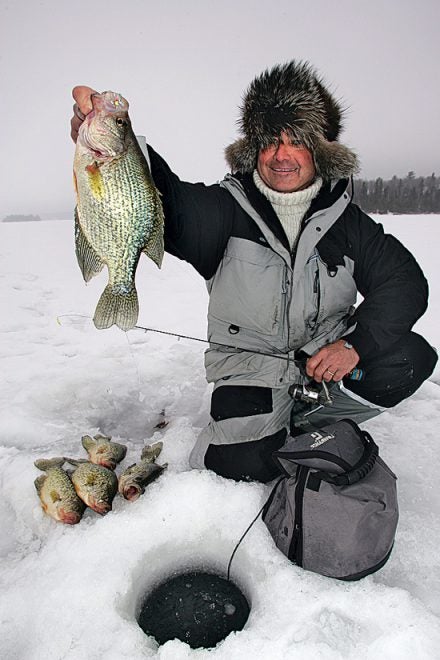 Crappies are found in different areas during winter than other panfish, requiring different tactics and rigging for ice fishermen, according to Minnesota angler Eric Naig. These good-eating panfish suspend a great deal in large, deep bays near a lake's main deep basin. The deepest water in a bay or lake is prime, sometimes requiring fishing water 40 feet deep.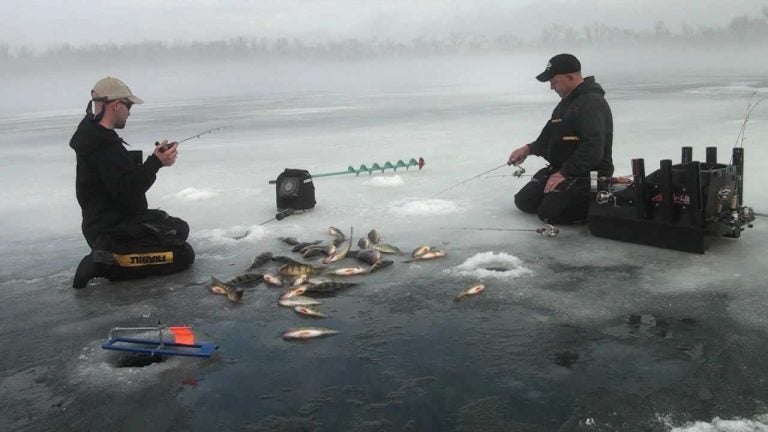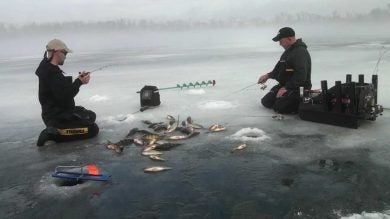 "A lot of the very best fishing is during low-light conditions, or after dark," says the Northland Tackle company marketing manager. "There are two schools of thought for ice crappie jigging. One is to find a good looking spot, punch a hole or two, and wait out the fish, which seem to wander around a bit. The second school of thought is to keep moving, keep drilling holes, and locate crappies, and that's what I prefer to do."
Naig drills several holes in a likely deep-water basin area, then begins jigging the hole, while he lowers a sonar transducer into the hole to "scan" for fish while lowering his jig to the bottom. Pinpointing the depth crappies are holding is important to Naig's jigging, which is why the sonar is so important. Once fish are found, Naig works his jig to that depth quickly, then stops the jig or slightly raises it, as crappies (like most panfish) prefer to take a lure or bait hovering above them.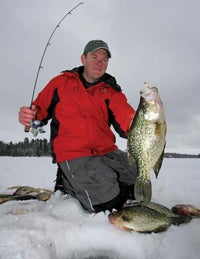 His current favorite crappie ice jigging set up employs 4-pound test line, using a number 6 or 8 Northland "Hexi-Fly" jig in "Fire Ant" color. A pair of 1/8-ounce split shot are fitted to the line 18 inches above the lure to get it down to the fish zone fast. A 2-inch fathead minnow is hooked to the jig hook by impaling it in the back just behind the dorsal.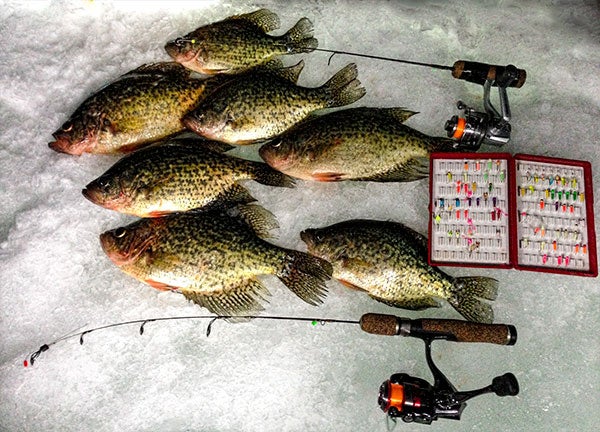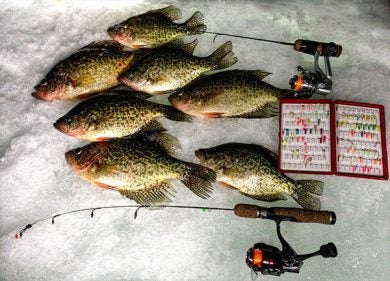 "This presentation makes the jig and minnow act like it's trying to swim away from a crappie as it gets close, and the fish can't stand that so it strikes," Naig explains.
Fishing the jig-and-minnow below a small 5/8-inch Northland "Lite Bite" slip-bobber float enables Naig to delicately tempt suspended crappies into striking.
SHOP NOW