Watch: How Does the Wind Affect 17 HMR vs. 22 WMR?
Russ Chastain 01.09.17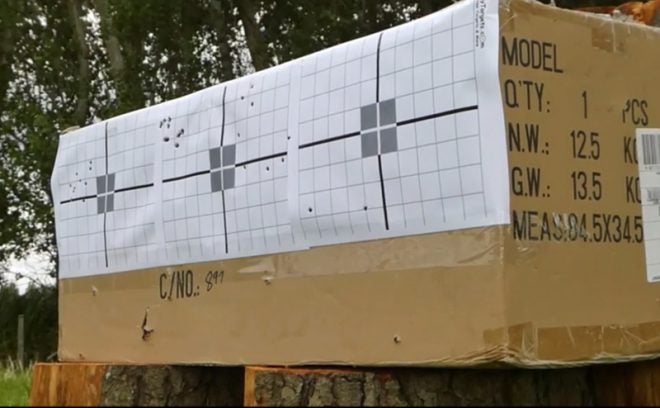 In this newly-uploaded video, we see a test to see which speedy rimfire round is more or less susceptible to wind drift, the 17 Hornady Magnum Rimfire (HMR) or the venerable 22 Winchester Magnum Rimfire (WMR), a.k.a. 22 magnum.
Adherents of the 22 mag sometimes claim that their heavier bullets are less affected by wind, even though they are moving more slowly than 17 HMR bullets. This guy's theory was that the faster the bullet, the less it would be affected by a crosswind, so he put it to the test.
On a windy day, he set up targets at a range of 100 yards with a crosswind that averaged 10-15 MPH with faster gusts.
For the 22 WMR, he used a Marlin rifle with Winchester 45-grain Power Point hollow point ammo with a factory-claimed velocity of 1760 fps, and Hornady V-Max 30-grain ballistic tip bullets with a claimed velocity of 2200 fps.
For the 17 HMR, he chose Hornady 17-grain V-Max ballistic tip ammo with a claimed velocity of 2550 fps, fired from a suppressed Savage bolt action.
Ten rounds of each type of ammo were fired at a total of three targets.
The first ten were 22 mag 45-grain, and were scattered in a sad, sad group that landed far to the left of the aiming point. Surprisingly this same ammo produced a tight 2″ group at 100 yards on a calm day. Looks like the wind really played havoc with those heavier bullets, as they averaged about 9″ to the left.
Next came ten rounds of 22 mag 30-grain V-Max, which struck well to the left of the aiming point, but not nearly as far off as the previous load. The center of the group was between 4 and 5 inches to the left, and this group was much tighter than the first.
Finally, the 17 HMR was fired. This group was not as tight as the previous one, but it wasn't terrible for the conditions (he said he was getting cold and shivering). The center of the group was only about 3 inches to the left.
His theory appears to have been confirmed because in his test, the lighter, faster ballistic-tip V-Max bullets drifted much less, and they grouped much better to boot.
This is a good demo that shows the wind-drift criticism of the 17 HMR doesn't hold water. But it still doesn't make me a fan of the 17. I simply can't bring myself to love a tiny BB-caliber cartridge.
What do you think?