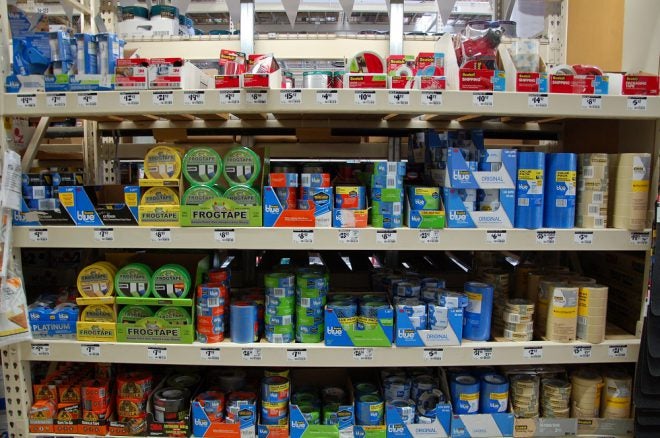 How could any prepper get along without a supply of tape? Tape? For sure, as you know you can just about repair anything albeit perhaps only temporarily with a roll of tape. If you visit your favorite hardware or building supply outlet, you will find a dizzyingly assortment of tapes for about as many tasks as you can imagine. So, plan now to stock up on a variety for many different applications.
For a lot of general purpose jobs from taping off a section of anything you want to paint from a custom camouflage coating applied to your favorite AR rifle to a fender on the old garden tractor, masking tape is a must have. There are endless uses.
For example, I have gone through a whole stock of various types of rifle and pistol magazines and put small masking tape labels on them. So many magazines look alike, but their capacities may vary. So, I cleanly cut small pieces of tape to stick on the mags then add 10-20-30 with a permanent marker on them placed below where they would show from the weapon's magazine well and are easily seen in the mag pouch or carrier. I also mark some by caliber for the same reason.
Black electrical tape is just a basic essential product for the tool box and workshop peg board. This tape is useful for wrapping up electrical wire and connections, wrapping around a radiator hose that springs a leak until it can be replaced, and fixing hundreds of other things. I also use it for tool handle wraps.
Duct tape is another universal taping material. You can wrap garden hoses, patch holes in tarps or plastic equipment covers, seat covers, or even for temporarily clamping two things together. The downside to this tough tape is the adhesive goo is often left behind once you peel the tape off.
You can get this tape in a wide variety of colors. I use a lot of it in camouflage patterns for use around hunting camp. I also use hunter orange tape to wrap around hunting stands in the woods to help locate them, but also to warn other hunters of the stand's presence. I keep it in black, white, and regular silver for all kinds of jobs.
Other tapes with many uses includes shipping tapes, narrow and wide poly tapes, and all kinds of office supply tapes. Preppers are going to want a good supply of tape for quick fixes and universal uses.